24-hour Library Lounge + Lab: Spring 2018

The Niederhoffer Lounge & Reserve Lab will be open continuously from 8:30am on May 7 until 9:45pm on May 24, 2018.
That's 400+ hours straight of open study space!
Details:
Computers, printers, scanners, and study tables will be available for John Jay student use in the Niederhoffer Lounge & Reserve Room Lab, located on the Library's lower level. See map.
The Stacks (bookshelves), Library's upper level, Reference Services, and Circulation Services (including Reserves) will only be available during regular Library hours.
We wish you success on your finals!
Brought to you by Student Council, the Lloyd Sealy Library, and Public Safety.
Help spread the word!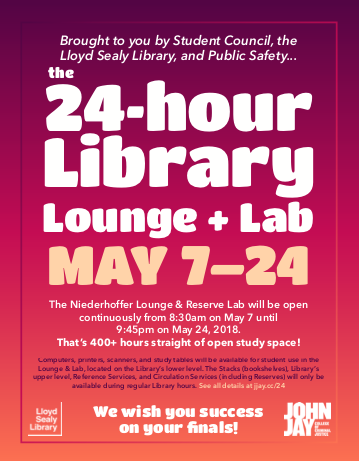 PDF flyer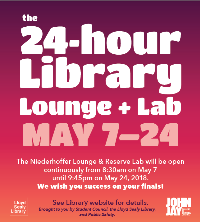 PNG for social media
Where else can I study late on campus?
The CLSS Student Computer Lab, located in L2.72.00, is open 24/7 from May 14 to 23. (See sign posted on lab door for details.)
Related: