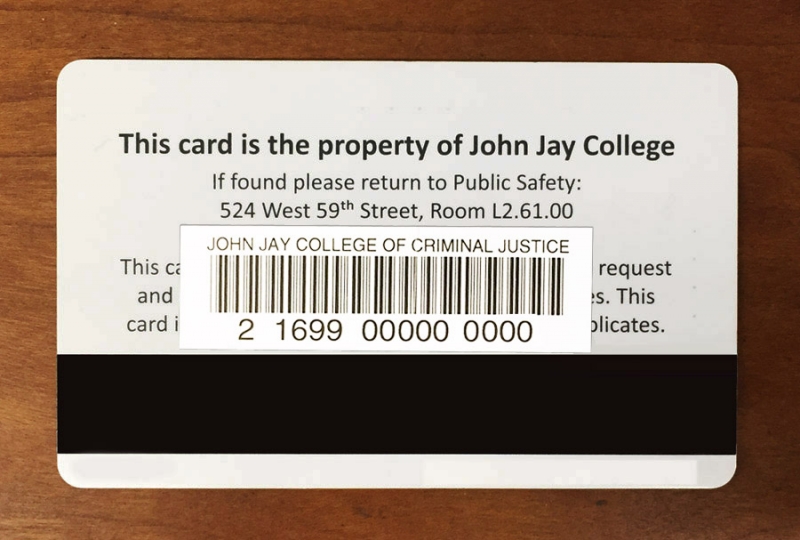 Do you have a Library barcode? All John Jay students & faculty should have one. The Library barcode sticker belongs on the back of your John Jay ID card or, if you're an online student, on your library card.
Your barcode number is beneath the barcode and begins with 21699...
Reasons to get a Library barcode sticker:
You can only check out & renew books from the Library if you have one!
It's your ticket to slightly more OneSearch results, so you'll be able to access a few more articles and ebooks.
If there's a problem with your usual login for library databases, you can use your barcode as a backup. 
How do I get a Library barcode sticker?
Come to the Library and ask at the Circulation Desk (front desk). We will give you a barcode sticker and start up your Library account.
What's my barcode password?
Your barcode password is the same as your barcode number (21699...) unless you've opted to change it.
You'll have to enter your barcode password when you renew books online, check your library book checkout account, or want to see more search results in OneSearch.
Online students
John Jay Online students: You should have received your library barcode number by email within the first three weeks of your first semester (if you didn't already have a library barcode sticker). If you live in the NYC metro area and would like to be able to check out books from CUNY libraries, you'll need to pick up your John Jay Library card. Let Prof. Robin Davis know ahead of time that you'll be picking up your library card, and it will be left at the Circulation Desk for you.
Online MPA students: If you have not already received your barcode number by email, please email Prof. Robin Davis with your EMPLID to request one. Alternatively, you can visit the Library in person to get a barcode sticker on the back of your John Jay ID card.
—
Questions? Call us at 212-237-8246.