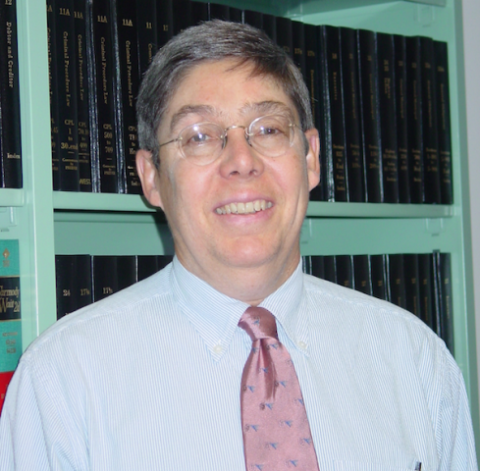 Remembering Dr. Jeffrey A. Kroessler
---
It is with great sorrow we share news of the unexpected passing of our esteemed colleague, friend, and Chief Librarian Dr. Jeffrey Kroessler. Jeffrey was a wonderful colleague and will be dearly missed by the staff and faculty of the Lloyd Sealy Library, and by the students with whom he worked. His generosity, warmth, kindness, and good humor lightened our days; the Library will not be the same without him. Jeffrey joined the Library faculty in 2005 and was promoted to the rank of full professor. He was author of several books and was completing his third on the history of New York City. Jeffrey selflessly volunteered to fill an unexpected gap in Library leadership during the COVID pandemic and served as interim Chief Librarian from January 2021. He had a deep knowledge of city history and a passion for sharing it in both academic and popular forums. He was a generous mentor to our students and welcomed those that sought him out in his book-piled office. Books piled on the floor, and on the chair, overflowing his shelves, but all neatly tidied up after work was completed. He was passionate about preserving the historic buildings and neighborhoods of the city. He chose to make his home Sunnyside Gardens, where he enjoyed the community fostered by the garden city; he loved that children played
in the shared gardens between the buildings.
As we reflect on what we will miss most about our dear colleague, Librarian Patrick Raftery said it best:
What I will miss most about Jeff is his humor and the levity he carried into most situations.
What I respected most about Jeff was his ability to speak about anything. Like a true scholar, Jeff was skilled in discourse and dissent. Not only could we have conversations where we held similar or even polar opposite views, but our conversations also made us think about why or how we came to our opinions. Sometimes one or both of us would give or receive a seed of doubt about our beliefs, or we could walk away with a stronger conviction. What did not happen was personal attacks or animosity. Every interaction ended with smiles, laughs, and the usual line, "Until next time."
We extend our deepest condolences to his wife Laura Heim, their families, and his many friends. His like will not be seen again.
Soon after his arrival at the Lloyd Sealy Library, Jeffrey directed the Justice in New York, An Oral History project, for which he interviewed leaders in NYC Criminal Justice from 2006 to 2019.
Jeffrey's NYC books:
To read more of his writings, see Jeffrey's writing hosted on CUNY Academic Works.
To learn more about his career and affiliations, see Jeffrey's John Jay College faculty profile .
Written on behalf of the Lloyd Sealy Library staff and faculty.