2014 winning teams 
October 24, 2014 — It's the announcement you've been waiting for… The winners of the 2014 Murder Mystery Challenge! Every team handed in very good solutions to the challenging clues. Students did an especially great job finding articles & books! We were really happy to see that they've aced library basics. Some teams, however, deserve special recognition... Each of these prize-winning teams got every clue and both bonus questions and sent in a photo (or five). Way to go all-out!
Ace Detectives: 120 points 
Prizes: VIP lunch, $15 Amazon gift cards, $10 movie passes
MNC: Nicole C., Carol F., Mariela A.
Bloodhound Detective Squad: Ashley R., Komal K., Intan M.
Outstanding Officers: 110-115 points 
Prizes: VIP lunch, $15 Amazon gift card
Cha, Cha: Yarelis C., Lisa C.
The Bandits: Erin F., Arianne B.
Clever Cadets: 105 points
Prizes: $5 Starbucks card, New York Times goodies 
Meow: Yelitza V., Elizabeth C., Jessica B.
Vive L'Espagne: Julien R., Kevin P., Damian S.
The Bloody Bloodhounds (Halloween Remix): Gurvinder K., Jocelyn E.
---
Winning teams can pick up their prize packs at the library starting Wednesday, Oct. 29. Congrats, teams! 
A selection of student photos from the Challenge: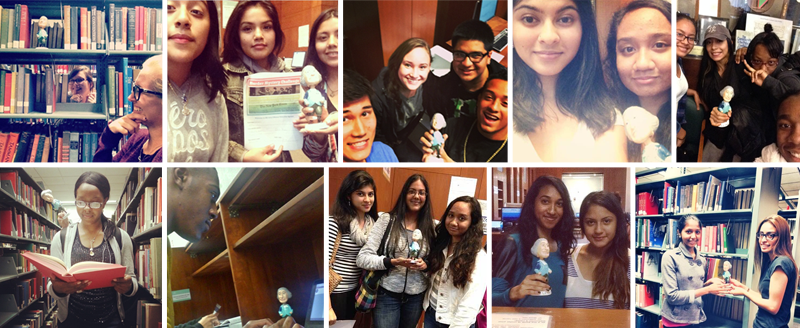 About the Challenge
In 1921, a murder was committed in broad daylight on the streets of Midtown... This (real) crime left traces in historical resources... Join the Time-Traveling Library Detective Squad and bring the killer to justice!
What: Students compete in teams to solve the puzzle in the Library
When: Daily during Community Hour (1:45–2:45) from October 1-16
Who: First-year students (including transfers) only in teams of 2 or 3
Prizes: In late October, the highest-scoring teams will be honored with amazing prizes: gift cards! Lunch passes! New York Times swag! A VIP lunch in the Faculty Dining Room!
Your team must be 2 or 3 first-year students. Teams will be paired with SASP Peer Mentors, who will be your Library guides.
2014 registration is now closed.