Library News Blog
Career tools page of the Testing & Education Reference Center
Gone are the days when you had to leaf through dozens of books to find a perfect match if you were looking for a college program, graduate school offerings, or scholarship opportunities, or tried to build up your first resume using a template. The Lloyd Sealy Library subscribes to the Testing & Education Reference Center database. It offers:
College programs search
Scholarships search
Online test preparation tool for many standardized tests
The Test & Education Reference Center database can be accessed from the list of the library databases whenever you have an Internet connection. You will be required to create a login to keep track of your progress when you do a test online, when you want to edit your resume, etc.
The database is easy to navigate. From the top menu, select tools that you might want to explore: High School, College Prep, Career, Grad School and International. Even if you are already a college student, try out High School Tools, for they have many self-paced courses in English and math (the subjects your John Jay College professors hinted you need some brushing up in). The College Prep Tools such as Resume Builder and Scholarship Search are amazing.
Highlights of the Career Tools are tutorials for Basic Computer Skills, Resume Builder, and Virtual Career Library. The latter is a virtual career coach that helps you to navigate careers, prepare a resume, train you for an interview, etc. Career Tools contain online tests and e-books in firefighting and law enforcement that are of interest to many John Jay College students: 
Border Patrol Officer
Corrections Officer
Court Officer
Police Officer
Probation Officer
State Trooper
and more
Accompanying online books will help you to master the exams.
If you want to go to a graduate school, then the Grad School Tools is your next stop to practice GRE, GMAT, LSAT tests and more. You can even search for grad schools scholarships. And if you are an international student who wants to improve the TOEFL scores then browse International Tools. This section also has questions for the US Citizenship Exam. 
In addition to online test and e-books, this database provides current articles on higher education and helps students make informed decisions on many facets of their academic and professional careers.
Go to the Testing & Education Reference Center »
—
Posted by Maria Kiriakova

Posted Wednesday, May 15, 2013 - 11:55am


---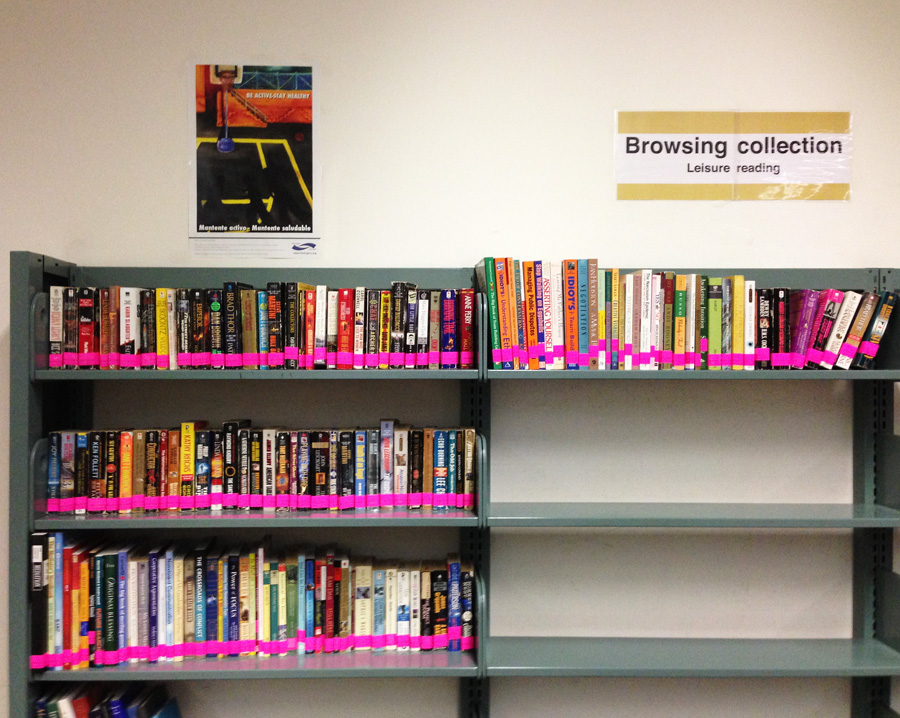 Take a look at the newest section of our library: the Browsing Collection! Located just past the Niederhoffer Lounge on the first floor, this growing collection of fiction and non-fiction is the place to find your next must-read. Looking for a beach read or a homework break? Look no further! 
A selection of titles:
Casino Royale (starring James Bond!) (1953), by Ian Fleming
The Best American Short Stories (2001), ed. Barbara Kingsolver 
The Godfather Returns (2004), by Mark Winegardner
Girl with a Pearl Earring (1999), by Tracy Chevalier
The Interpretation of Murder (2006), by Jeb Rubenfeld
On Death's Bloody Trail: Murder and the art of forensic science (1993), by Brian Marriner
Talk Talk (2006), by T.C. Boyle
The Voyage of the Narwhal (1998), by Andrea Barrett
Happy browsing!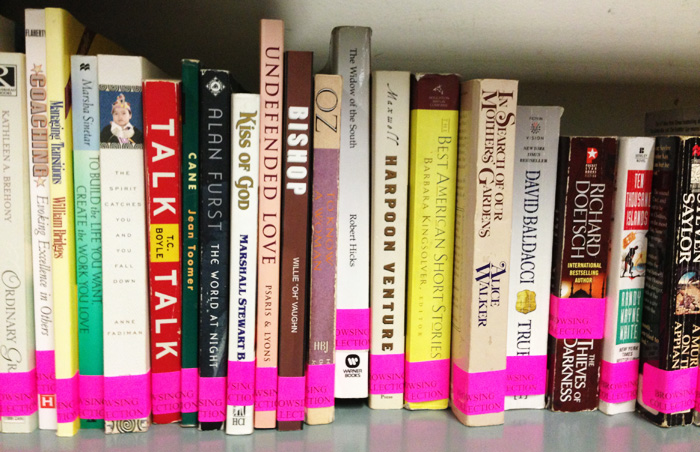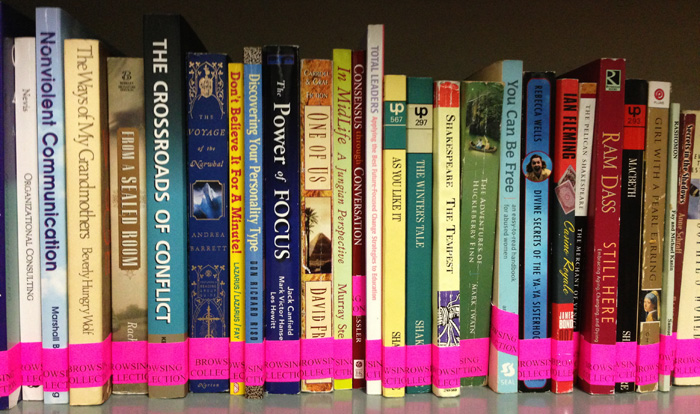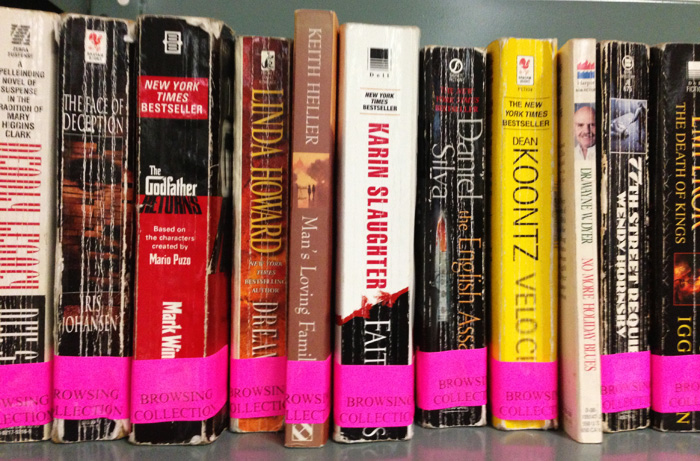 Posted by Robin Davis

Posted Monday, May 6, 2013 - 4:32pm


---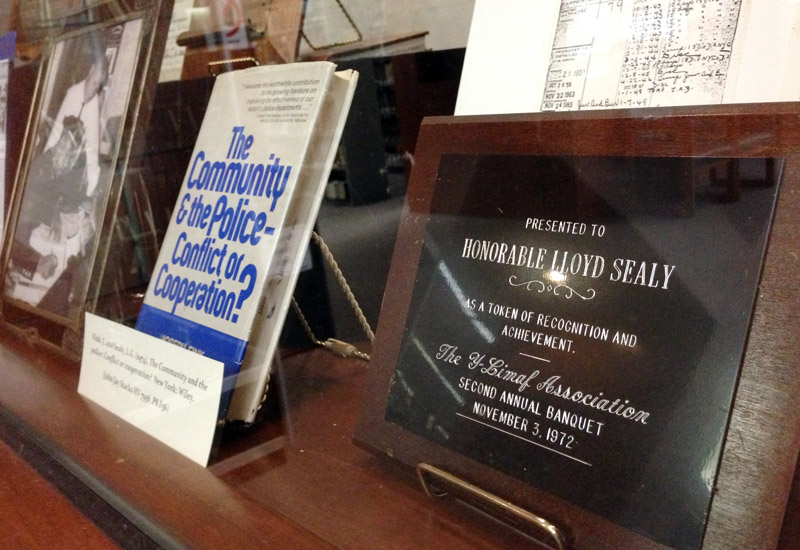 Materials highlighting the Lloyd Sealy Papers are currently on exhibit in the Niederhoffer Lounge on the first floor of the library. Stop by the exhibit and see why John Jay College is honored to have named the library after this outstanding individual. You may learn more about the manuscript collection by reading this finding aid (PDF). The Lloyd Sealy Papers are available by appointment only in Special Collections to interested researchers.  
For more on Lloyd Sealy please read Lloyd George Sealy: an appreciation.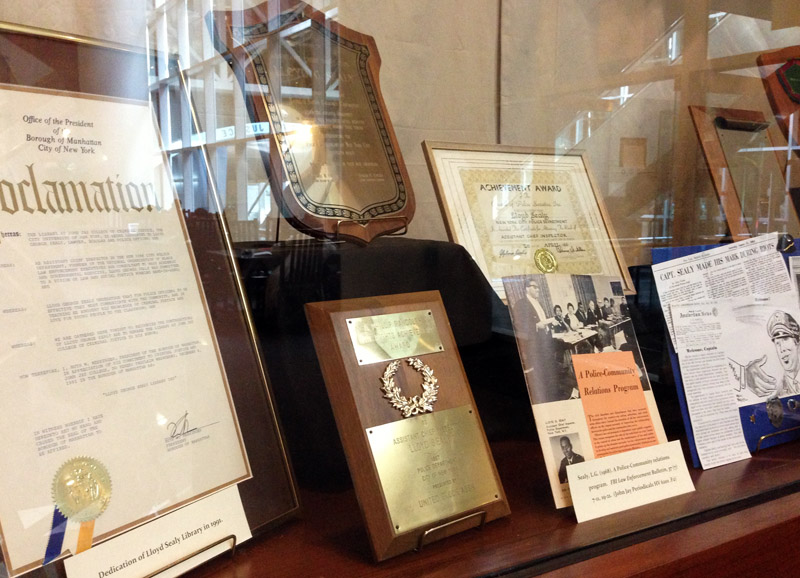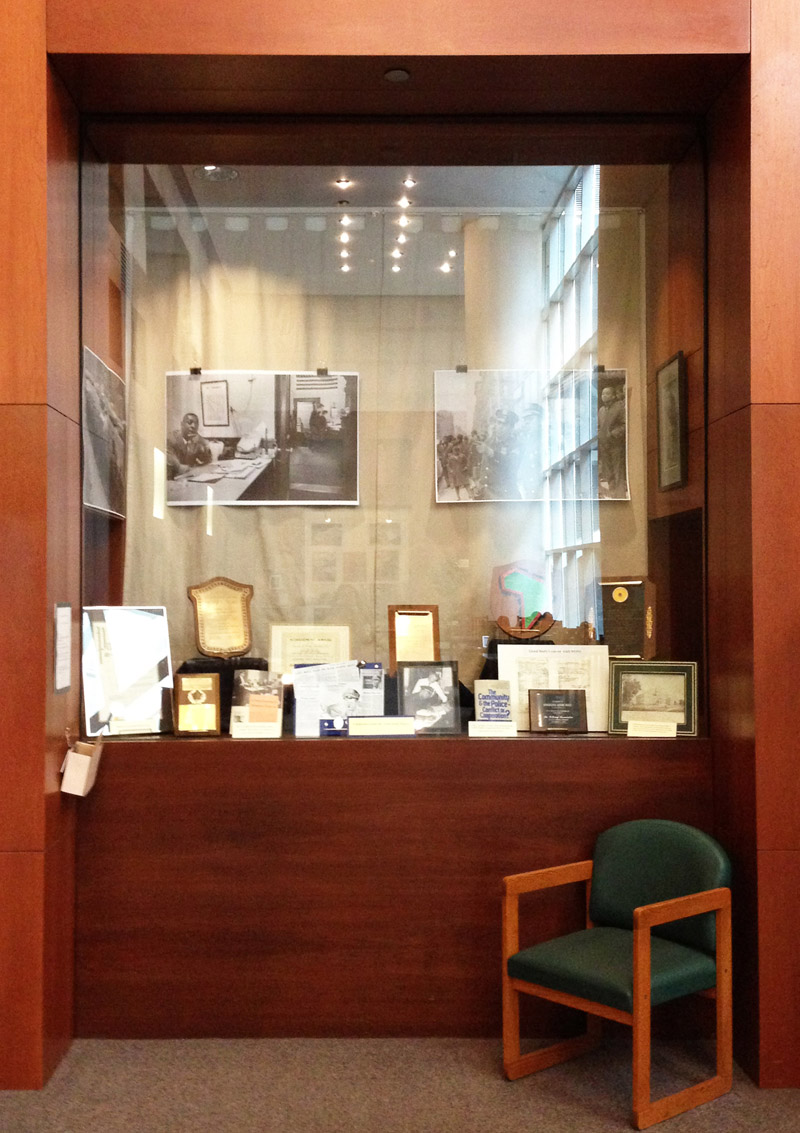 Blog post and exhibit by Tania Colmant-Donabedian

Posted Friday, April 12, 2013 - 2:34pm


---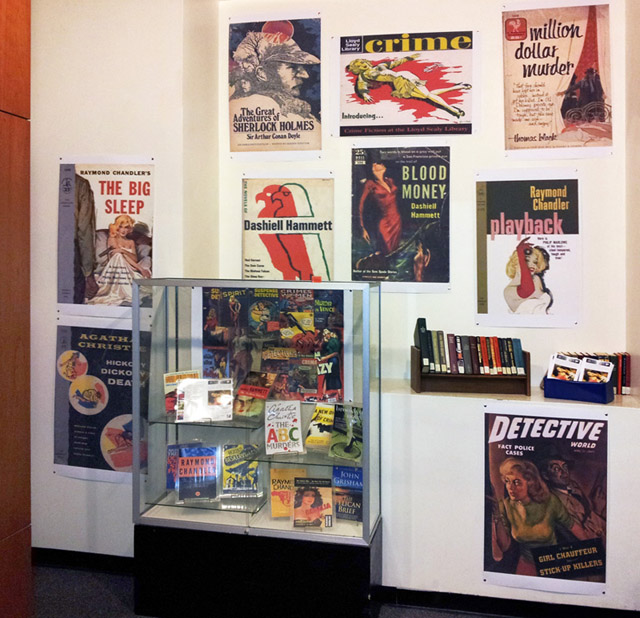 Crime Fiction is literature that deals with fictional versions of crime. It is different from True Crime, which are tales based in fact. Crime Fiction is limited only by imagination and can including detective mysteries, noir thrillers, and courtroom drama. On display in the Niederhoffer Lounge are some samples of excellent crime fiction available at the John Jay College Library!
If you are interested in finding out more, take a look at our Crime Fiction Subject Guide and search the CUNY+ catalog for "crime fiction."

Posted Thursday, April 11, 2013 - 4:13pm


---
The essay contest is now closed, but you can still visit the exhibit on the upper floor. Good luck to all the students who entered!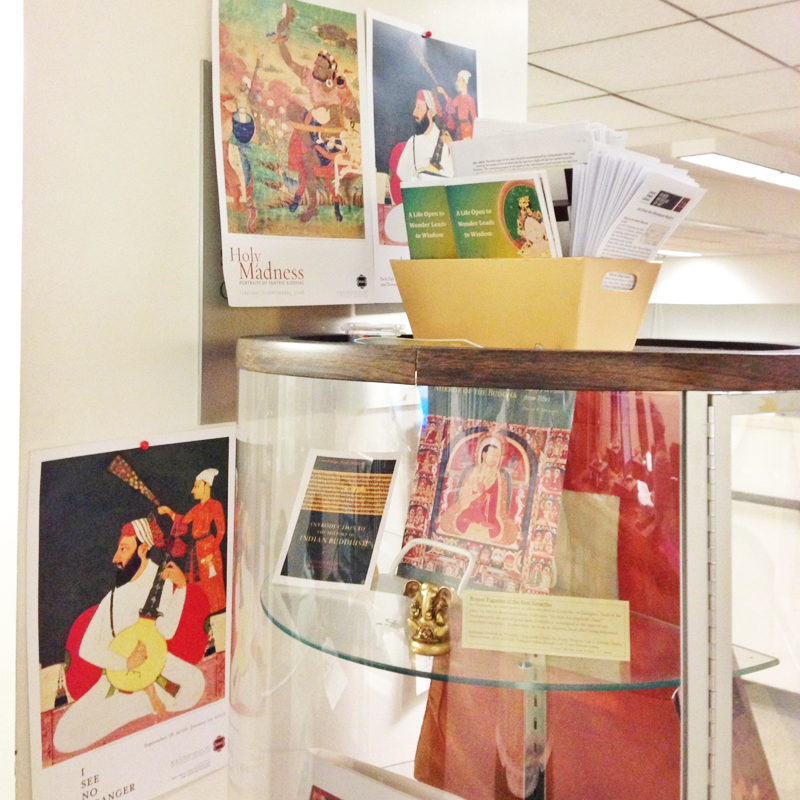 A new exhibit in the library features some exhibition catalogs recently donated by the Rubin Museum. A corresponding pamphlet written by Professor Karen Okamoto lists the titles in the Rubin donation as well as a small selection of related books in our collections as well as suggestions for finding many more resources.
This exhibit is also intended to support students who are researching and writing essays to submit to the Rubin Museum Essay Contest. This contest offers 7 cash prizes toward your tuition, between $500-$3000 for John Jay undergraduate student writers who write winning essays. More information on the award as well as a worksheet of suggested topics are also available as another handout adjacent to the exhibit, which is behind the reference desk on the second floor of the library.
The Librarians are available to assist you in researching your essay at the reference desk whenever the library is open. Entry to the Rubin Museum is free to all John Jay Students and Staff.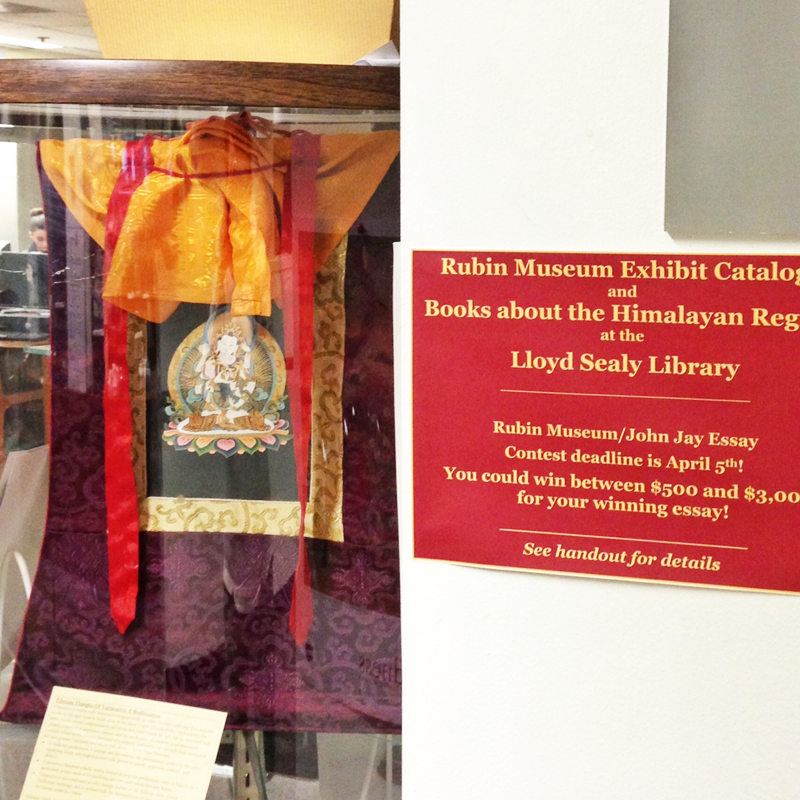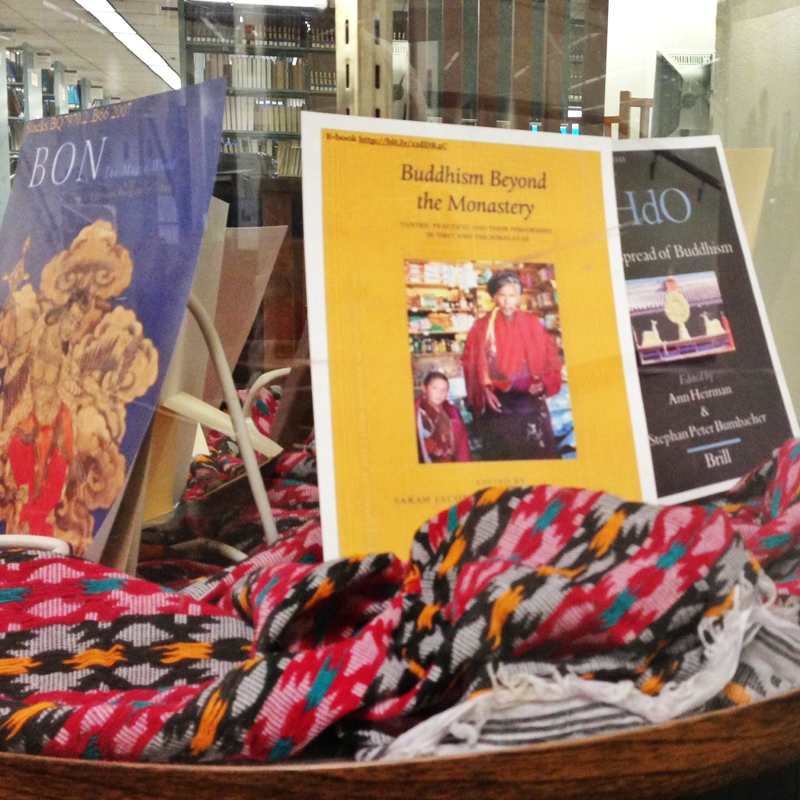 From the Essay Contest Instructions:
Choose a work or set of works of art from the collection of the Rubin Museum of Art. Write an essay about the work (or those works) that explores how the piece or pieces define or express the idea of justice. As John Jay commences its 50th anniversary, it may be useful to reflect on our history as a college and a force for social change as you come up with the concept for your essay topic. Your essay may consider any of a wide range of issues, including but not limited to: justice as it relates to retribution and punishment; justice as it relates to death; justice as it relates to the possible differences between what gods and human beings consider fair; justice as it relates to violence and non-violence.
In order to be considered an essay must be typewritten and submitted in hard copy. No e-mailed or faxed entries will be considered. The essay must be between 1000 and 3000 words long. Each student entering an essay, must submit four copies of the essay to Office of Fellowship & Scholarship Opportunities by no later than 5:00pm on April 5th, 2013 The first copy of the essay must be accompanied by a detachable title page bearing the name of the student and the last four digits of his/her Social Security Number. The remaining pages of all copies of the submission must include the last four digits of the Social Security Number and no other identifying information. The Office of Fellowship & Scholarship Opportunities will accept submissions from March 11th through April 5th. Winning essays will be selected by April 19th. For more information consult the Rubin Museum website. See also: more information about past winners. 
From the John Jay College of Criminal Justice Essay Contest Worksheet:
Rubin Museum of Art, 150 West 17th Street, New York, NY 10011
Spring 2013: While visiting the Rubin Museum of Art, you might consider researching the artworks below as they relate to concepts of justice. You are not limited to these works, and we encourage you to investigate others, but they provide a good place to start. If you have questions, roaming Museum Guides in our galleries can help and there are Rubin Museum catalogs in the John Jay library. All works can be found on the 2nd floor. To learn more about our collection, visit rmanyc.org where you will find museum resources, online interactives, and links to audio guides at iTunesU. Most pieces in the museum have a Himalayan Arts Resources (HAR) number. By visiting himalayanart.org, and typing in the HAR number, you can read articles about artworks and download their images. Please be sure to cite the HAR number in your essay.
Questions about the Essay Contest? Please contact Kevin Nesbitt at the Office of Academic Affairs at knesbitt@jjay.cuny.edu or Vielka Holness at the Office of Fellowship & Scholarship Opportunities at vholness@jjay.cuny.edu.

Posted Tuesday, March 19, 2013 - 6:05pm


---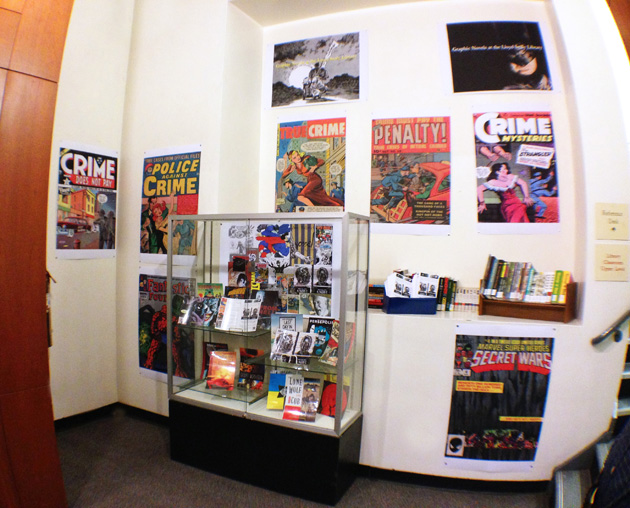 As technology makes the world increasingly more visually oriented, many are turning to graphic novels to become an essential component in literacy, education, and entertainment.  On display in the Niederhoffer Lounge are some samples of excellent graphic novels available at the John Jay College Library!
Also, if you are interesting in finding out more, consider taking a look at our Graphic Novel Subject Guide and search the CUNY+ catalog for "graphic novels" or "manga"!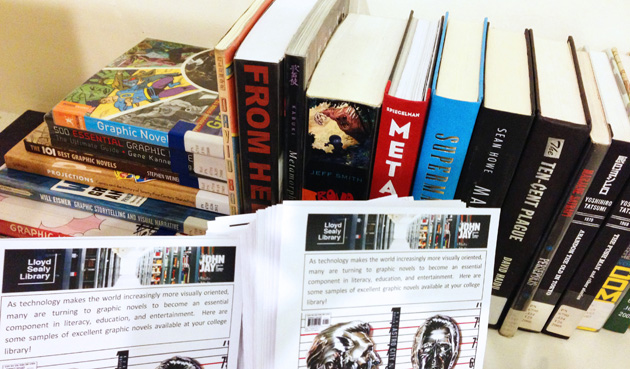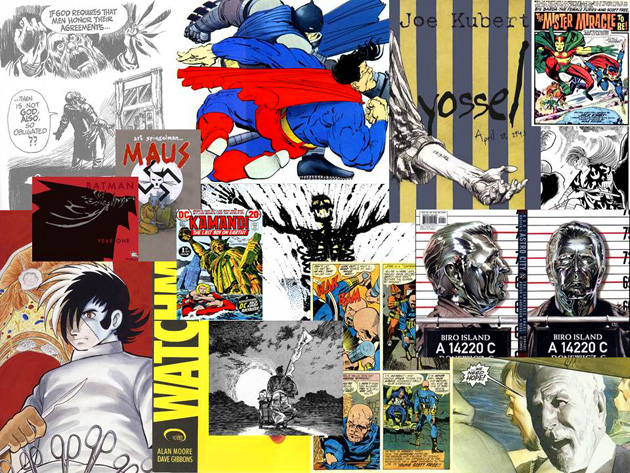 Posted Thursday, February 14, 2013 - 1:37pm


---
Fire Science and Security Management are a very hot set of topics offered at John Jay College. On display in the Niederhoffer Lounge in the Library is a small but focused exhibit on fire science. The display highlights key fire science texts available from the library as well as information on where to find more material on fire science and other related topics. In addition, the exhibit comes complete with a detailed brochure that lists specific resources students can use.
If you are interested in finding out more, please take a look at our Fire Science Subject Guide »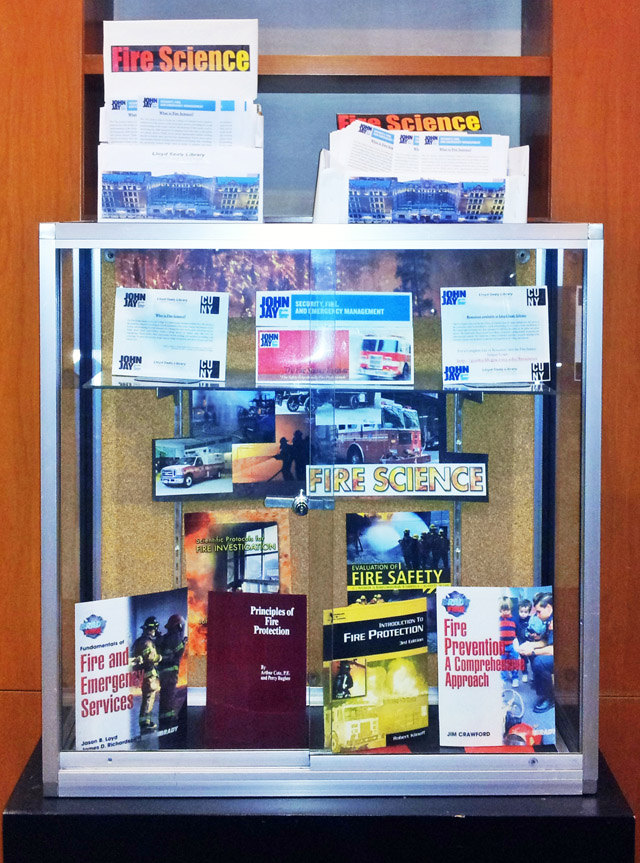 Posted Tuesday, February 5, 2013 - 11:25am


---
Several months ago EBSCO (publisher of Academic Search Complete, etc.)  took over the H. W. Wilson Company. As a result, EBSCOhost databases have been combined with existing similar databases from the H. W. Wilson company and new names have been given to the merged results.  While the following new databases have replaced databases that were formerly on our list, no content has been lost. In fact, in all cases, there is more content than we had previously:
Applied Science & Technology Source has replaced Applied Science & Technology and Computers & Applied Sciences Complete.
Education Source has replaced Education Index and Retrospective and Education Research Complete.
Humanities Source has replaced Humanities Index and Humanities International Complete.
Legal Source has replaced Index to Legal Periodicals and Books.
Library & Information Science Source has replaced Library Literature Fulltext and Library and Information Science Fulltext.
The new databases combine EBSCO's familiar searchable interface with the quality indexing that H. W. Wilson was known for so the transition is a win win for CUNY libraries.

Posted Friday, February 1, 2013 - 2:46pm


---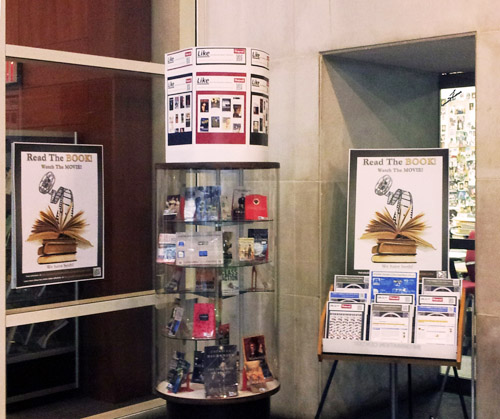 Thousands of books have been made into movies. For a snapshot of book and movie titles in our collection visit the exhibit next to the circulation desk on the first floor of the library or go to our Pinterest board. Feel free to leave a comment or like your favorite book or movie. Search CUNY+, the online catalog, to find those available at the Lloyd Sealy Library.  
Some books made into movies focus on popular literature like Alice Walker's The Color Purple (book, DVD) and Ian McEwan's Atonement (book, DVD). Some focus on classics like Harper Lee's To Kill a Mockingbird (book, DVD, VHS) and Bram Stoker's Dracula (book, ebook, DVD).  Some reflect our specialized focus on justice issues like Benny Golden's War on the Family: Mother's in Prison and the Families They Leave Behind (book, DVD) and Barrett J. Foerster's Race, Rape and Injustice (book, DVD).
Do you read the book or see the movie first? You get to choose!
For tips on how to watch a film as a scholar and not purely for enjoyment, see this How to Read a Film handout.
For more information about our entire video collection, see the Library's video guide.

Posted Thursday, January 31, 2013 - 4:50pm


---
You may have noticed that things look a little different around here! Welcome to our updated website — it's our New Year's gift to you.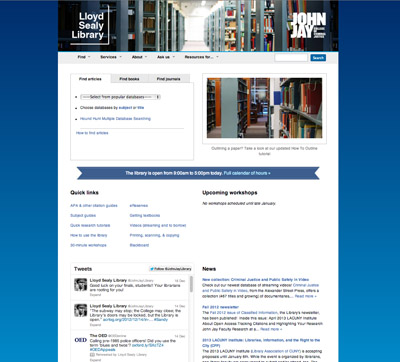 We are happy to present a new interface for our users. In our redesign, we have prioritized student, faculty, and researcher use. 
Highlights of our new website:
Updated Quick Research Tutorials for students
Responsively designed: looks good at all screen sizes, from mobile to desktop
Have feedback?
We value your comments — just submit a feedback form and we will do our best to address your questions and concerns.

Posted Thursday, December 27, 2012 - 10:22am


---
Pages