50 years of educating for justice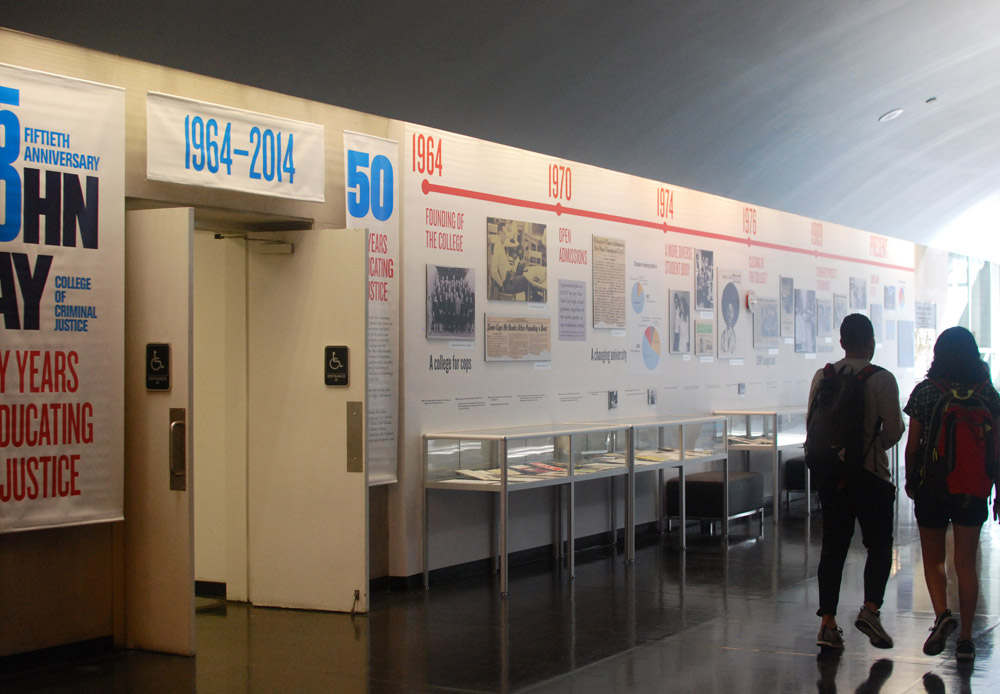 From the Fall 2014 Newsletter
On the first day of classes, people stopped to behold a brand-new addition to their morning commute. Inside Haaren Hall, at the foot of the busiest escalators on campus, a gleaming white wall adorned with glossy mounted photographs stretched the length of the lobby. All along the walkway, students and faculty of today gazed at the students and faculty of yesteryear—sometimes looking at their younger selves, sometimes seeing the old John Jay campus for the first time.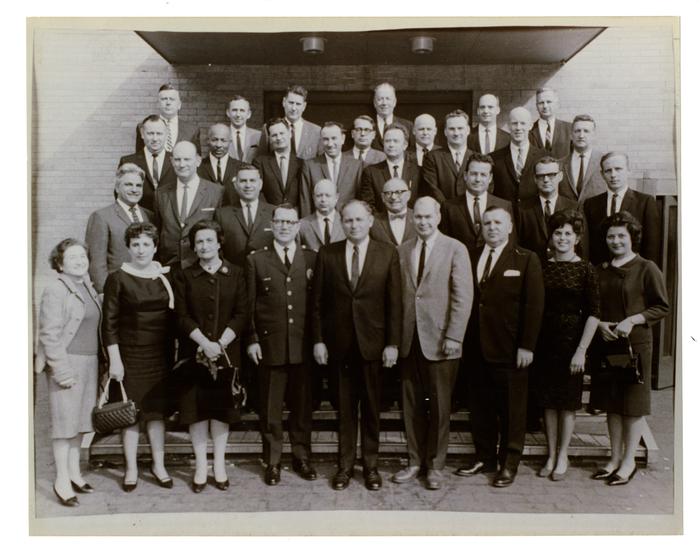 Some of the founding faculty of John Jay (1964)
This is the 50 Years of Educating for Justice exhibit, created and curated by the 50th Anniversary Exhibit Committee, which starred two John Jay librarians, Professor Ellen Sexton (then the Interim Special Collections Librarian) and Robin Davis (Emerging Technologies & Distance Services Librarian), alongside Distinguished Professor Gerald Markowitz (History), Professor Fritz Umbach (History), and Professor Claudia Calirman (Art), in consultation with Bill Pangburn (Anya and Andrew Shiva Gallery). 
The exhibit's opening ceremony was held on Tuesday, Sept. 2, with thoughtful remarks from President Jeremy Travis, Prof. Markowitz, and Prof. Calirman. The exhibit will remain in Haaren Hall until next fall. 
The contextual essays for each section of the exhibit were written by students with the help of Prof. Markowitz's book, Educating for Justice, which details the rich and tumultuous history of John Jay College of Criminal Justice. (We hold 10 copies of this book in the Library. The most recent edition can be found in the Stacks with the call number LD2602 .J32 M37 2008.) The images in the exhibit are all from the John Jay College Archives in the Special Collections, curated collaboratively from the archival materials selected by Prof. Sexton and Prof. Tania Colmant-Donabedian, using materials arranged by Special Collections Librarian Prof. Ellen Belcher. Except for scans of newspaper articles, all of the images used in the exhibit are viewable in the Digital Collections. The exhibit itself, complete with the essays, is available online in the Digital Collections. 
Robin Davis