Crime, Punishment, and Popular Culture, 1790-1920
Marta Bladek
The Library's growing collection of primary sources databases now includes Crime, Punishment, and Popular Culture, 1790-1920. Focused on trends in crime, as well as on judicial and penal reforms during the long 19th century, this digital archive also features press coverage and popular culture responses to crime and punishment. Although it is multilingual and international in scope, it is nevertheless mostly composed of British and American collections that include Crime and the Criminal Justice System: Records from The U.K. National Archives, 1780-1923; Nineteenth Century Crime: Manuscripts from the American Antiquarian Society, 1750-1923; Journal of Prison Discipline and Philanthropy, 1845-1920; and many others. Over 2.1 million pages of historical documents ranging from trial transcripts, police reports, newspaper articles, prisoner photographs, penal reform treatises, to examples of the emerging genre of crime fiction, capture the period's pivotal role in defining crime and establishing responses to it. 
Given the wealth of primary sources the database contains, researchers have multiple options to explore its depth. For example, keywords can refer to types of crimes (robbery, arson), locations (saloon, alley, gutter), motives (revenge, love), substances (absinthe, opium), weapons used (rifle, revolver), or types of punishment (solitary confinement, capital punishment). As always, using the Advanced Search allows for a more guided and tailored search. It is possible to limit the search to a specific collection or publication. Moreover, types of text documents can be narrowed (case overview, public notice, sermon, and many more) and so can types of illustrated works (cartoons, drawing, photograph, among others).
In addition to these filters, Crime, Punishment, and Popular Culture, 1790-1920 features term frequency and term cluster tools that are worth exploring. For example, when searching for records on "solitary confinement," a glance at the term frequency tool reveals that the use of the term increased dramatically in the 1840s, a period when the practice was widely debated: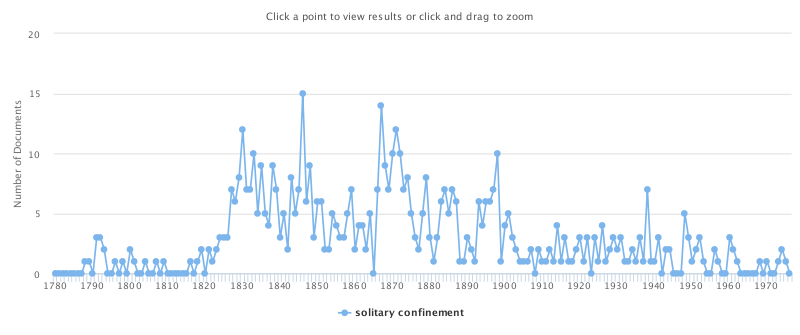 The practice had been variously described in the preceding decades: "solitary imprisonment," "solitude," and "unremitted solitude" are some of the terms previously used. After selecting the year 1846, the researcher can view all 15 documents that mention it. The term frequency tool, then, captures the moment when specific concepts and practices came to the forefront in discussions around crime and punishment. 
The term cluster tool can be used to visualize which words and subjects are found most often in the text of search results. Word clusters might bring up expected connections, along with unexpected but commonly related terms, inviting researchers to explore new approaches to their subject. For example, the cluster for "solitary confinement" shows that "petitions," "prison" and "reports on criminals" are terms that were found most often in the same documents "solitary confinement" appeared: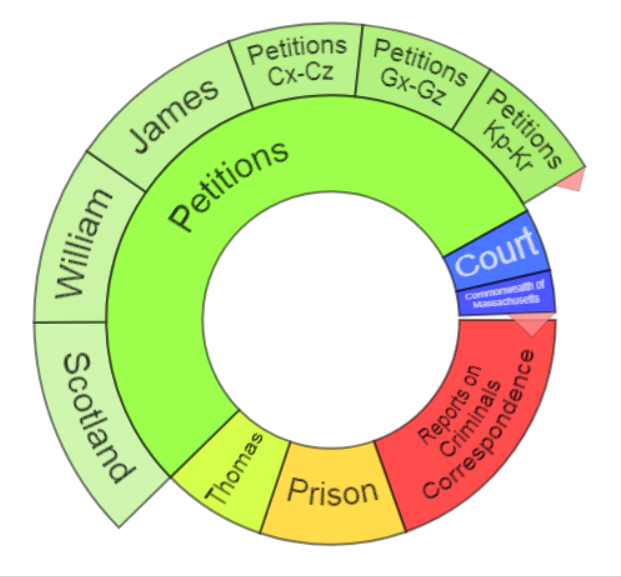 To illustrate how the cluster tool may inform new research: a closer look at the documents in the "petitions" sub-cluster may lead a researcher to investigate the length of solitary confinement sentences during a given time period, as well as spark an analysis of which kinds of appeals had been the most successful.
Crime, Punishment, and Popular Culture, 1790-1920 is particularly useful to those already familiar with the period and themes it covers. This digital resource is uniquely designed to spark new lines of scholarly inquiry. Well-suited for classes examining the history of crime and punishment and their philosophies and practices, it is also a great teaching tool for assignments that rely on primary sources.
---