For Faculty Development Day in August 2015, we presented library databases and search strategies specifically chosen for the theme of diversity. For many attendees, this was the first time they became aware of these special resources, and they encouraged us to share them more widely so that they might see more use in the classroom and in research.

The list below includes content that focuses on diversity issues. We have divided them into sections based on departments and programs here at John Jay. These resources bring contemporary and historical voices to the forefront — voices and images that may not be readily available in conventional sources. Moreover, we've included resources with a variety of content formats to help reach students with diverse learning styles — for instance, visual learners may find video to be most engaging, auditory learners may enjoy hearing recorded speeches, and kinesthetic learners may enjoy manipulating the "raw" materials of primary sources.
---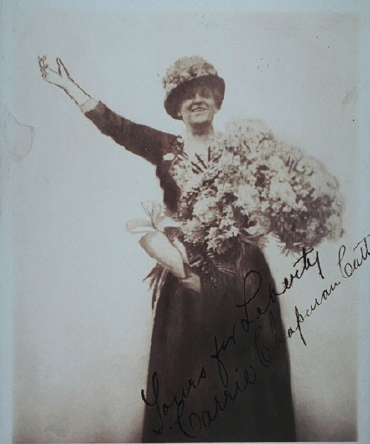 "Carrie Chapman Catt with bouquet after U.S. women got the vote, 1920." Schlesinger Library, Radcliffe Institute, Harvard University. Available through Women & Social Movements in the U.S. 1600-2000.
Gender Studies and LGBTQ Issues
---

Official newspaper of the Black Panther Party, January 24, 1970 (detail). Full newspaper available through Black Thought & Culture.
Africana Studies and Latina/o & Latin American Studies
Black Drama: Full text of plays by playwrights from the U.S., the Caribbean, and English-speaking countries in Africa. Excellent source for Harlem Renaissance writers.
Black Thought & Culture: Contains the nonfiction published works of leading African Americans, and includes interviews, journal articles, speeches, essays, pamphlets, letters, and other ephemeral material. Use the "Browse" tab to explore this database.
Ethnic Newswatch: Provides access to more than 200 newspapers, magazines, and journals from the ethnic, minority, and native press. Includes materials in Spanish.
Oxford Bibliographies Online (African Studies & Latino Studies): Topic overviews and bibliographies on pertinent topics with links to the full text of sources when available.
Race & Justice Clearinghouse: An index to selected NGO reports, books, and journal articles that focus on race and ethnicity and their interaction with the criminal justice and juvenile justice systems. Includes links to the full text of publications by the Sentencing Project.
Slavery & Anti-Slavery: Includes collections on the transatlantic slave trade, the global movement for the abolition of slavery, the legal, personal, and economic aspects of the slavery system, and the dynamics of emancipation in the U.S. as well as in Latin America, the Caribbean, and other regions.
World Scholar: Latin America & the Caribbean: Brings together primary source documents relating to Latin America and the Caribbean; academic journals and news feeds; reference materials; maps; statistics; audio and video. Covers politics, economics, culture, international affairs. *Are you a fan of this database? Let us know before Dec. 31, 2015—our access may be cancelled without enough usage.
---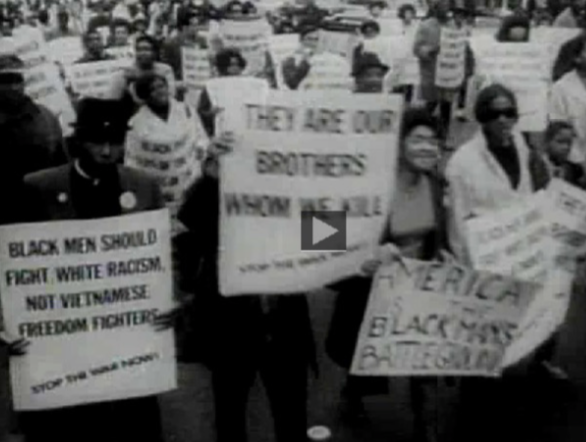 Anti-war demonstrations. From Universal Newsreels, Release 32, April 18, 1967. Available from American History in Video.
Video databases
---
Search tip: Browse subjects in the catalog
When searching for a book on a topic in OneSearch (or the classic catalog, CUNY+), browsing by subjects gives you access to items you may not otherwise find by keyword search, such as older books whose titles use outdated language. Each book in our catalog is indexed with these subjects. In OneSearch, click "Browse CUNY Catalog" beneath the grey advanced search box. Then select "Subject begins with..." to explore subject headings. These terms may not be intuitive or in current use. Note that "diversity" is not a subject heading — use "multiculturalism" instead. Here are some we have encountered that may be useful:
Civil Rights Movements
Cultural Pluralism
Ethnicity
Gay Liberation Movement
Gays
Gender Discrimination
Group Identity
Hispanic Americans
Indians
Multiculturalism    
Race Awareness
Racially Mixed People
Sex Discrimination
Transgenderism
Transgender People


Each subject heading contains subheadings as well, for example:
African Americans     
African Americans -- Aesthetics     
African Americans -- Alabama     
African Americans -- Biography
African Americans -- Biography – Dictionaries
…     


Click on the subject heading or subheading to see related books and media. Try searching for a combination of these subject headings with other keywords of your choosing.
---


Questions about these resources? Email Robin Davis or Maureen Richards
Robin Davis & Maureen Richards
More from the Fall 2015 Library Newsletter »