The infamous Pirate Bay and Napster were the first widely known copyright infringing peer-to-peer file sharing services to draw the attention of law enforcement authorities. Music and movies are not the only files that are shared illegally. Academic peer reviewed articles now have their own pirate sites in SciHub and Library Genesis, both of which are currently located beyond the immediate reach of Western court orders on servers in Russia. The scale of SciHub's content theft makes it significantly different from the unorganized informal #icanhazpdf exchanges occurring on Twitter. A significant part of SciHub's operation is to use the "donated" sign-on credentials of people employed by or enrolled at colleges across the world to access and steal massive amounts of content from legitimate library-publisher computer networks. This is theft from both libraries and publishers. Libraries make agreements with publishers to enable access to licensed content for our own user groups, and only our user groups, in return for license fees paid for by our institutions and ultimately by our students and taxpayers. Small academic society publishers reliant on subscription fees may arguably be most negatively affected by SciHub, but also threatened are the behemoths of the publishing world such as Elsevier which is currently engaged in legal action against SciHub. The claim by SciHub that is providing open access is diminished by the fact that neither authors nor publishers are giving permission to SciHub to share their content. SciHub will likely eventually go the way of Pirate Bay and Napster — forced to change and legitimize their business models to fit in with established intellectual property norms. SciHub has already lost its use of a .org suffix in a court ruling by a New York District court in 2015. But meanwhile we have a responsibility to educate our students to respect intellectual property and teach them how to access content legally.
You have a citation; here's how to get to the article without visiting a pirate site or using Twitter hashtags of questionable legality:
These easy to use library tools should be familiar to every member of the faculty, graduate and upper level undergraduate students.
1. The "FInd journals Online" tool on our homepage (under the tab marked "journals") to get to either an online subscription to a specific journal, or licensed access to it through a database.
2. Our DOI resolver, for those occasions when you know the unique Digital Object Identifier of a published article. It's part of our citation linker tool – no need to fill in the other citation details, just put the DOI into the relevant field. This citation linker tool also lets you search using the author and article title without knowing the DOI. Get to it by clicking on the "Find an article by citation" link on our homepage.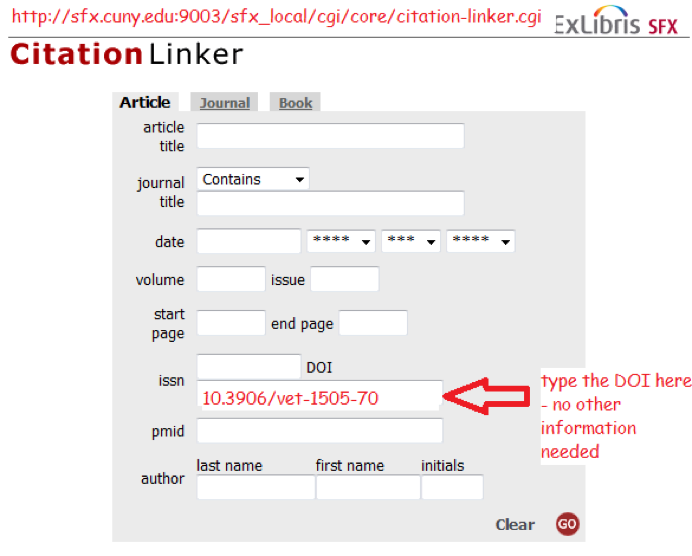 3. If these tools fail to get you to the needed article, use interlibrary loan. Requested articles can most often be delivered to you within a couple of days, and sometimes within hours. Thanks to copyright law and license agreements hammered out between librarians, publishers, and database vendors, we can usually deliver the needed article as a pdf. We are reminded just how convenient that is on those rare occasions when we cannot find a provider in this country and must send our request further afield. We have generous German colleagues who help us with article requests, but are permitted to do so only by sending a photocopy through the mail. We are of course grateful to our European colleagues for their generosity in sharing their materials with us, and happy to be reminded how much more easily and quickly U.S. libraries can legally and ethically share their resources via electronic communication.
Because so much of the content we provide is not "free on the web," knowing that we must use our proxy server to access library resources when off-campus can be very useful in clearing up those mysteries as to why getting to something works seamlessly on campus but not from home. Sometimes simply Googling an article citation while on campus will locate the article deep in one of our licensed resources, but this won't work from home, as your IP address will not be recognized as being inside the pay wall. (For more about our proxy server, visit guides.lib.jjay.cuny.edu/proxy.) But the tools listed above should get you to the article you need, from home, as they work well with our proxy server.
Ellen Sexton
—