Early twentieth century criminals & police
Digitization news
Ellen Belcher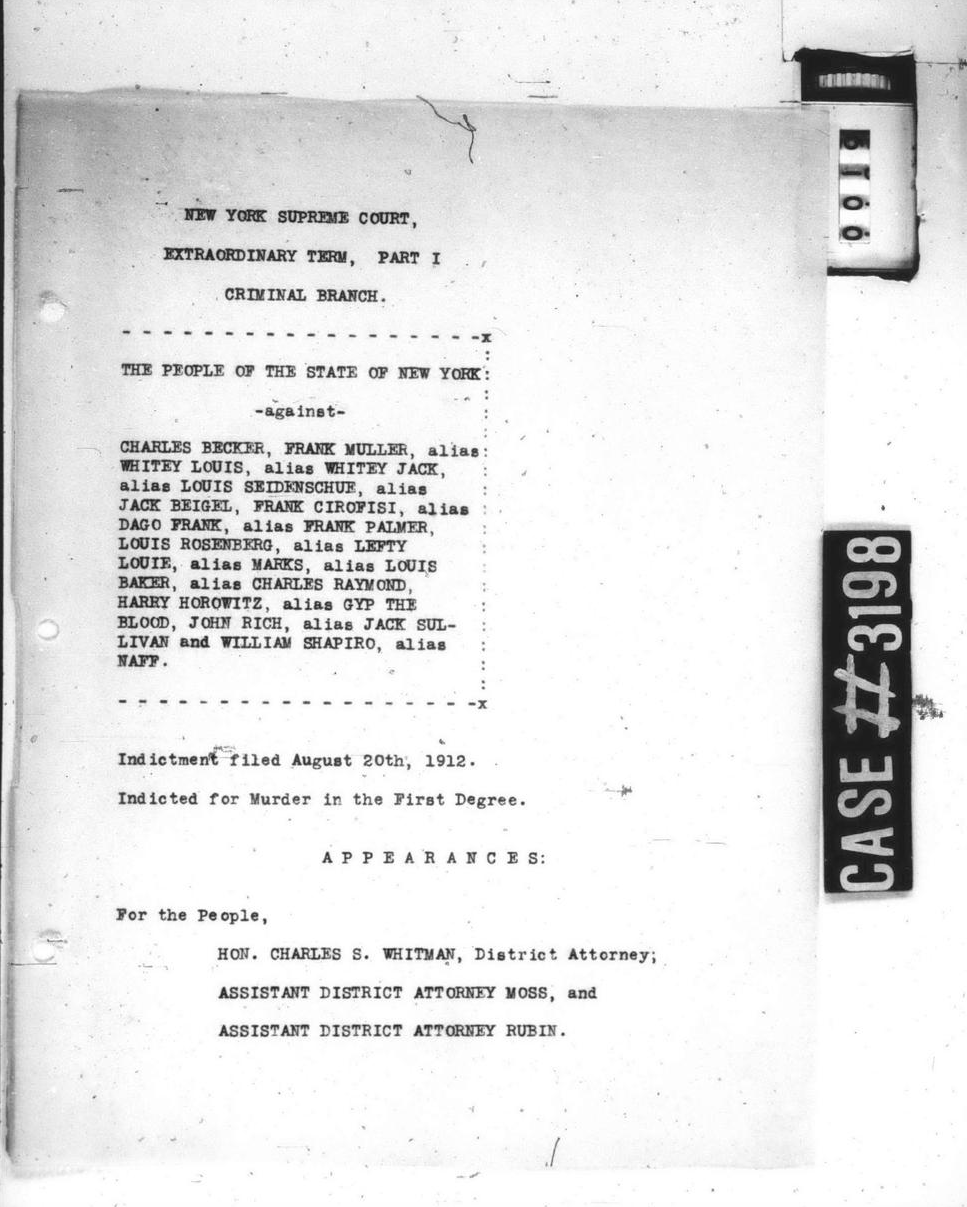 On a hot July night in 1912, a gentleman known as "Beansy" was shot outside his illegal gambling establishment at 104 West 45th Street. By October of that same year, seven men came before the Supreme Court of New York County, all charged with first-degree murder of Herman "Beansy" Rosenthal, including a NYPD Lieutenant named Charles Becker. Thus began a series of famous trials and public discussion about corruption in the NYPD and who was responsible for planning and carrying out Rosenthal's murder.
Ultimately, five of the original defendants were found guilty on appeal and were executed at Sing Sing Prison. While it is generally agreed that Lieutenant Becker was "on the take" and had a far too cozy relationship with members of the "Lenox Hill Gang" (his co-defendants in this first trial), speculation on the guilt or innocence of Becker for this particular murder continues to be hotly debated and is the subject of five books so far.
The transcripts of three trials related to this case are in our Criminal Trial Transcripts of New York County Collection, which has been available on microfilm since 1985. The first half of the first trial (2,100 pages long) is available on the Library's Digital Collections. We will make the second half and the other trials digitally available in 2019. In the meantime, we have supplemented the metadata with links to many other resources related to this case.
---
Above: Sing Sing prisoner identification photographs of five co-defendants ultimately found guilty of Rosenthal's murder. From the Lewis Lawes Papers, available on the Library's Digital Collections , where you can find more aliases for the men pictured here.
---
Earlier this year we received the Richard E. Enright Papers. Enright was NYPD Commissioner from 1914 to 1928. The donation was received from a retired garbage collector who found them in the trash on his route in Milwaukee. The entire collection has now been described in a finding aid, and all 20 items have been digitized and are now uploaded to the Library's Digital Collections.
However, we have had a difficult time identifying the people, events, and dates for some of these items.
If you can help, please contact us.
---