Exhibition: "Rogues Gallery"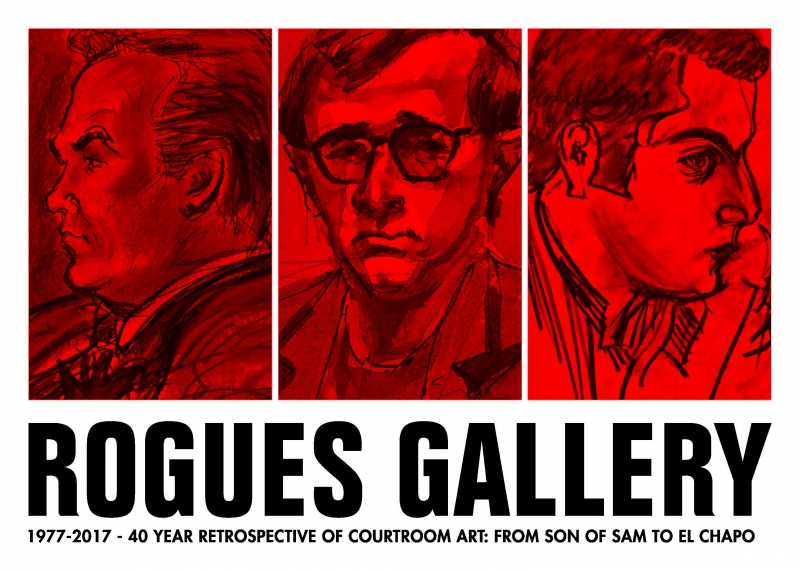 ROGUES GALLERY: Forty Year Retrospective of Courtroom Art from Son of Sam to El Chapo
Curated by Larry E. Sullivan (Chief Librarian), Aggie Whelan Kenny, and Elizabeth Williams
On view November 30, 2017 to February 2, 2018
Location: Shiva Gallery, located just inside the 11th Avenue entrance to John Jay College of Criminal Justice.
Address: 860 11th Avenue (between 58th & 59th St), New York, NY 10019.
The Shiva Gallery is free and open to the public Monday through Friday, 10am – 6pm. 
—
A large portion of the items on view are from the Richard Tomlinson, the Aggie Whelan Kenny, and the Elizabeth Williams Courtroom Drawings Collections, all housed in the Lloyd Sealy Library Special Collections.
—
Press
"Courtroom Confidential," Ralph Blumenthal, New York Times, Nov. 24, 2017
For more information about the exhibition, contact the Shiva Gallery: gallery@jjay.cuny.edu or 212-237-1439.
Drawings in the promotional image are by Elizabeth Williams, Aggie Whelan Kenny, and Richard Tomlinson.