Graduate students by the numbers: Results from a Fall 2018 survey
Kathleen Collins
In the fall of 2018, we conducted a survey of current graduate students. The link to the online survey was circulated via Twitter, Facebook, and the graduate student listserv administered by Graduate Studies.
Who participated in this survey?
There were 64 respondents ranging from students who began their graduate programs within the last three years. Roughly a quarter of respondents were in the Public Administration program and another quarter in the Criminal Justice Masters program, followed by 17% from Forensic Psychology and 11% from International Crime and Justice. Seventy-three percent of the respondents take classes on campus and 13% are enrolled in online MA programs. Sixty-six percent are full-time students and 33 percent are part-time. Thirteen percent are international students. A third of the respondents currently work in the field of their chosen academic program while 42% currently work in a field outside of their program of study.
How often do graduate students use the library?
While nearly 40% of the students surveyed say they come to the library 2-3 times per week, 13% say they have never visited the physical library. As for virtual visits, almost 70% say they visit the library website 2-3 times per week while just under 2% say they have never done so. Twenty-seven percent spend just enough time on campus to attend their classes, while the remainder spend varying amounts of time, from one to more than six hours per week on campus.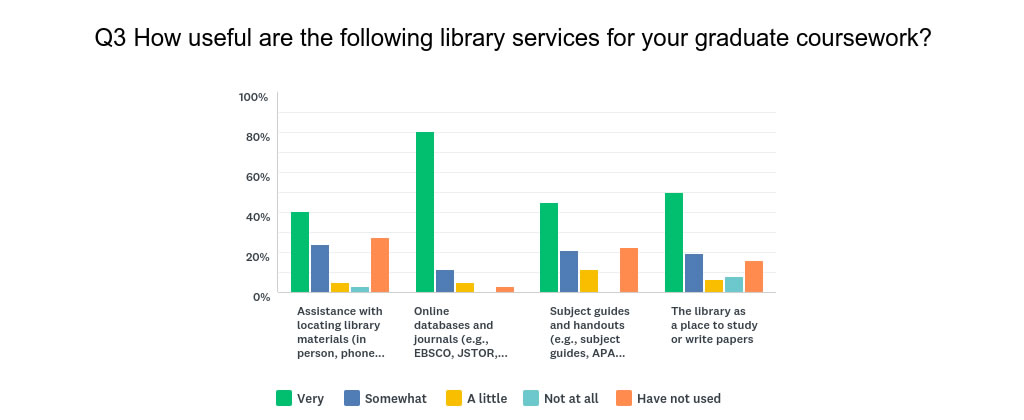 How do graduate students use the library?
Overwhelmingly, the online databases proved to be the most valued library service offered. When asked what types of resources they used the most for their work, respondents cited "journals" most often. As for the section of the website students go to most often, it's OneSearch (55%), followed by specific databases (31%).
When asked which other research gateways the students use, 62% say Google Scholar, while 34% claim Google. Some of the others specifically named included IEEE (a technical professional organization), Pub Med, Nexis Uni (formerly LexisNexis) and Sci-Hub (a research paper repository).
We asked what part of working on a research project or paper students enjoyed the most. Responses ranged from reading, gathering data, and learning, to "submitting it" and "none." What frustrates them the most? Choosing the right key words, finding enough sources, and knowing what amount of research is enough. Several respondents referred to the time-consuming nature of research.

What else do graduate students want in the library?
The wish list items for the library are perennial: longer hours, being able to drink coffee, more quiet areas, and more space in general. (Last semester, the library opened new study areas: the Silent Study Area South and an expanded Reserve Lab.)
Are you a graduate student or do you teach or advise graduate students? Check out our downloadable brochure, Using the Library: A Guide for Graduate Students (PDF)
---