The New York Times recently featured a list of 25 great books by refugees. The Lloyd Sealy Library has many of these books in its holdings, so we've highlighted some here for you. Enjoy reading these!
---
Isabel Allende, The House of the Spirits (1982).
Stacks PQ 8098.1 .L54 C313 1985.
A best seller and critical success all over the world, The House of the Spirits is the magnificent epic of the Trueba family -- their loves, their ambitions, their spiritual quests, their relations with one another, and their participation in the history of their times, a history that becomes destiny and overtakes them all. (From publisher's description)
Hannah Arendt, The Origins of Totalitarianism (1951).
Stacks JC480 .A74 2004 and Reserve JC480 .A74 1994.
Suspicious of the inevitability so often imposed by hindsight, Hannah Arendt was not interested in detailing the causes that produced totalitarianism. Nothing in the nineteenth century--indeed, nothing in human history--could have prepared us for the idea of political domination achieved by organizing the infinite plurality and differentiation of human beings as if all humanity were just one individual. ... The Origins of Totalitarianism remains as essential a book for understanding our times as it was when it first appeared more than fifty years ago. (From publisher's description)
Vladimir Nabokov, Lolita (1955).
Stacks PS3527 .A15 L6 1997.
The most controversial classic novel of the 20th century ... Awe and exhilaration--along with heartbreak and mordant wit--abound in Lolita, Nabokov's most famous and controversial novel, which tells the story of the aging Humbert Humbert's obsessive, devouring, and doomed passion for the nymphet Dolores Haze. (From publisher's description)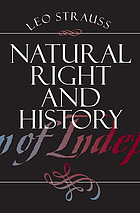 Leo Strauss, Natural Right and History (1953).
Stacks K415 .S77 1953
This work examines the problem of natural right and argues that there is a firm foundation in reality for the distinction between right and wrong in ethics and politics. (WorldCat)
Joseph Brodsky, Less Than One (1986).
Stacks PN 1271 .B76 1986
This collection of essays thrusts Brodsky--heretofore known more for his poetry and translations--into the forefront of the "Third Wave" of Russian emigre writers. His insights into the works of Dostoyevsky, Mandelstam, Platonov, as well as non-Russian poets Auden, Cavafy and Montale are brilliant. While the Western popularity of many other Third Wavers has been stunted by their inability to write in English, Brodsky consumed the language to attain a "closer proximity" to poets such as Auden.The book, which won a National Book Critics Circle Award, opens and closes with revealing autobiographical essay. (Publisher's description)
Reinaldo Arenas, Before Night Falls (1992).
Stacks PQ 7390 .A72 Z46313 1994.
Arenas recounts a stunning odyssey from his poverty-stricken childhood in rural Cuba and his adolescence as a rebel fighting for Castro, through his suppression as a writer, imprisonment as a homosexual, his flight from Cuba via the Mariel boat lift, and his subsequent life and the events leading to his death in New York. In what The Miami Herald calls his "deathbed ode to eroticism," Arenas breaks through the code of secrecy and silence that protects the privileged in a state where homosexuality is a political crime. Recorded in simple, straightforward prose, this is the true story of the Kafkaesque life and world re-created in the author's acclaimed novels. (Publisher's description)
Cristina Garcia, Dreaming in Cuban (1992).
Stacks PS 3557 .A66 D73 1993.
A vivid and funny first novel about three generations of a Cuban family divided by conflicting loyalties over the Cuban revolution, set in the world of Havana in the 1970s and '80s and in an emigre neighborhood of Brooklyn. It is a story of immense charm about women and politics, women and witchcraft, women and their men. (Publisher's description)
Loung Ung, First They Killed My Father (2001).
Stacks DS 554.8 .U54 2000.
From a childhood survivor of Cambodia's brutal Pol Pot regime comes an unforgettable narrative of war crimes and desperate actions, the unnerving strength of a small girl and her family, and their triumph of spirit. (Publisher's description)
Ishmael Beah, A Long Way Gone (2007).
Stacks DT516.828 .B43 A3 2007 and browsing collection.
In the more than fifty conflicts going on worldwide, it is estimated that there are some 300,000 child soldiers. Ishmael Beah used to be one of them. What is war like through the eyes of a child soldier? How does one become a killer? How does one stop? Child soldiers have been profiled by journalists, and novelists have struggled to imagine their lives. But until now, there has not been a first-person account from someone who came through this hell and survived. In A Long Way Gone, Beah, now twenty-five years old, tells a riveting story ... This is a rare and mesmerizing account, told with real literary force and heartbreaking honesty. (From publisher's description)
Masha Gessen, The Man Without a Face: The Unlikely Rise of Vladimir Putin (2012).
Stacks DK510.766 .P87 G47 2012
The Man Without a Face is the chilling account of how a low-level, small-minded KGB operative ascended to the Russian presidency and, in an astonishingly short time, destroyed years of progress and made his country once more a threat to her own people and to the world. ... Her account of how a "faceless" man maneuvered his way into absolute-and absolutely corrupt-power has the makings of a classic of narrative nonfiction.
Gary Shteyngart, Little Failure (2014).
Stacks PS3619 .H79 Z46 2014.
The award-winning author of Super Sad True Story traces his uproarious experiences as a young bullied Jewish-Russian immigrant in Queens, his haphazard college pursuits and his initial forays into a literary career. (Publisher's description)
Karl Polanyi, The Great Transformation (1944).
Stacks HC53 .P6 1957.
After settling down to teach at Bennington College, Polanyi published his major work, which looked at how the Industrial Revolution was so disruptive that it created the conditions for both Communism and fascism. But capitalism, he argued, did not happen spontaneously. It required an enormous amount of government planning in order to function. "Laissez-faire was planned," was his counterintuitive summation. (NYT description)
Thomas Mann, Doctor Faustus (1947).
Stacks PT2625.A44 D63.
A new translation of a 1948 novel by a German writer based on the Faust legend. The protagonist is Adrian Leverkuhn, a musical genius who trades his body and soul to the devil in exchange for 24 years of triumph as the world's greatest composer. (Publisher description)
Theodor Adorno, The Authoritarian Personality (1950).
Stacks (BF 323 .D6 A95 1982.
Adorno wanted to understand what kind of personality type was susceptible to fascism. He found his answer, via Freud, in a harsh parenting style that led to the kind of person who would crave the approval and guidance of an authoritarian. (NYT description)
---
Not sure how to find a book by its call number? See our guide.
Hitting your monthly limit of free NYT articles? Sign up for an NYT account through CUNY (a $200 value!).
January 31, 2017