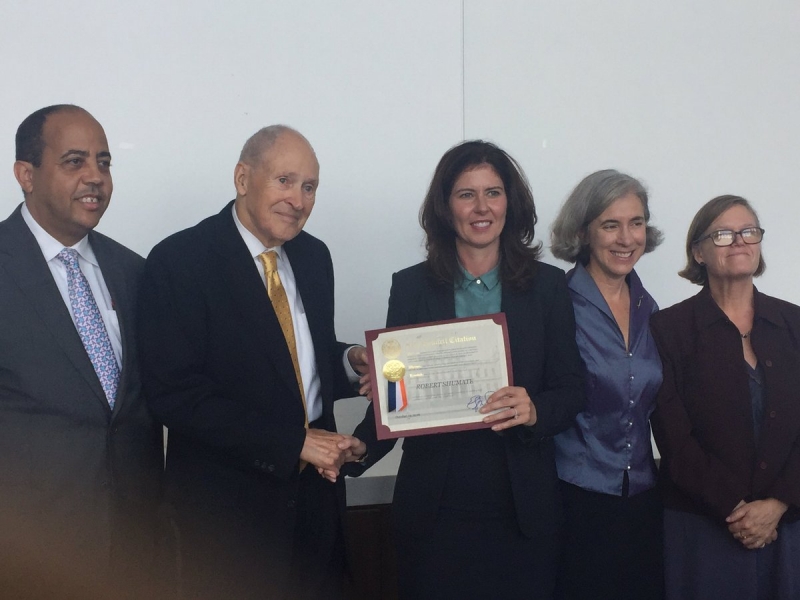 NYC councilmember Elizabeth Crowley bestows a citation on Robert Shumate, joined by Charles Jennings,  Director of the Christian Regenhard Center; Elizabeth Hovey, History Dept.; and Ellen Belcher,  Library. Photo from the Christian Regenhard Center for Emergency Response Studies, via Twitter.
Hovey Memorial Lecture
The Lloyd Sealy Library co-sponsored a lecture from Robert Shumate on October 19, 2016. Beginning as a Maine State Trooper, Shumate (second from left) went on to develop and install the first online police computing systems in 1964, launching modern computer-aided dispatch and records management. He led the formation of the IJIS Institute, devoted to public safety information sharing. Shumate came to John Jay to honor his late protégé, 911 pioneer Scott Hovey. The Library's Special Collections acquired Hovey's professional papers.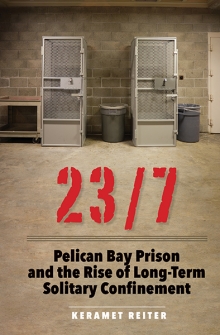 Supermax Prisons Book Talk
Dr. Keramet Reiter is an assistant professor at the University of California, Irvine, and a graduate alumna of John Jay. On November 10, 2016, Dr. Reiter presented a book talk on her latest monograph, 23/7: Pelican Bay Prison and The Rise of Long-Term Solitary Confinement. The Library co-sponsored this Sociology Book Talk and has acquired 23/7, soon available in the Stacks.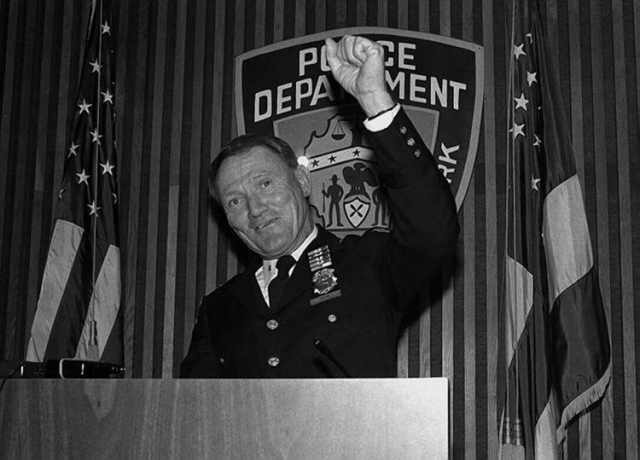 John Timoney oral history highlighted
John F. Timoney (1948-2016) rose through the ranks of the New York Police Department to become Chief of Department and then First Deputy Commissioner under Police Commissioner Bill Bratton (1994-1996). He was later Police Commissioner in Philadelphia and Chief of Police in Miami. Chief Timoney was also a John Jay College alumnus, graduating in 1974 with a degree in History. In 2010, I sat with John Timoney for an oral history interview, during which he discussed his career in the NYPD and the transformation of the department under Bratton, especially the introduction of Compstat. You can read the oral history interview in the Library's Digital Collections. --Jeffrey Kroessler
Timoney's 2010 memoir, Beat Cop to Top Cop: A Tale of Three Cities, published by the University of Pennsylvania Press, is available at the Library in the Stacks, HV7911 .T563 A3 2010.
--
Read more from the Fall 2016 issue of Classified Information, the Library newsletter