The Library Department surveyed the John Jay College faculty on their library use in the Spring 2016 semester. 216 people responded to the survey.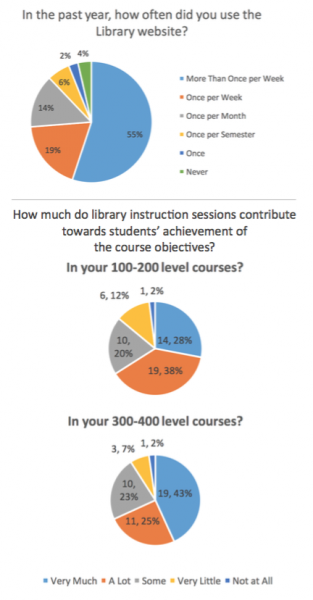 Highlights
Most importantly, 87.5% of respondents were satisfied or very satisfied with the Library. If we assume that those who responded to the survey were those who cared most about the Library (either positively or negatively) then the fact that our users are pleased with the Library was confirmation that we have generally been serving their needs well.
The respondents were not just fans of the Library but were also very heavy users. 74% use the Library's website at least once a week.
The investment that John Jay and CUNY have been making in online journal collections, databases and linking is paying off. 89% of surveyed faculty can usually or always access the electronic journal articles they need.
Only 23% of those teaching 100-200 level courses and 38% of those teaching 300-400 level courses felt that their students always or usually discovered and used appropriate information sources, yet only 32% and 23% (respectively) scheduled library classes for their students.
Of those instructors who did schedule library classes, 66% thought the sessions contributed very much or a lot to students' achievement of course objectives in 100-200 level courses, and 68% felt that way about 300-400 level courses
Too many faculty are unaware of many of the resources and services we currently offer, but were pleased to learn about them and want to know more.
Faculty want more services from the Library—especially those that help with navigating the new publication landscape. 125 faculty members wanted individual reference consultations, 121 asked for assistance with copyright and author rights and 110 wanted guidance on measures of journal quality.
Of those responding a surprising number took the time to write comments
e.g., 88 wrote answers to the question "How could the Library better serve you and/or your students?"
Nine people asked for better or longer hours.
Four asked for more staff
Three wanted improvements in the physical facility; e.g.,


"Better physical conditions. The Library looks terrible and does not serve students well."
"The library space needs to be redesigned. It is a difficult place to work…. Our library should be our 'jewel in the crown.' The librarians fit that description. The library itself does not. We should have quiet places for students to read and do their work… Less time and money on 'lounges' where students sleep and more on the library which is integral to our students' future success."

Four had serious or minor complaints
Nine thought we were just great and wouldn't change a thing; e.g.,


"The Library is the best-run department in our college. The librarians are always willing to assist faculty and students with patience and with a smile. Many thanks for their years of great service."
"I am extremely satisfied with the library."

But 18 thought we should be doing a better job of letting people know about what we offer:


"Efforts to raise awareness of all of these resources that are available, with specific focus on the ability of students and faculty to use the electronic and web-based resources available."
"More outreach-many students do not know the services the library provides"
"This survey suggests library services that could help my teaching and research that I never knew of before. Provide faculty tutorials on services."
"Better announcement and support messages"

"Advertise services to students (beginning of semester, around midterms, finals week)"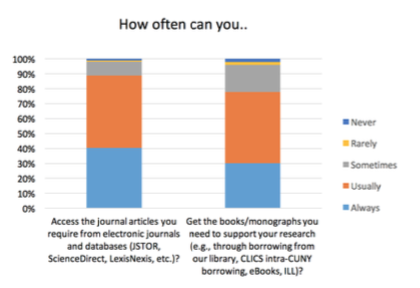 Conclusions
Faculty place a high value on the resources they know about and want to learn about what else we have to offer.
We should not reduce our efforts in traditional services like reference, ILL, and reserve. Our faculty consider them critical.
The effort we have put into our online presence—the Library website, electronic resources, linking resources with metadata, providing services to online classes—has been worthwhile and has been noticed by the faculty.
Ease of accessing and navigating some digital resources (particularly ebooks) has room for improvement and we need to continue pushing the vendors to improve.
We do need to focus more on marketing/outreach. Respondents were much more aware of the New York Times digital subscription service than of many other library resources – this was one resource we had marketed a lot, in various different ways, and the effort clearly paid off. CLICS is one service we might want to target for more marketing.
Faculty would appreciate more help navigating the new digital/publication/research landscape. They would like one-on-one consultations with a reference librarian, help in learning about newer resources, assistance with questions about copyright and authors' rights, help in managing and archiving their research data, guidance in understanding impact factors and measures of journal quality. All of these supports would enhance the scholarly productivity of our faculty and are now being provided by better-staffed libraries.
We hope to repeat this survey every three years, but there is no need to wait until then to express concerns, compliments, or suggestions. Feel free to talk to any of the Library faculty or contact Prof. Marta Bladek, Head of Public Services.
The full report on the Faculty Survey is available on Academic Works.
Bonnie Nelson
--
Read more from the Fall 2016 issue of Classified Information, the Library newsletter