The National Organization of Black Law Enforcement Executives (NOBLE) and the Office of the President, in partnership with the Lloyd Sealy Library, present:
The Lloyd George Sealy Panel Discussion
To be held Tuesday, Feb. 28, 2017 at 6pm in the Moot Court Room (6.68NB) at John Jay College.
Street address: 524 W. 59th Street, New York, NY 10019
Panel speakers:
Darcel D. Clark, Bronx District Attorney
Ama Dwimoh, Special Counsel to the Brooklyn Borough President
Patricia L. Gatling, Attorney, Windels Marx
Stephen P. Duncanson, President, True Destiny Communications (moderator)
SPECIAL GUEST SPEAKER: ERIC ADAMS, Brooklyn Borough President
JJ event announcement. For more information, please contact Rulisa Galloway-Perry, Office of the President, at 212-237-8601.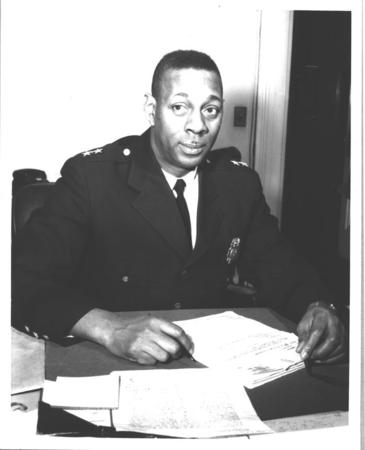 Lloyd Sealy at Desk (1964), from the John Jay College Archives (Digital Collections)
_
Related: Who was Lloyd George Sealy?