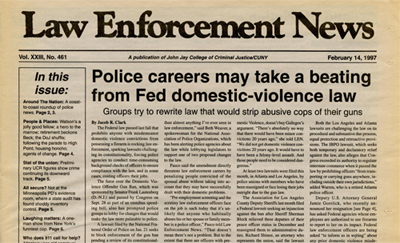 In October, METRO Library Council announced that the Library is one of six winners of the 2015-2016 METRO Digitization Grants. Our project, "Digitizing Policing: Opening Access to Law Enforcement Resources," will make our deep and extensive historical resources on law enforcement and policing available to a wider audience of researchers, students, and law enforcement professionals. The main purpose of this project is to digitize the periodical Law Enforcement News (LEN), and we will be shipping all 636 issues to the Internet Archive for digitization. Over the next year we will also be undertaking other library digitization efforts: rare monographs, serials, pamphlets, and unique archival objects related to the NYPD and other U.S. Police Departments. There are already hundreds of NYPD and law enforcement related digital items in our Digital Collections and on the John Jay College page of the Internet Archive.
Law Enforcement News was continuously published by John Jay College of Criminal Justice from September 1975 through September 2005. In its 30 years of publication, 636 issues were produced. LEN documented developments in police research, policy, and procedure during the last quarter of the 20th century, from which the roots of the current policing environment were shaped. Each issue presented articles that focused on police policy, practice, research, and innovation nationwide. It promoted the sharing of information among law enforcement agencies and the research community. It provided its readers with news, features, and interviews with police chiefs and policy makers. Although the paper published opinion pieces from readers, it did not publish editorials of its own, allowing readers to draw their own conclusions. It did not report on crime per se, but it did report on police response to crime. For example, it covered community policing, "broken windows," and CompStat in their infancies and continued to report on these trends as they made their way throughout the nation.
In the intervening years, the Library has regularly and frequently been contacted by police officers and researchers asking for copies of articles. The Library-hosted LEN web page offers only very limited excerpts and selections. Even so, this web page received 4,500+ hits so far in 2015, indicating that people are still looking for LEN articles. Since 1981, LEN has been indexed by Criminal Justice Periodical Index (ProQuest). Most articles remain inaccessible to the original user base – law enforcement professionals – who are traditionally without access to library resources. We have also heard from libraries supporting new criminal justice programs who would like to include LEN in their collections, but they are neither interested nor financially able to purchase the title in its only available format, microfilm.
Contemporary policing methods and philosophies are (rightly) coming under greater public scrutiny. The intended audiences and end users of these materials include academic researchers studying the policing history of the United States, journalists, students, law enforcement professionals, and interested members of the general public. We cannot accurately foresee how people will use these materials, but we have no doubt that if we build it, they will come. We look forward to providing this material to a wider audience by making it fully open access for all.
We thank Marie Simonetti Rosen, Publisher of LEN, for her assistance on the grant application and for her continuing support of this project.
Ellen Belcher