Elsevier's Scopus, the prominent multidisciplinary abstract and citation database of peer-reviewed literature, has recently introduced a new Metrics module that offers a glimpse of an article's scholarly impact. The new Metrics module aims to show how a given article has been received by the scholarly community, the public, and even the media. It also measures the article's impact as compared with similar articles (Scopus considers articles to be "similar" and calculates percentile benchmarks based on publication date, document type, and discipline associated with the source).
The Metrics module includes citation counts, the more traditional measure of scholarly impact, but it also captures a wider range of metrics that complement citations:
Scholarly Activity keeps track of downloads and posts in research portals such as Mendeley and CiteULike
Mass Media tracks the article's media coverage
Scholarly Commentary lists the number of reviews, blog posts and Wikipedia entries that reference the article
Social Activity counts the times the article has been mentioned on Twitter, Facebook and Google+
Insofar as it captures the scholarly and public engagement with a researcher's work, the Metrics module offers a more comprehensive overview of how an article enters and performs in the field than citation counts alone are able to.
Individual John Jay researchers whose work is indexed in Scopus can easily access their metrics. After performing an author search, a list of articles by a given author will come up. Each article will include the Metrics module in the lower right corner of the page.
For example, very quickly, I was able to gather the metrics for Professor Saul Kassin's 2011 article on "Inside Interrogation: The Lie, the Bluff, and False Confessions."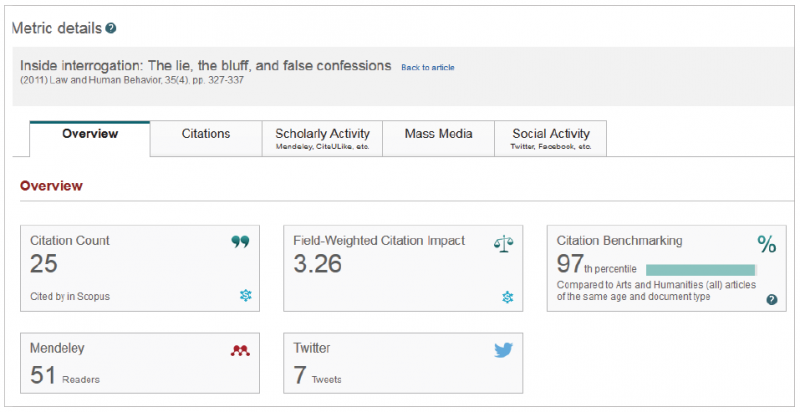 As always, when referencing scholarly impact metrics, researchers and evaluators should be aware of the many caveats that relying solely on numbers has. Notably, even as it promotes the Metrics module, Elsevier calls "for the responsible use of metrics." For an overview of the advantages and problems that scholarly output measures present, please consult the Library's regularly updated Faculty Scholarship Resources guide. The guide aims to assist faculty who want to locate, gather, and present their scholarly works' impact in a way that reflects the complex and imperfect nature of existing research assessment measures.
Marta Bladek
—