New exhibit and handout support the John Jay/Rubin Museum Essay Contest
The essay contest is now closed, but you can still visit the exhibit on the upper floor. Good luck to all the students who entered!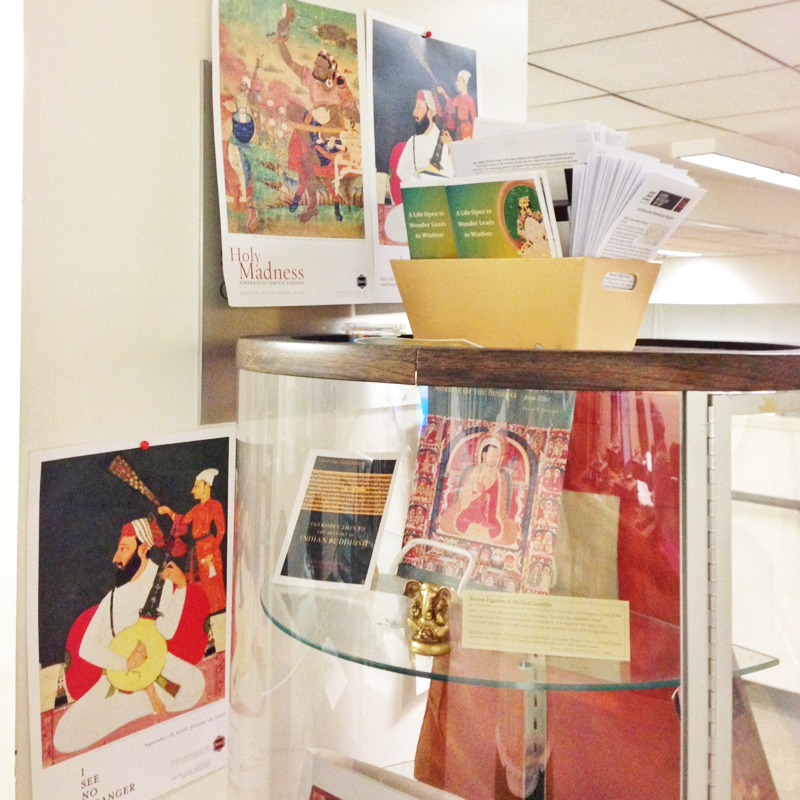 A new exhibit in the library features some exhibition catalogs recently donated by the Rubin Museum. A corresponding pamphlet written by Professor Karen Okamoto lists the titles in the Rubin donation as well as a small selection of related books in our collections as well as suggestions for finding many more resources.
This exhibit is also intended to support students who are researching and writing essays to submit to the Rubin Museum Essay Contest. This contest offers 7 cash prizes toward your tuition, between $500-$3000 for John Jay undergraduate student writers who write winning essays. More information on the award as well as a worksheet of suggested topics are also available as another handout adjacent to the exhibit, which is behind the reference desk on the second floor of the library.
The Librarians are available to assist you in researching your essay at the reference desk whenever the library is open. Entry to the Rubin Museum is free to all John Jay Students and Staff.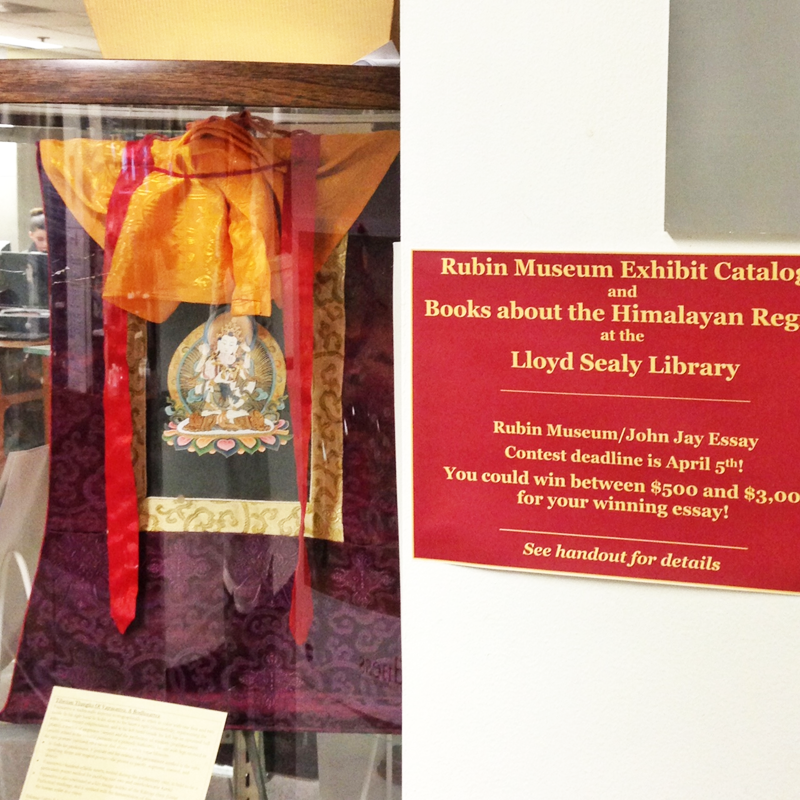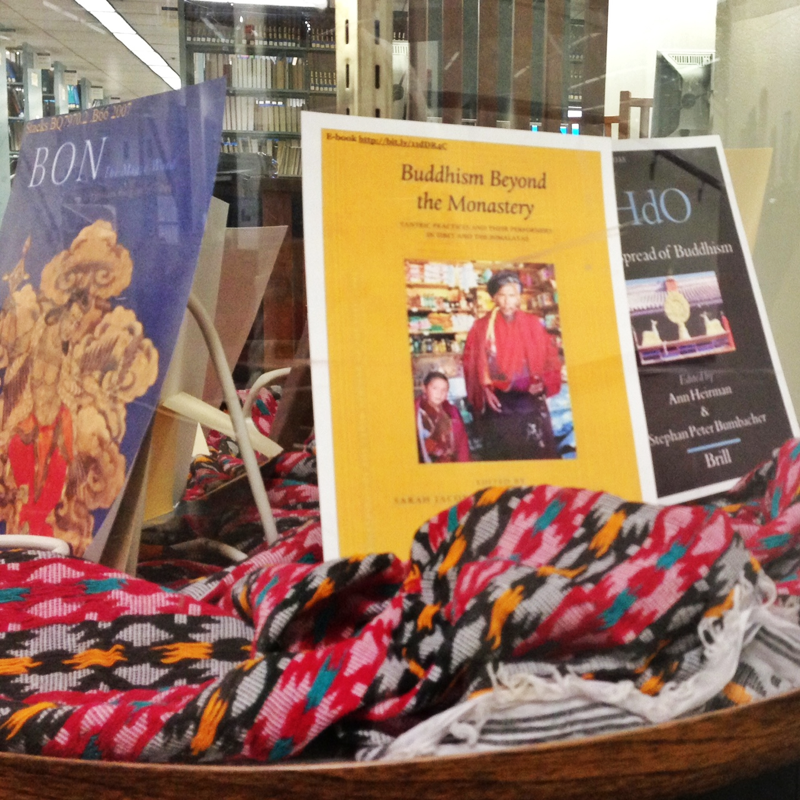 From the Essay Contest Instructions:
Choose a work or set of works of art from the collection of the Rubin Museum of Art. Write an essay about the work (or those works) that explores how the piece or pieces define or express the idea of justice. As John Jay commences its 50th anniversary, it may be useful to reflect on our history as a college and a force for social change as you come up with the concept for your essay topic. Your essay may consider any of a wide range of issues, including but not limited to: justice as it relates to retribution and punishment; justice as it relates to death; justice as it relates to the possible differences between what gods and human beings consider fair; justice as it relates to violence and non-violence.
In order to be considered an essay must be typewritten and submitted in hard copy. No e-mailed or faxed entries will be considered. The essay must be between 1000 and 3000 words long. Each student entering an essay, must submit four copies of the essay to Office of Fellowship & Scholarship Opportunities by no later than 5:00pm on April 5th, 2013 The first copy of the essay must be accompanied by a detachable title page bearing the name of the student and the last four digits of his/her Social Security Number. The remaining pages of all copies of the submission must include the last four digits of the Social Security Number and no other identifying information. The Office of Fellowship & Scholarship Opportunities will accept submissions from March 11th through April 5th. Winning essays will be selected by April 19th. For more information consult the Rubin Museum website. See also: more information about past winners. 
From the John Jay College of Criminal Justice Essay Contest Worksheet:
Rubin Museum of Art, 150 West 17th Street, New York, NY 10011
Spring 2013: While visiting the Rubin Museum of Art, you might consider researching the artworks below as they relate to concepts of justice. You are not limited to these works, and we encourage you to investigate others, but they provide a good place to start. If you have questions, roaming Museum Guides in our galleries can help and there are Rubin Museum catalogs in the John Jay library. All works can be found on the 2nd floor. To learn more about our collection, visit rmanyc.org where you will find museum resources, online interactives, and links to audio guides at iTunesU. Most pieces in the museum have a Himalayan Arts Resources (HAR) number. By visiting himalayanart.org, and typing in the HAR number, you can read articles about artworks and download their images. Please be sure to cite the HAR number in your essay.
Questions about the Essay Contest? Please contact Kevin Nesbitt at the Office of Academic Affairs at knesbitt@jjay.cuny.edu or Vielka Holness at the Office of Fellowship & Scholarship Opportunities at vholness@jjay.cuny.edu.