Read the book and watch the movie: we have BOTH!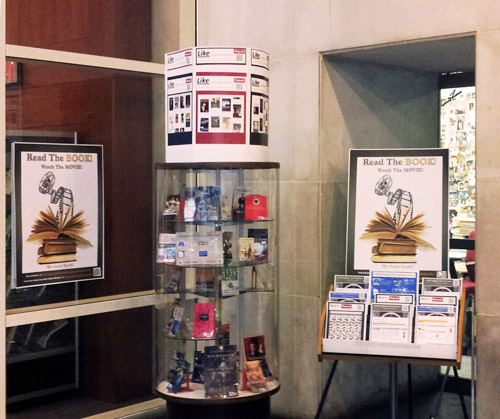 Thousands of books have been made into movies. For a snapshot of book and movie titles in our collection visit the exhibit next to the circulation desk on the first floor of the library or go to our Pinterest board. Feel free to leave a comment or like your favorite book or movie. Search CUNY+, the online catalog, to find those available at the Lloyd Sealy Library.  
Some books made into movies focus on popular literature like Alice Walker's The Color Purple (book, DVD) and Ian McEwan's Atonement (book, DVD). Some focus on classics like Harper Lee's To Kill a Mockingbird (book, DVD, VHS) and Bram Stoker's Dracula (book, ebook, DVD).  Some reflect our specialized focus on justice issues like Benny Golden's War on the Family: Mother's in Prison and the Families They Leave Behind (book, DVD) and Barrett J. Foerster's Race, Rape and Injustice (book, DVD).
Do you read the book or see the movie first? You get to choose!
For tips on how to watch a film as a scholar and not purely for enjoyment, see this How to Read a Film handout.
For more information about our entire video collection, see the Library's video guide.