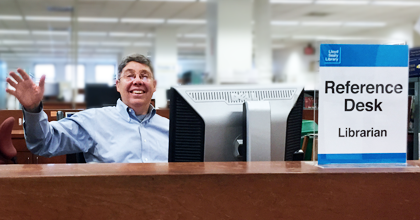 Our esteemed colleague, friend, and Chief Librarian, Dr. Jeffrey Kroessler, passed on Feb. 5, 2023. Jeffrey was a wonderful colleague and will be dearly missed by the staff and faculty of the Lloyd Sealy Library and the entire college, including the students with whom he worked. His generosity, warmth, kindness, and good humor lightened our days; the Library will not be the same without him. Jeffrey joined the Library faculty in 2005 and was promoted to the rank of full professor. He was the author of several books and was completing his third on the history of New York City. Jeffrey selflessly volunteered to fill an unexpected gap in Library leadership during the COVID pandemic and served as interim Chief Librarian from January 2021. He had a deep knowledge of city history and a passion for sharing it in academic and popular forums. He was a generous mentor to our students and welcomed those that sought him out in his book-piled office. Books piled on the floor and the chair, overflowing his shelves, but all neatly tidied up after work was completed. He was passionate about preserving the historic buildings and neighborhoods of the city. He chose to make his home Sunnyside Gardens, where he enjoyed the community fostered by the garden city; he loved that children played in the shared gardens between the buildings. We extend our deepest condolences to his wife, Laura Heim, their families, and his many friends. His like will not be seen again.
Soon after his arrival at the Lloyd Sealy Library, Jeffrey directed the Justice in New York, An Oral History project, for which he interviewed leaders in NYC Criminal Justice from 2006 to 2019.
Jeffrey's NYC books:
To read more of his writings, see Jeffrey's writing hosted on CUNY Academic Works.
To learn more about his career and affiliations, see Jeffrey's John Jay College faculty profile.
If you would like to contribute to The Jeffrey A. Kroessler Memorial Scholarship, visit new.jjay.cuny.edu/donate
Here we share some tributes from Jeffrey's colleagues in the library:
Whenever Jeff came into my office, I knew I was in for a good conversation and always a laugh, no matter how dire things were. When he had a shift at the reference desk, he'd be there with his packet of index cards and a pencil, taking notes from the historical newspaper databases and sharing his discoveries with whoever was lucky enough to be on the shift with him. He was always researching and learning, and that helped to make him the wonderful teacher that he was. As a colleague and as a historian of New York City, Jeff was top-notch. I miss his reason, intelligence, and sense of humor every day. --Kathleen Collins
It is unimaginable to write about Jeffrey Kroessler in the past tense. I remember little details of him: his first interview with the P&B for the reference librarian's position, his irony, and infectious laughter, his satisfaction that my daughter studied American history for three years in her high school, his light brown leather holder for three by five notecards where he wrote down quotes and remarks on his readings, his emails announcing professional achievements of his wife or his adventures as an urban historian, his walks around the library always visiting the Technical Services area and chatting with the staff. I remember his last shift at the reference desk – we talked about the weeding project. Then a couple of hours later I saw his back while he was writing in his notecards and I decided not to bother him because I would see him on Monday... He quelled disputes about library fines with some agitated patrons without losing his cool. He celebrated the graduations of the student workers with pizza parties and whistles when they walked on stage during the commencements. He loved the John Jay College library as an institution and a place to work, do his research and guide and welcome students. --Maria Kiriakova
I wasn't sure where to start when I sat down to write about Jeff. I've worked with him for the whole of my career as a librarian, and when I heard the news of his passing, I could hardly believe it. Jeff was a man of calm character, strong opinions, and wide knowledge. Regardless of the subject, every time I spoke with him, I always came away learning something new and interesting. I looked forward to when he'd come in the morning or when he'd take a break from working on his book to pop out to the Reference Desk. I'm glad that I was able to meet, work and interact with him for so many years. I'll certainly miss him and will definitely remember him very fondly. --Mark Zubarev
I want to thank Jeffrey for all he did for me in a short period of time. Jeffrey always had something cheerful to say each day he crossed our path. Gone too soon😢. John Jay College library staff has experienced a great loss. To his family, thank you for sharing him with us. Rest in peace, Jeffrey --Debra Spivey
Jeffrey Kroessler was the first librarian I met here at John Jay. He was always very nice and treated me very well from the beginning. He was very encouraging, and over the years gave me a lot of good advice. I was left speechless when I heard he was gone. Very sad, I will miss him very much. --J.Omar Rivera
Jeff was an engaged and accomplished scholar, librarian, and preservationist of NYC's history and its landmarks. Jeff also genuinely cared about our students and the value of education. With his good humor and a sense of timing to suit the moment, I remember the way Jeff would approach student-athletes while signing in to the library log or while hovering around the reference desk, looking for an opening to show students how the library can help. I never asked Jeff about how many students he hooked, but had there been more time, I would have. He will surely be missed for many reasons. --Maureen Richards
Professor Jeffrey Kroessler was the most respected colleague and scholar I ever had during my four years' librarianship at the College of Staten Island. As a Research Associate and Archivist, as well as a historian, Prof. Kroessler had devoted himself to developing an oral history of New York State Senator John J. Marchi for the College Archives while performing regular library desk reference service, among other things. In the past seven years I was fortunate enough, once again, to be able to work together with Professor Kroessler as a colleague, though at the Lloyd Sealy Library. His untimely passing is really a great loss for us all. Our Library will indeed not be the same without his sunny laughs and witty humor around us. He will be dearly missed. --Zuwang Shen
As a historian, Jeffery Kroessler supported all aspects of the Lloyd Sealy Libraries Special Collections. A significant addition to the Special Collections is the Justice in New York: An Oral History Project, directed by Jeff from 2006 to 2019. This project documented the perspectives of more than half a century of criminal justice leaders and was the impetus for launching the Library's Digital Collections. Jeff persuaded several interviewees to donate their papers to the Library, including Michael F. Armstrong, whose papers document his work on the Knapp Commission, and Chief Louis Anemone, whose papers document 30 years of leadership in the NYPD. Jeff even offered to pick up the papers – he was really great at stuffing his small car full of a surprising number of boxes. Jeff approached every aspect of his job at John Jay with a positive attitude and a rye sense of humor, even navigating a car through midtown midday traffic! --Ellen Belcher
I miss Jeffrey's frank and humorous assessment of every topic we discussed, from teaching information literacy to larger issues in higher ed. I enjoyed his impromptu visits to the Reference Desk when he would chat with anyone and everyone there – librarians, staff, students, teaching faculty, and external researchers. He cared about John Jay and our students. He was a good listener who always responded thoughtfully and humorously to any comment. I miss his calm presence and infectious, boisterous laughter that reverberated down the hall from his office on one end of the corridor to mine on the other. --Karen Okamoto