A citation database for the sciences and beyond
Karen Okamoto
Scopus abstracts and indexes peer-reviewed, scientifically significant literature in the social sciences, medicine, and physical and life sciences. With records for publications dating as early as 1788 and cited references dating back to 1970, Scopus's depth of content is increasing as it continues to compete with the Web of Science, another well-known citation index to which the John Jay Library also subscribes. Content types in Scopus include journals, books, conference materials and trade journals from publishers around the world.
Scopus's content coverage by subject area (source PDF):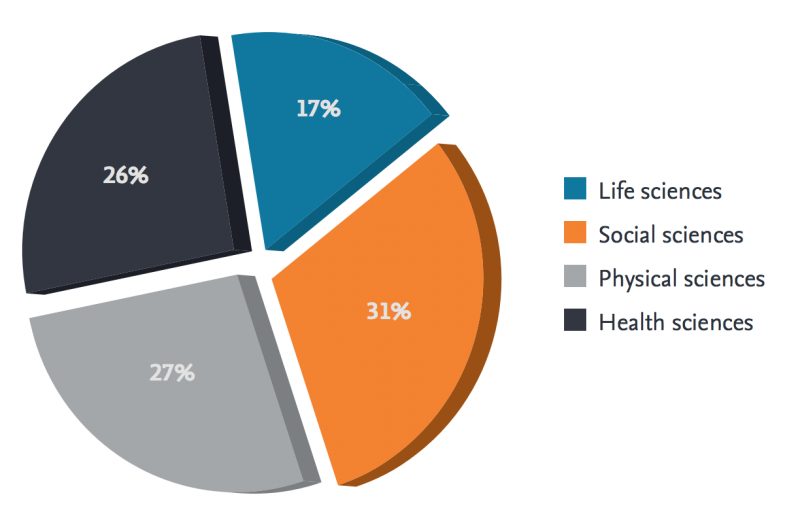 For researchers, Scopus provides several helpful features and filters to increase search precision. Users can, for example, limit their search to funding sources, articles in press, and fully open access journal articles. Search results can also be limited to content uploaded within the last seven days, demonstrating the timeliness of Scopus's data, which is updated daily. 
For authors and those interested in publication analytics, Scopus generates impressive visual displays of these metrics and offers various citation alert options. For example, users can create alerts each time a particular publication is cited, or they can "follow" particular researchers and their publications. Authors can also retrieve Scopus's metrics for specific journals, helping authors choose between journals to which they might submit manuscripts. In addition, it provides an author search which lists all the publications by an author as indexed in Scopus. Scopus generates a bar and line graph to illustrate documents indexed and the number of citations for a publication by year.
Sample analytics for an author, displaying documents and citations indexed by Scopus:

Graphs plotting the number of publications for a given institution can also be generated by Scopus.
Subjects of John Jay faculty publications from 1969 to the present: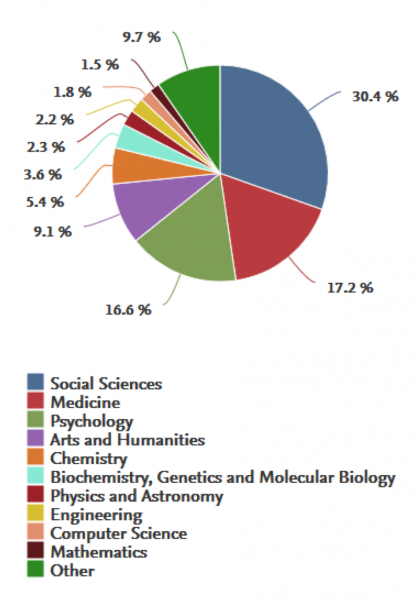 Scopus's content and features are impressive, but it is important to keep in mind the limitations of any database or bibliometric tool. Scopus provides analytics for the content it indexes, which may not be completely comprehensive. Other citation indexes such as the Web of Science and Google Scholar may provide different results and numbers for the same publication and author. Web of Science, for example, claims to have over 100 million records (source, PDF) while Scopus has over 69 million (source, PDF). Comparing these analytics can be revealing and instructive. 
---