In last Fall's Classified Information, I reported on our acquisition of The Records of the Fortune Society. Since that time, the Fortune Society gifted more records to the Library and the collection is now 80 linear feet of records. In accessioning the collection, we have been finding many gems in the collection which were on exhibit at the event celebrating the gift, on April 11, and will soon be displayed in the Library. We thank David Solomon, Sherrie Goldstein and JoAnn Page and everyone at the Fortune Society for making this gift happen.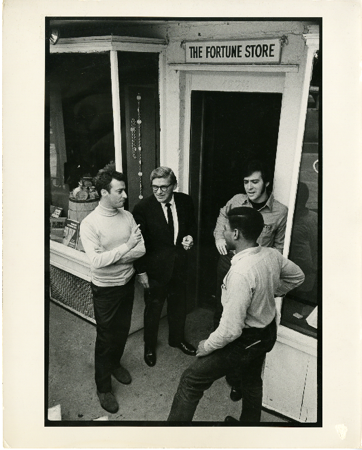 David Rothenberg standing with staff and a supporter outside the Fortune Store, which sold prisoner-made objects. The store opened in 1969 and closed in 1973 when the NY-DOC no longer allowed the sale of prisoner-made items.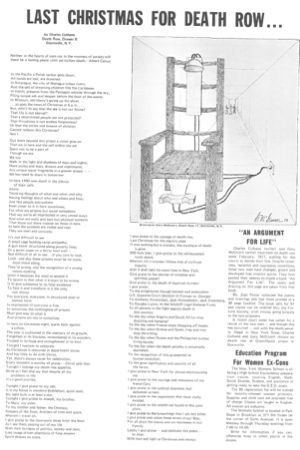 Fortune News, December 1973 featuring drawing by Gary McGivern, then incarcerated at Green Haven Prison; his papers are in the Lloyd Sealy Library.
In the 1990s we received a gift of The Records of the International Association of Women Police (IAWP). In March 2016 we received an additional 38 linear feet of records which had been previously stored at the University of Illinois Archives. This gift fills many gaps in the history of the IAWP, which celebrated their centennial in 2015. An unexpected surprise was that the boxes also contained the papers of two previous IAWP presidents, Dr. Lois Lundell Higgins, IAWP president 1956-1964 and Felicia Shpritzer, IAWP President 1972-1976. We will be processing and describing this collection over the next months. We thank IAWP Historian, Georgina Bellamy and U. Illinois Archivist April Anderson for facilitating the transfer of this important collection.
Lieutenant Felicia Shpritzer's papers document her 34 years of service in the NYPD. Included in these papers are documents related to her successful lawsuit against the NYPD to allow women to sit for the sergeant's exam. Lt. Shpritzer also has an early John Jay College connection; she earned a MA in Police Science at the College of Police Science at Baruch College.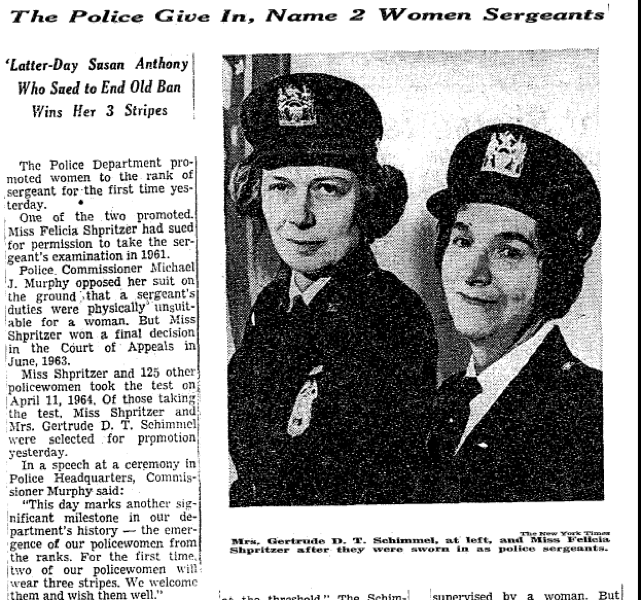 The police give in, name 2 women sergeants. (1965, Mar 13). From New York Times (1923-Current File) (Link).
Dr. Lois Lundell Higgins was a criminologist and policewoman with a long career in many Chicago criminal justice agencies. Her papers document her life, her extensive work in youth crime and drug abuse prevention, as well as her editorial work on Chicago Police Department publications. It must be in the latter role that she acquired 50 rare photographs and hundreds of large format negatives of the Chicago Police Department dating from the early 20th century through the 1960s.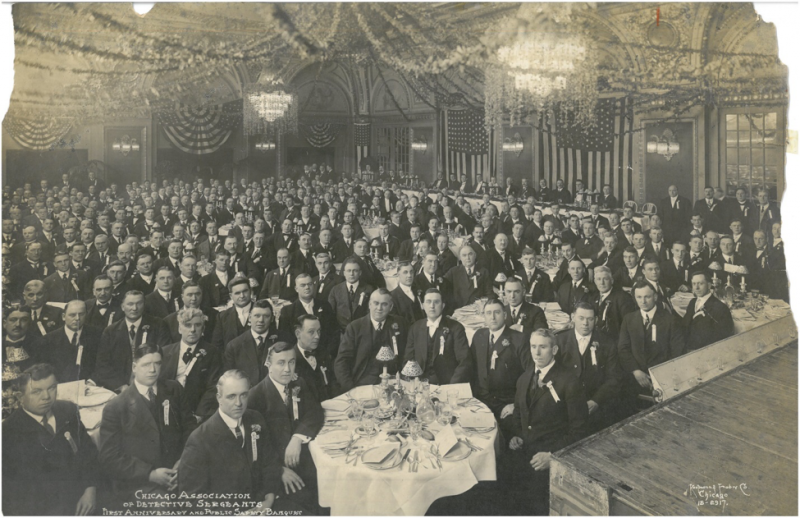 First meeting of the Chicago Association of Detective Sergeants, 1918.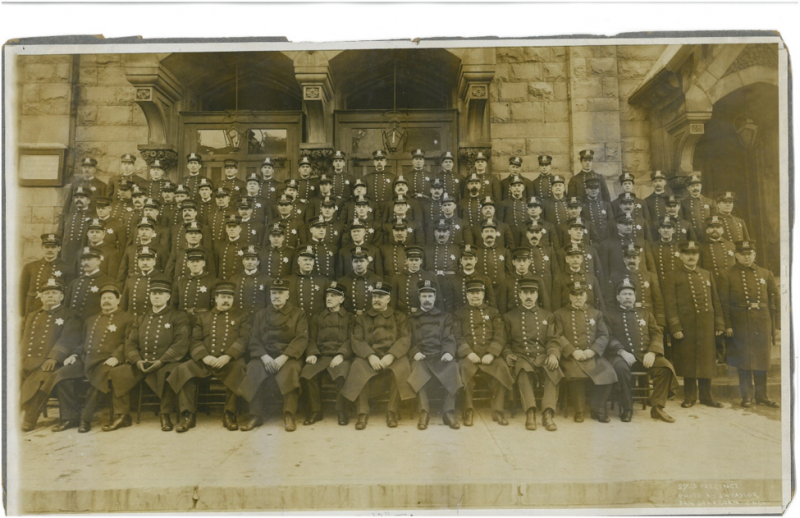 Early photo of policemen assigned to an unknown Chicago precinct.
In January, 2016, John Jay professor Elizabeth 'Zabby' Hovey and I met in San Francisco Bay Area to review her father's papers, The Scott Hovey Papers, 12 boxes of which arrived to the library later in the month. Scott Hovey's papers relate to his work in setting up early electronic systems and computer programs to facilitate communications and emergency response. The bulk of the papers document Hovey's administrative and programming work on emergency response systems which integrate all first responder agencies and immediately identify a caller's location, a concept he called "Enhanced 911" or "E-911." These files document the implementation of E-911 for the city of Saint Louis, MO and Alameda County in California. We will be processing and describing these papers over the next months. A May 2013 Oral History interview with Scott Hovey by Jeffrey Kroessler is in the final stage of processing and will soon be available on our digital collections. We thank the Hovey family for donating this important collection.
Digitization Update
The Special Collections has been moving ahead on our project Digitizing Policing project, also reported upon in our last Classified Information. Nearly all of the images in the Joseph P. Riccio Jr. Collection of Historical Police Images are now fully cataloged and digitally available (jjay.cc/ricciocollection). We have created a new website for Law Enforcement News (lib.jjay.cuny.edu/lawenforcementnews) to allow readers to follow the progress of digitization of this serial.
At present, the 1975–1985 issues are available on the Internet Archive; individual issues are linked from this page. While table of contents are indexed for most issues (1981–2005) on Criminal Justice Periodicals Index, we have decided to feature the interviews with police and criminal justice executives which regularly appeared in the 'centerfold' of every issue. Metadata has been added in the form of searchable subject headings on the interviewees and agencies featured in each issue. These interviews as well as the other articles allows readers to follow details and frank discussion over three decades of development and change in criminal justice. The entire run of Law Enforcement News will be fully digitally available by the end of June. We are regularly uploading collections and items to our digital collections. Follow this link for a full list of collections: jjay.cc/digcoll.
New Special Collections Room Update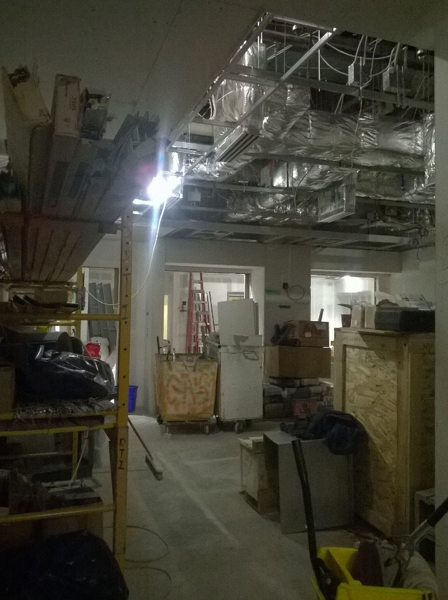 Contractors have been hard at work building the suite of rooms south of the Haaren Hall atrium which will eventually be our new Special Collections Room. We have been discussing and planning this room for more than a decade, and it is exciting to watch it take shape. We look forward to our grand opening, perhaps by the end of 2016. We thank Marc Harary and Kishel John for managing this project.
For more information on these or any of our Special Collections, please contact me at ebelcher@jjay.cuny.edu or ext 8238.
Ellen Belcher
—