Primary and secondary legal resources
The Library offers a wide array of law related databases. One that keeps growing in breadth and depth, and does not lend itself to a simple description, is HeinOnline. This database contains the largest archive of online law review journals, all dating back to the first issue. However, it also provides access to over 30 other collections representing a mix of primary and secondary legal resources, such as U.S. Supreme Court cases, U.S. laws and regulations, foreign and international law materials, legal classics and world constitutions illustrated. This article will highlight three of the HeinOnline collections: National Survey of State Laws, Preview of United States Supreme Court Cases and the newest collection, Slavery in America and the World: History, Culture & Law.

The National Survey of State Laws requires little explanation. It enables you to quickly do a state by state comparison of many of the controversial laws in the United States. You can browse by one of eight categories, including "criminal laws". You can also browse by selecting any of the 54 topics including drunk driving, gun control, illegal drugs and marijuana laws. This resource is updated regularly and includes previous editions making it easy to track how a law has changed over time. If you are interested in saving a comparison or inserting it in a paper, you can also print or download charts as PDFs.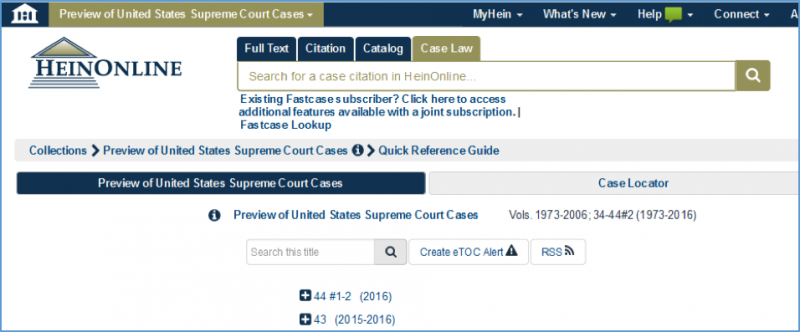 For legal scholars and students of the law, Preview of United States Supreme Court Cases has long been a coveted resource. This publication of the American Bar Association's Division for Public Education has been around since 1973. Its purpose it to provide an analysis, in plain-language, of Supreme Court cases before the oral argument takes place. Each "preview" contains an introduction, a restatement of the issues and facts, a case analysis and commentary about the significance of the case. The format in many ways mirrors the case briefs that students are asked to create after a decision is rendered. Because it provides the background for each case in plain language, it is an excellent starting point for parsing through the complex facts and issues presented in these cases.
This collection can be searched by volume number, which is listed in reverse chronological order or by a case locator. The case locator allows you to search by docket #, case name, preview article, Supreme Court Term or subject. In addition to the "Previews" of each case coming up for oral argument, there are links to the oral argument transcript, the audio transcripts from Oyez and the official opinion issued by the court. If you are interested in studying U.S. Supreme Court cases, this database has much to offer.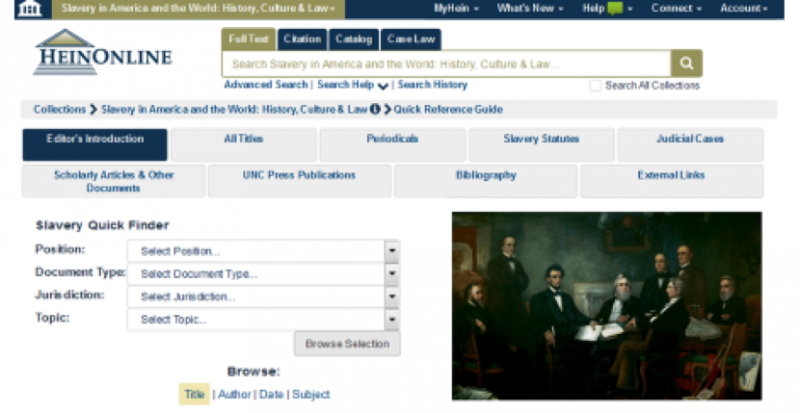 Slavery in America and the World: History Culture and Law is the newest collection in the HeinOnline database. It is a great illustration of the variety of legal resources that are available on the Hein-Online platform. The stated purpose of this collection is to bring together all known legal materials on slavery from the United States and the English speaking world, but its focus is on slavery in the United States. It includes every federal and state statute on slavery, every slavery statute passed by one of the colonies and all reported state and federal cases on slavery. Having these primary sources collected in one place is clearly the strength of this database. The statutes and cases are easily accessed by jurisdiction and include a digital copy of Judicial Cases Concerning American Slavery and the Negro, the 5 volume set edited by Helen Tunnicliff Caterall (also available in print at the library).
This collection also includes hundreds of 19th century books and pamphlets on slavery from the rare book collection of the Buffalo Public Library. These titles can be browsed by title or by using the Slavery Quick Finder. This specially created tool enables users to locate materials based on the documents position on slavery, document type (e.g., pamphlets, debates, poems & songs), jurisdiction or one of 60 topics including John Brown, slave revolts and the Underground Railroad. To find this tool click on the All Titles tab on the search interface. Take a look at this new collection and let us know what you think.
Maureen Richards
--
Read more from the Fall 2016 issue of Classified Information, the Library newsletter