In the Fall 2015 issue of
Classified Information
, we wrote about
the construction noise
that was intermittently interrupting the quiet usually associated with a library. Unfortunately, while the noise has abated somewhat, other construction-related problems have not gone away.
The worst of the problems has been the lack of HVAC (heating, ventilation, and air conditioning) throughout the Library. In order to connect the more powerful HVAC system of the New Building to Haaren Hall, existing HVAC units had to be demolished and rebuilt, a process that was originally assumed would take about five weeks. This work was originally scheduled for Spring 2015 and the outside contractor for the project brought portable air-conditioning units into staff areas and some of the public areas to deal with the anticipated heat of late spring.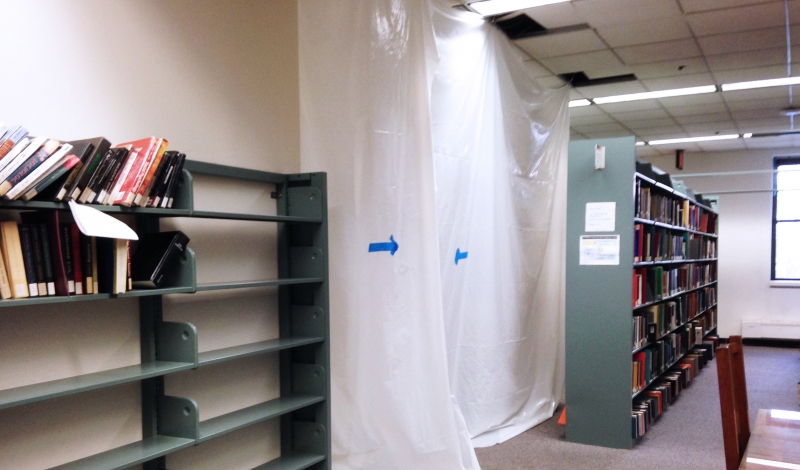 As it turned out, HVAC was turned off on the lower level of the Library (partly below ground) on September 21, 2015 and the portable HVAC units were insufficient to bring temperatures in the Library Technical Services (staff) area to below 78-80 degrees for the entire Fall and Winter.
On the Library upper level—which is more exposed to outside temperatures—HVAC was turned off on November 10. Here, temperatures in both public areas and faculty/staff offices fluctuated from 80+ degrees during some of the unseasonably warm spells this winter down to 58 degrees during the cold periods. Fortunately, our wonderful Facilities staff was able to open some of the Library windows (for the first time in 28 years!) during the worst of the hot times and then close them again when the temperature dropped. It has been an extremely difficult period for both the people who use the Library and those who work here.
Thanks to heroic efforts by the John Jay Facilities staff, HVAC was partially restored during the busiest weekday hours in mid-March—but only to the upstairs Library. As of this writing, there is still no ventilation in the evenings and on weekends. Downstairs, we are still waiting for the completion of the work by the contractor and there is no HVAC at all.
This HVAC work also required the displacement of several thousand books on both the upper and lower levels of the Library, and the elimination of some study areas, so that tables and carrels have been squeezed together into the remaining space.
We apologize for the more crowded conditions that have resulted, as well as for the uncomfortable temperatures that have been inflicted on Library patrons. We assume (wish? hope? pray?) that all systems will be in good working order before the hot days of late spring and summer. Meanwhile, the Library is open normal hours, books are available on the shelves, all student-use computers are working and accessible, electronic resources can be reached from anywhere, and Library faculty and staff are here to help—in person, by phone, email, and chat.
Bonnie Nelson
—