World Scholar:  Latin America & the Caribbean
Maureen Richards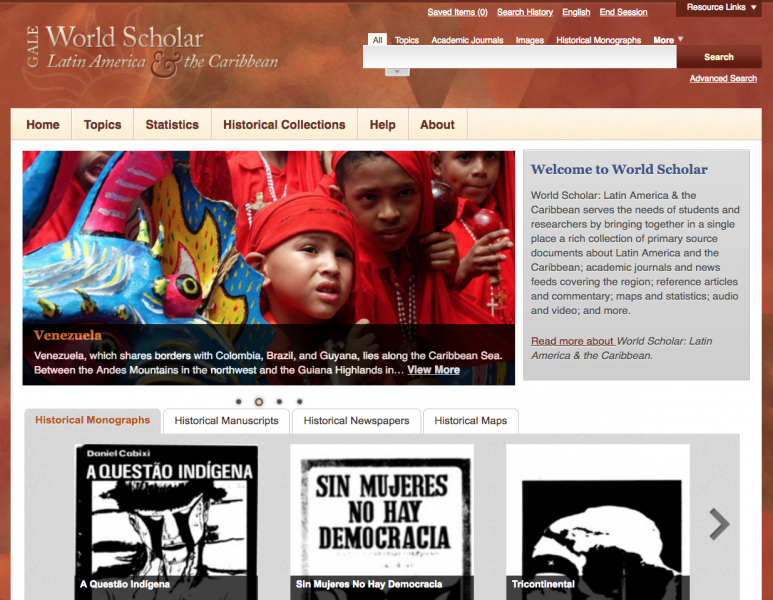 With the introduction of powerful library resource discovery tools like CUNY's OneSearch—which allows you to access the content in a majority (but not all) of the library's databases through a single platform—it is getting harder to make the case for searching library databases one at a time. However, there are exceptions, and World Scholar: Latin America & the Caribbean is among them. (So is Crime, Punishment and Popular Culture, also featured in this newsletter.) These databases are the result of extensive collaborations among scholars, researchers and archivists, seeking ways to make unique archival collections available to a larger audience. 
World Scholar: Latin America & the Caribbean aims to be comprehensive in scope by covering the politics, economics, culture, environment, and international affairs of this region.  Although keyword searching is possible, the best first step is to get familiar with the way this database is organized by browsing through its three main categories: topics, statistics, and historical collections. It covers about 350 topics that are organized within 11 categories ranging from agriculture to war and diplomacy. You will also find a myriad of statistics about this region, including those that focus on the environment, health, and infrastructure. The archival content, though not as expansive, includes 34 historical collections with documents dating from the 15th through the 20th century. The content of the database is overseen by an Advisory Board of academics (including Peter Manuel, a professor of ethnomusicology here at John Jay, who serves as a consultant).
The easiest way to take advantage of the strength of this database is to select one of the topics from the list. Similar to the entries you would find in an encyclopedia, the topics provide a brief overview, followed by secondary sources (like academic journals, reference materials, and news, including news feeds), related archival materials from the historical collections (including monographs, original manuscripts, signed letters, expedition records, maps, and diaries), and any relevant statistics. 
For example, if you select "Judiciary in Latin America" from the topics list, after reading a brief overview, you get instant access to a panoply of secondary sources, a news feed, and statistics on how many women serve as judges in Latin American courts. You can also see quickly that there are 17 historical monographs from the archival materials related to this topic.  In addition, if any of these documents are in unfamiliar language, you can simply click on "translate" to have it instantly translated. (But note that these automated translations may not make for the smoothest reading.)
Why use this database?
Use the World Scholar database if you are looking for a blend of secondary and archival sources relating to Latin America and the Caribbean region. It is particularly appropriate for undergraduates who may be unfamiliar with how to gather the different types of sources used in the research process. For more library resources on Latin America and Latina/o Studies see the library's LLS research guide or ask a librarian.
---