BrowZine: Browse and access journals
BrowZine is a new way to access and browse over 15,000 academic e-journals available through John Jay's Library. It is available online and as a downloadable app for mobile/tablet use.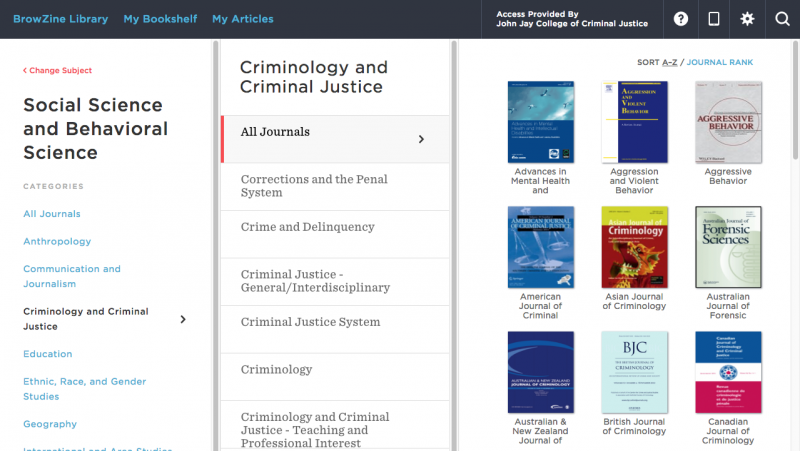 With BrowZine, you can:
Browse complete issues of scholarly journals.
Create a personal bookshelf of favorite journals.
Be alerted when new issues of a journal are available.
Save articles for reading later.
Add any BrowZine content to your courses by simply copying and pasting the URL from any BrowZine page into your course page.
Easily save to Refworks, Zotero, Dropbox, or Mendeley.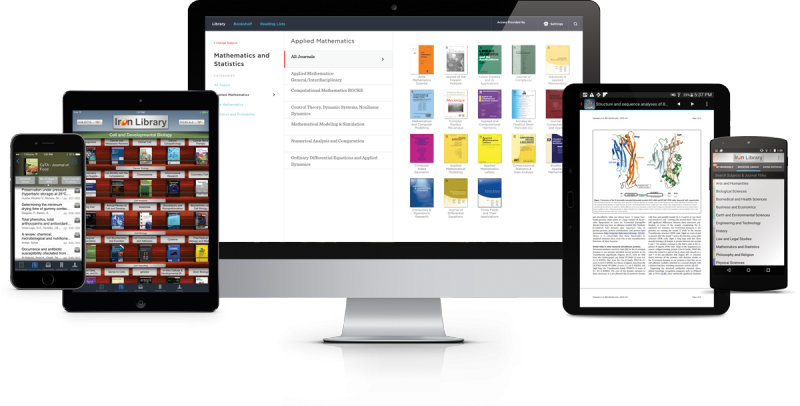 How do I get BrowZine?
The web version of BrowZine can be accessed at browzine.com. The app version is available for the iPhone, iPad, and Android tablets (such as Google Nexus or Amazon Kindle Fire) running Android 4.0 or higher.
In order to setup access to BrowZine, select John Jay College as your library on the "Settings" page, and then enter your John Jay username and password — the same that you use for your John Jay email.
Next, search for a journal by title or select a subject areas and start browsing. When you are ready to save a journal or article, you will be prompted to set up your own personal account on BrowZine.
Why should I set up a personal account in BrowZine?
Your BrowZine Account is used to provide personalization features throughout the BrowZine ecosystem. Having a BrowZine Account is required for using "My Bookshelf" and "My Articles" (located on the title bar) on all devices as it is used to tie together any activity on your smartphone, tablet and laptop. When you add your favorite journals to My Bookshelf you will be alerted to new articles with a red notification bubble. Once you configure My Bookshelf and My Articles on one device, the configuration will sync seamlessly between all your devices.
What is included in BrowZine?
You can only access academic, peer reviewed journals subscribed to by the John Jay library or that are freely available (open access titles) from 2005 to the present. Currently over 15,000 academic journals are available.
Publishers of non-scholarly periodicals, such as popular or trade magazines, are not supported in BrowZine. See: Supported publishers in BrowZine.
Please note: When a journal is available full-text prior to 2005 at the John Jay Library, on the web version of BrowZine you will also find a link to access those prior years. In the web version of BrowZine you can also sort journals by impact factor.
How do I get started using BrowZine?
A great way to get started is by viewing this introductory video about both the web version and mobile apps. 
Please contact electronic resources librarian Maureen Richards if you have any questions or comments.