Library Floor Plan
---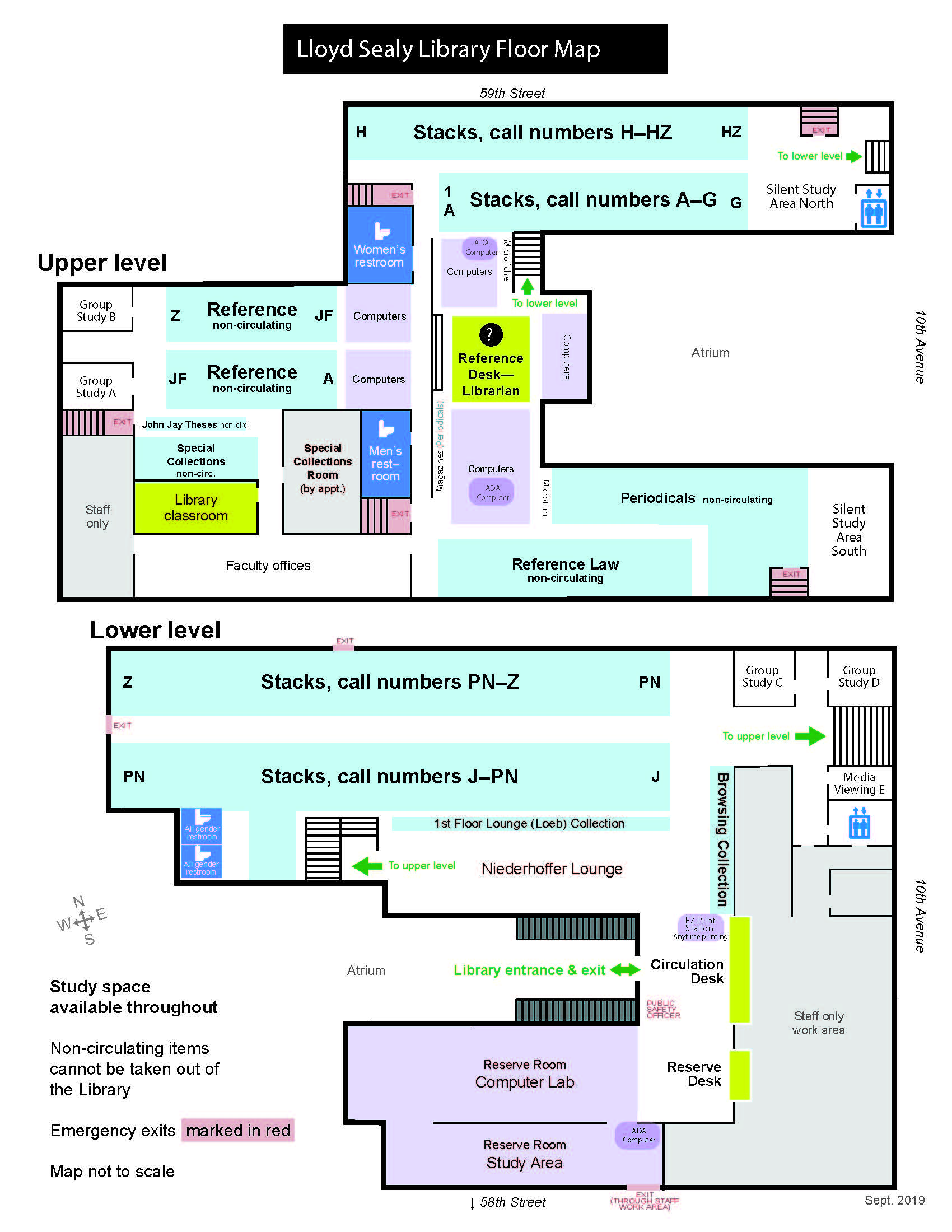 View map as PDF
View map as large, hi-res .JPG
Virtual tour of library (link to video, 5 minutes)
The Library is located in Haaren Hall. The Library entrance/exit is on the Library's lower level (how to enter).
On the lower level:
At entrance: Circulation Desk (check out books), Anytime Printing station
To the right after the entrance: Reserve Room Computer Lab (printers and scanners), Reserve Desk
To the left after the entrance: Elevator, staircases (main staircase to the left, secondary staircase ahead and to the right), Niederhoffer Lounge, Browsing Collection, Stacks J through Z, Loeb Classics Collection, Group Study Rooms C and D, Media Viewing Room E
On the upper level:
At top of main staircase: Reference Desk (librarians), computers, scanners, printers, microfilm, microfiche, restrooms (men's and women's)
Past Reference Desk, up short staircase or ramp: copiers, Library classroom, Conference Room, faculty offices, Group Study Rooms A and B, Reference section, Special Collections
North wing: Stacks A through H, Silent Study Area, secondary staircase, elevator
South wing: Reference Law section, Periodicals section, Silent Study Area
Study spaces and emergency exits are located throughout the Library. Only books from the Stacks section can be checked out and taken home; all other non-circulating items must remain in the Library.
The elevator serves only the two Library floors. For patrons with ID cards activated by the Office of Accessibility Services, or for patrons who make a request at the Public Safety Desk at the 10th Avenue entrance, the elevator serves as an accessible entrance and exit to Haaren Hall.