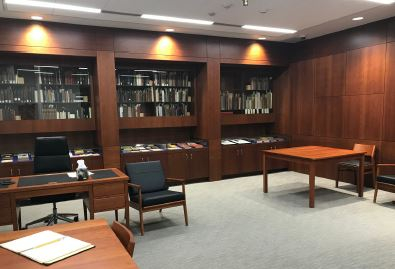 After years of wrangling and working around numerous logistical complications and a global pandemic, the new Special Collections Reading Room is finally open to researchers.
It would be easy to miss on a hurried walk through the atrium in Haaren Hall, but if you pause to look on the south side, you will see a door and window that were covered for years. In the window are displayed several books published by authors who used the library's collections in their research, and, if you get close and peer in, you will see a replica of an electric chair.
Since its opening in June, we have welcomed over a dozen researchers, consulting more than ten manuscript collections and several college archive collections. Researchers are coming from as near as the CUNY Graduate Center and Brooklyn, and as far as Vanderbilt University in Nashville and one remote researcher from Los Angeles. They are doctoral students, documentary filmmakers, authors, journalists, and independent researchers. They are investigating organized crime, the legal history of breastfeeding in American prisons, police unions, Sing Sing Prison history, Frank Serpico's testimony before the Knapp Commission to Investigate Alleged Police Corruption, courtroom drawings from the John Gotti trial, the Bureau of Special Services (BOSSI)'s surveillance of the Black Liberation Movement of the 1960s, school-police interactions in the 1930s, policing and Haitian immigrants in New York City and William H. McMasters's unpublished manuscript on Charles Ponzi (part of the voluminous Fraud and Swindles collection).They are consulting manuscript collections including those of former Police Commissioners James Bolan and Benjamin Ward; Herman and Julia Schwendinger, founders of the sub-discipline known as Critical Criminology; New York Women in Criminal Justice; NYPD detective Eugene Canevari; Federal judge, lawyer, law professor and human rights advocate Marvin Frankel; courtroom artist Richard Tomlinson; and the library's namesake, the first black precinct sergeant in the NYPD, and a former professor at John Jay College, Lloyd George Sealy.
Items from the college archives, including college bulletins, Middle States reports and newspaper clippings mentioning John Jay College (the labor-intensive physical forerunner of John Jay in the Media that is now delivered regularly via email), have proven useful for a researcher studying John Jay College history during the 1970s and a woman looking for articles in the Lex Review (the name of the student newspaper in the 1970s and 1980s) written by her uncle when he was a student here.
In addition to these researchers making appointments and spending time in the new reading room, we continue to see a steady stream of people taking advantage of the vast Criminal Trial Transcripts of New York County 1883 - 1927 collection. While a significant number of these have been digitized (part of our growing digital collections), many are still only accessible via microfilm which visitors can view on the microform reader in the library's reference area during any open hours without an appointment (though a research pass is required for non-CUNY visitors).
Special Collections Librarian Professor Ellen Belcher, along with her deep knowledge and dedicated stewardship of the collections, is on sabbatical for the academic year 2022-23. While she enjoys her well-deserved break from her usual duties, I am happy to hold the keys (and appointment calendar) to the new reading room so that researchers can access the rich collections here. Anyone interested in making an appointment to view items from the collection should send a request to libspcoll@jjay.cuny.edu.
-Kathleen Collins