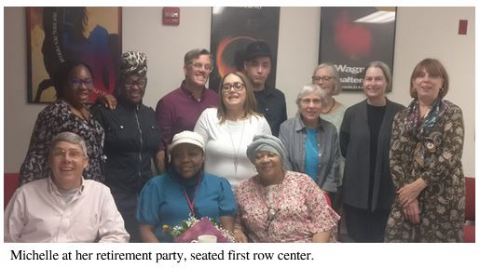 This October, Michelle Dutton, the library's most experienced College Administrative Assistant, retired after 40 years of working behind the scenes in the Library's Technical Services department. Michelle started in 1982 when the Lloyd Sealy library was located on the ground floor of North Hall. Throughout these four decades of her life, Michelle raised two daughters who both became college educated and accomplished adults, completed her own baccalaureate degree in behavioral sciences at John Jay College, worked under four Chief Librarians (Eileen Rowland, Marilyn Lutzker, Larry Sullivan and Jeffrey Kroessler) mastered the use of three library automated systems (Notis, Aleph, Alma), was a colleague to two long standing and now retired Technical Services librarians, Marlene Kandel and Dolores Grande, and took excellent care of all the plants in the library (most of them survived the pandemic lockdown!). Michelle enjoyed challenges that constant automation and computerization brings to library functions and became an excellent copy cataloger and all print materials processor. She educated many work study students and college assistants in all aspects of Technical Services jobs. Michelle was a real book detective and was always called for help to locate a missing item that nobody else was able to find. She had the greatest judgement of the materials needing repair or replacement. In her own words: she likes the intellectual engagement of her job and enjoyed working with her colleagues; she became life long friends with many of them and continues to socialize with them even after retirement. Michelle is a humble person and didn't mind working in the background with physical materials rather than facing the public. She never envisioned her job to come to an end but is thankful for no longer needing to commute and being able to devote more time to her hobbies, home improvement and gardening, and be actively present in the lives of her grandchildren.
I miss Michelle's presence in Technical Services, her calm demeanor and fast actions when a new project needed to be accomplished. We lost institutional knowledge with Michelle's retirement but I am glad she has good memories of the library, the College and us, her friends and colleagues.
-- Maria Kiriakova
I've known and worked with Michelle for over 21 wonderful years. It was a pleasure working and knowing someone so kind and caring while also being so low key and quietly calm. Not only was her work ethic impeccable, but her family oriented demeanor is hard to question. I'm blessed to know her and will totally miss working with her. I wish only the best for her with her retirement.
-- Avis Leary
Michelle, Congratulations on a very well deserved retirement. Wishing you all the best!
--Mark Zubarev
Thank you Michelle for being an open ear and a friend. The library will never be the same and we will miss you very much. Best Wishes!
-- Omar Rivera
I could count on Michelle 100%, both to expertly catalog and manage the books put on reserve by faculty and, in her customary few words, to express grace, humor and warmth in every interaction. We will all miss her brightening our days. I wish her many brighter days ahead.
-– Kathleen Collins
I am going to miss Michelle's calm presence and deep knowledge of Technical Services. She was always willing to help with questions about damaged books and other issues with our collections. I wish Michelle all the best!
-– Karen Okamoto
Dear Michelle, thanks for the short notice on your retirement! However, I thank you for being you. A beautiful person to work with and a loyal friend. Michelle has devoted her 40 years to the John Jay college community and has never complained. My hat goes off to her; she's one in a million. Don't be surprised if a knock on your door turns out to be me! Michelle, take advantage of being free. You are greatly missed in the library!
-- Debbie Spivey
Dear Michelle, All of your sacrifices in life have successfully paid off! Enjoy the benefits of having the time to do
anything and everything you have always desired to do. I hope you enjoy your future with a lot of time to share with your family and friends. Congratulations and Happy Retirement!
-- Marilyn Rivera
Congratulations to Michelle on her retirement after four decades of service. Michelle's contribution to the Lloyd Sealy Library services is greatly appreciated by faculty and staff from the Technical Services, as well as the entire Library Department. Best wishes to you, Michelle, for a happy future in retirement. We will miss you always.
-- Zuwang Shen
Congratulations on your retirement Michelle! It has been a great pleasure to work with you, especially during the
pandemic and remote work days. As much as you'll be missed here, I hope you enjoy your retirement and hope
you'll come by to visit or attend the library holiday parties. All the best!!
-- Patrick J Raftery Jr.