CUNY Libraries Inter-Campus Services
Need a book that is not available in John Jay's Library, but that is held at another CUNY library? Use CLICS, the book delivery service of the CUNY Libraries.
How it works
If the book you need is not available in our library:
1. Search for the item in OneSearch. If it's unavailable at John Jay, select the "All CUNY" tab at the top of the page.

—
2. Click the Request button under the item you want to request.

—
3. Click the "Please sign in with your library barcode..." link in blue. Enter your library barcode and password.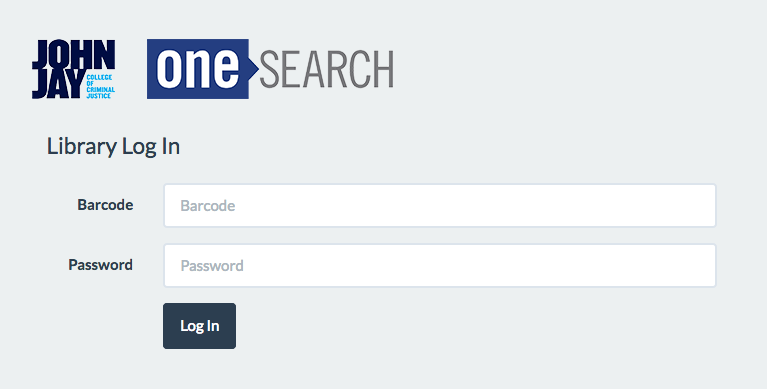 Your library barcode is located on a sticker on the back of your John Jay ID. It should begin with 21699.
Your password is the same as your barcode number (21699...) unless you've changed it.
If you don't have a sticker, visit the Circulation Desk in person and request it. Online students are emailed their barcode number within the first month of their program.
—

4. You'll get a blank page for a moment. Then select your pick up location from the drop-down list of CUNY libraries. You can select any campus that is convenient for you. Complete the request by clicking the orange Hold button.

You cannot request that a book be pulled from the stacks at John Jay Library and be delivered to the Circulation Desk. CLICS only works for books going from one CUNY campus to another. You cannot request books to be delivered to the same library they're coming from.
Be sure to log out of OneSearch if you're on a public computer.
You will receive an email when the book is available for check out at the Circulation Desk.
---
Check the status of your requests by logging into your OneSearch account and selecting Requests on the lower left.
Note:
Request pickup notices automatically go to your John Jay email by default. To change which email we use, ask at the Circulation Desk.
CUNY undergraduate and graduate students, faculty members or staff members with an active, unblocked library account at one of the CUNY Libraries can use the service.
Regularly circulating books may be requested whether they are on the shelf at another CUNY library or already checked out to another patron.
Circulation and overdue fine policies of the lending library apply. Consult the CUNY Libraries Circulation Policies for current loan and fine policy information.
You will receive a courtesy notice 3 days prior to an item's due date.
You can renew items online in CUNY+ as long as they are not already overdue and as long as no one has requested the item.
—
FAQ
1. Can I use CLICS from home?

Yes. You can search and request from OneSearch using any browser from any location. OneSearch recognizes your home campus by your library barcode.
2. How long will it take to get my book?

Most books arrive within 3–5 days (depending on the day of the week and time of day you make your request). Every CUNY library receives daily inter-campus weekday pick-up and delivery service. (Books requested from the Hunter Health Professions and the School of Social work libraries will require additional delivery time since they are first sent to the main Hunter Library.)
3. What if something I requested using CLICS is missing?

You will be notified if your request cannot be filled. You can try to request it again.
4. What if none of the copies listed in OneSearch are available?

If copies of an item are out on loan, you can put a hold on one of the borrowed copies. You will be notified when it becomes available. If all the listed copies are missing or are unavailable for other reasons, you can request it through Interlibrary Loan. Check with your library's Interlibrary Loan policies and procedures.
5. I have more questions. Where can I get additional information?

Call the John Jay Library Circulation Desk at (212) 237-8226.