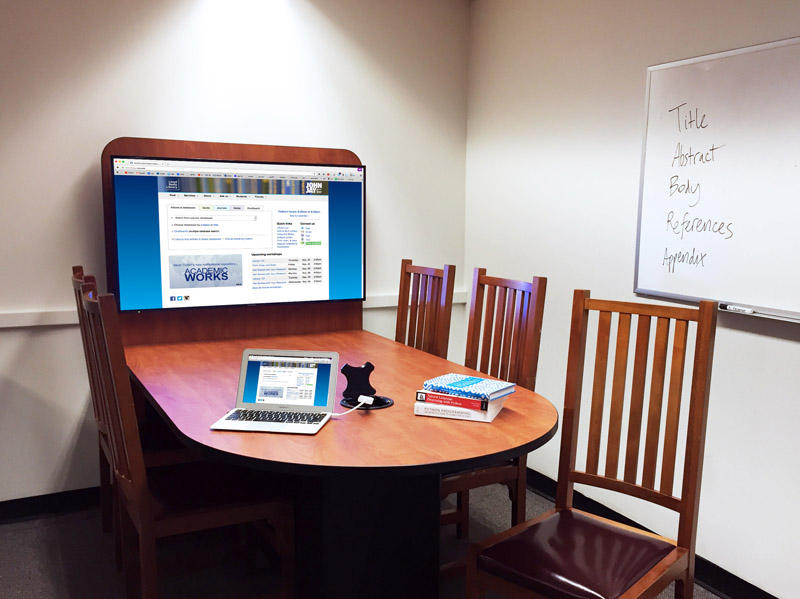 As team-based learning becomes more prevalent in undergraduate education, students need space to work on group projects. The Lloyd Sealy Library still provides quiet space for individual work, but our four group study rooms have been in more and more demand. Two of these group study rooms received a substantial upgrade last semester, thanks to the Student Technology Fee Committee (see "New Library collaborative work spaces" by Bonnie Nelson in the Fall 2015 newsletter). With an abundance of outlets, a high-definition display, and HDMI connections, these group study rooms instantly became immensely popular among John Jay students. These well-lit rooms, each featuring a large table and six seats, are used daily by groups preparing presentations, working on projects, and doing homework in a social environment.
Due to their popularity, the library implemented an ID card policy and two-hour time limit for groups using these rooms, but with a constant stream of students asking to use the rooms, managing their use became untenable for librarians at the reference desk. On an hourly basis, librarians had to check IDs, keep track of room occupation, hand out HDMI adapters, and lock and unlock the room. Moreover, students were becoming frustrated that they couldn't anticipate when the group study rooms would be available. A solution was needed.
Enter LibCal, a Springshare product that manages room booking. After settling on policies and testing the calendar among librarians, we launched group study room reservations in February 2016. At the dedicated scheduling kiosk outside the rooms or anytime on our website, students can see when the rooms are occupied and make reservations up to two days in advance. (See for yourself!)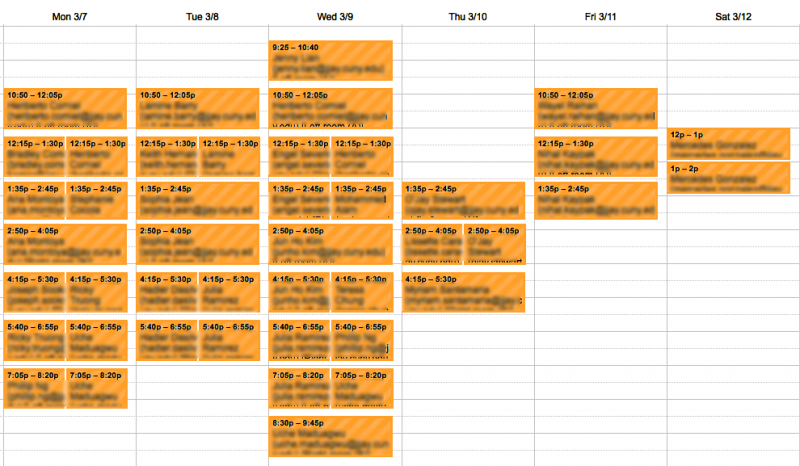 A typically busy reservation calendar from March
Reservations are synced with class periods on weekdays. Based on multiple conversations with students, the reservation system is easy for students to use — it's similar to placing online reservations at a restaurant. The system auto-sends an email to the student who made the reservation, and librarians can see all reservations on a calendar. Students simply check in at the reference desk with their name so the librarian can unlock the room. Often, they will simply enter the room when the previous group exits — a seamless changing of the guards. If students need an HDMI adapter to their laptop or mobile device to the display screen, they can check one out at the reference desk.
Over the course of a few months, we have encountered very few problems. The new reservation system has made using and managing group study rooms much easier.
Reservations statistics:
February 2016: 79 reservations made by 30 patrons
March 2016: 179 reservations made by 89 patrons
April 2016: 153 reservations made by 77 patrons (spring break Apr. 22–30)
(Many thanks to Geng Lin, our Systems Manager, for helping us to implement the system and acquire HDMI adapters!)
Robin Davis
—
More from the Spring 2016 newsletter »