Welcome to the Lloyd Sealy Library! To use the print system at John Jay College, follow the steps below.
Step 1. Register
From any computer here in the library, go to this webpage: http://jayprint.jjay.cuny.edu/register
You will see the following form at that webpage: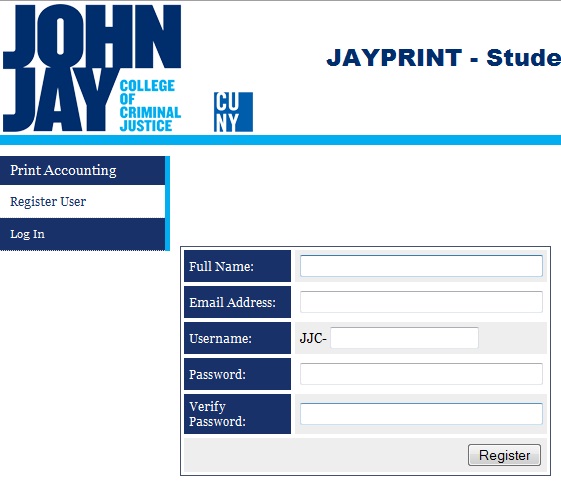 Fill out the form accordingly. Please supply real information so that you can use this account again later.
The user name will automatically be prepended with "JJC" to indicate to the system that the account is a guest account. Remember the username and password. You'll need it to print out your documents. (An email will also be sent with your username and password. Keep it for future reference.) 
Click the Register button. Then you should see the screen below. Note that the username begins with "JJC-". In this case, the username is JJC-lsingh.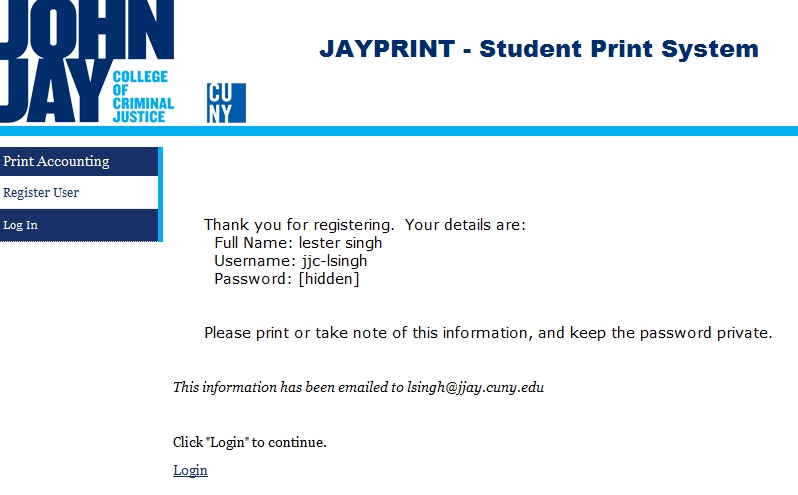 Step 2. Add Money
Go to the Refill Station, which is a computer with a bill acceptor, and add money to your newly created account. There is only one in the Library, and it's located in the Reserve Room Computer Lab on the lower level. 
When you log in, with your new account, you'll see the screen below. Also, note that a green LED lights will begin to flash on the bill acceptor.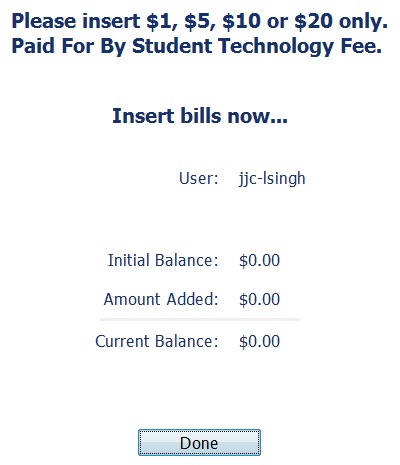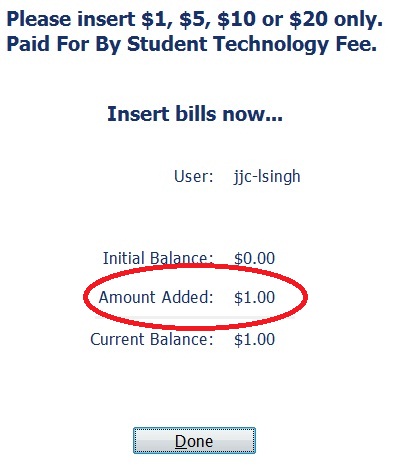 When money is added into the bill acceptor, the screen will update "Amount Added".
It is probably wise to calculate roughly how much printing you will do, since refunds cannot be given for any unused balance left in the print account. The account and balance will remain in the system for a minimum of one year.
Step 3. Print Your Document
Print from any computer within the library as you normally would (e.g. click File > Print). Wait for a security dialog box to pop up, like the one below, then enter your username and password. You must do this for each document that you print.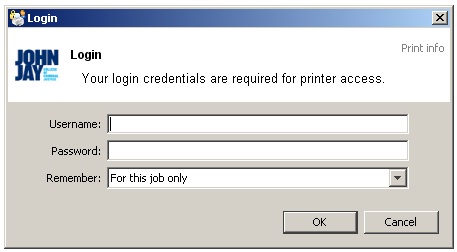 After a successful authentication, the dialog box below will pop up to indicate that the job is being held in a print queue, the cost and balance left on the account.

Step 4. Release The Print Job
Go to any Release station in the library to print out your material. Log into the release station and you'll see your print jobs in a list (see below). Click the Print button to release the print job to the printer. Click Print All at the bottom to release all the print jobs.