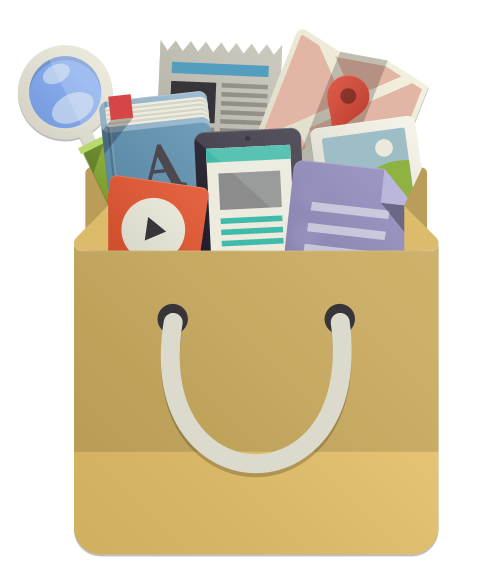 The Library supports online teaching and learning! Incorporate Library resources into your online course and provide your students with engaging, high-quality information.
Jump to:
---

Meet your Online Learning Librarian
Your online learning librarian is Robin Davis, Emerging Technologies & Online Learning Librarian (faculty profile). You can reach her at (212) 237-8261 or robdavis@jjay.cuny.edu. As Online Learning Librarian, Robin can answer questions about using Library resources in online courses, providing students with access, teaching Library skills in online contexts, and more.
Online library instruction
If you teach an online-only course, have an "embedded librarian" visit for a week! We'll partner with you to provide online instruction covering library research skills. When you schedule this service, we'll discuss what would be most effective for your class. Request online library instruction »
Department Library liaisons
Each academic department and program at John Jay has its own Library liaison, too. Liaisons aim to foster a working relationship between the Library and each of John Jay's other academic departments and programs. We encourage you to contact your liaison for reference & research help, identifying resources to support your curriculum, and assistance in focusing class assignments. List of liaisons »
Blackboard Faculty Support
Get a helping hand with your online course from John Jay Blackboard Faculty Support. Email blackboard@jjay.cuny.edu or call 212-484-1197 (M–F, 9am–5pm) with questions about teaching and managing your Blackboard course. The Faculty Support team are experienced technologists and teachers. They also offer workshops and training sessions.
Monthly newsletter
Our Online Teaching Toolbox Newsletter is a fun monthly email about Library tools & resources for online classes, like new tutorials, citation tricks, Blackboard widgets, and more.
See past issues & sign up »
---
Blackboard goodies

Library Resources page
As of spring 2016, all courses now feature a 'Library Resources' page, linked from the left toolbar. On this page, you'll see modules the Library has created:
Library quick links
Ask a John Jay Librarian
Find articles and journals in the Library
Find books and multimedia in the Library
Library materials on eReserve
Library tutorials
Visit the Library
The links in these modules are an easy way to connect students to the library, right from within Blackboard! Plus, you can rearrange these modules as you see fit.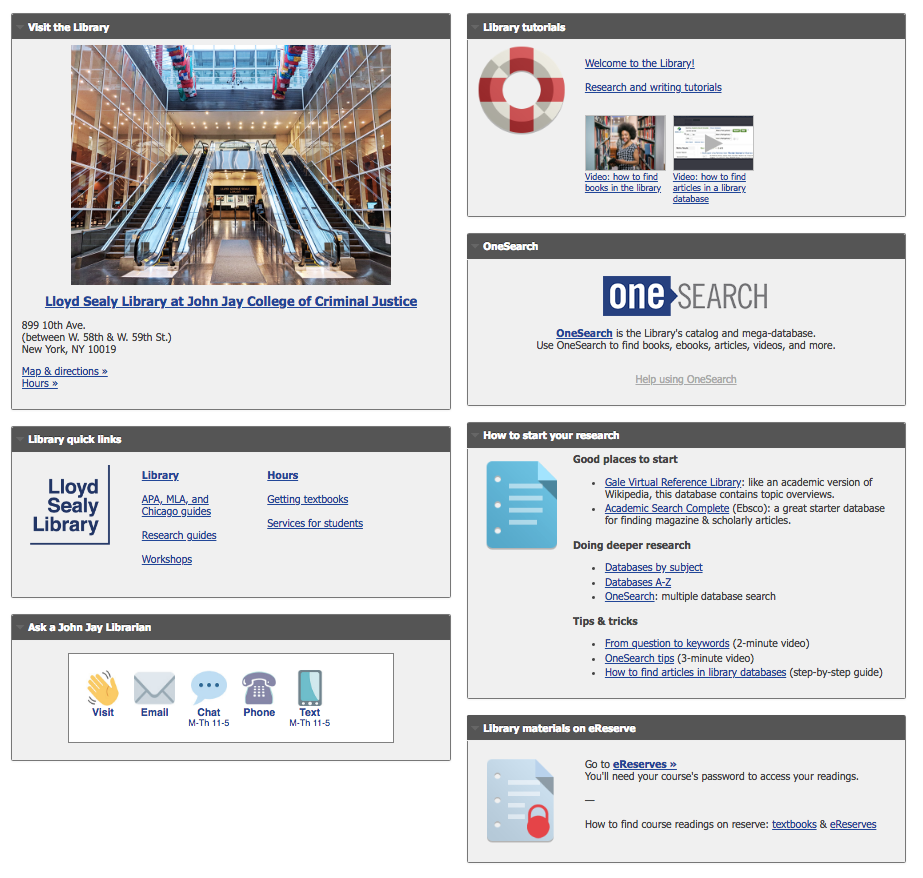 (Visual display may differ depending on your course theme.)
---

Add a "Chat with a John Jay Librarian" widget to your course
The Library offers reference service by chat for the John Jay community. Students can ask questions about how to find a particular book, how to find articles on a topic, how to cite something properly, and other Library research-related questions.
In your Blackboard course's Content area, or on any webpage, you can add a chat widget that looks like this: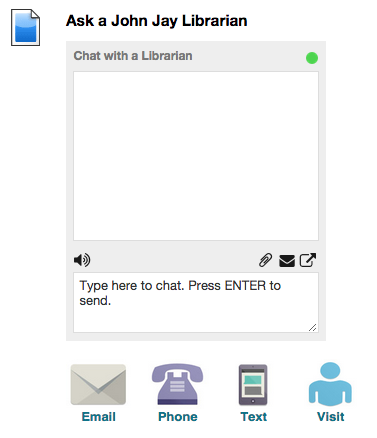 When chat is unavailable, the chat window disappears and only the visit, email, phone and text linked icons are displayed. Chat is staffed by John Jay librarians 11am–6pm, Mondays through Thursdays, when class is in session during the fall and spring semesters. More info + live chat window »
Add this chat widget to your Blackboard course page: since this involves embedding code, you can ask Blackboard Faculty Support to embed a chat widget in your course. Contact them by email at blackboard@jjay.cuny.edu. If you're comfortable with HTML, you can add the widget yourself.
---

Embedding videos into your course content
The Library subscribes to many streaming video databases that offer full length documentaries, dramatizations, archival newsreels, and more. Here's just a sample of our video collection:
Embedding Films on Demand videos: click 'Embed' and copy the 'Best for LMS' code. In Blackboard, create a new item in your course content. In the text window, click the HTML button, then paste in the code. More info »
Linking to Alexander Street Press videos: embedding does not seem to work for ASP videos, but you can click 'Embed/Link' and copy the permalink (not the embed code). In Blackboard, create a new web link in your course content. Paste the permalink into the URL box. More info »
---

Linking to Library resources
Off-campus access to subscription databases like Ebscohost, LexisNexis, and more requires authentication through a proxy. Simply copying the URL for an article page may not work for your students. You will need to use a proxied permalink that will ask students to log in if they're off-campus. Proxied URLs begin with http://ez.lib.jjay.cuny.edu/login?url=. If you have a permalink without a proxy, paste it in here:
Your off-campus access URL will appear here.
—
More about proxied permalinks »
---

Copy/paste links from the Library
Just want to paste links from the Library into Blackboard? Be our guest! We've made it easy with link names and URLs below.
Just go to Content » Build content » Web Link and paste in the link(s) you want:
About the Library (for online-only students)
Link name: Five essential things online students should know about the John Jay Library
URL: http://www.lib.jjay.cuny.edu/resources-for/students/online
Library basics guide
Link name: Library basics: How do I use the Library?
URL: http://guides.lib.jjay.cuny.edu/LibraryIntro
APA citation guide
Link name: APA citation help from the Library
URL: http://guides.lib.jjay.cuny.edu/content.php?pid=136486&sid=1169197
MLA citation guide
Link name: MLA citation help from the Library
URL: http://guides.lib.jjay.cuny.edu/content.php?pid=136486&sid=1169198
Library's subject guides
Link name: Subject-specific research guides from the Library (where to find articles, books, statistics)
URL: http://guides.lib.jjay.cuny.edu/
Library databases by subject
Link name: Library databases by subject area (find articles, books, & videos on your subject)
URL: http://www.lib.jjay.cuny.edu/database-subjects