Library News Blog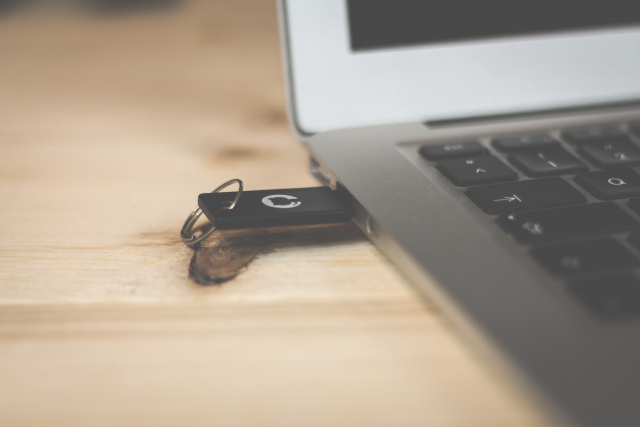 It's finals season, so let's review some handy tips on saving & backing up your work! Losing a document you've spent hours on is awful — we hope you never experience data loss. You can take steps to limit the risk of losing your digital documents. 
Rule of thumb: Save copies of your work periodically in multiple places. Save a copy to your device(s) and save a copy to the cloud.
Save a copy on your device(s)...
Save a copy to your USB thumb drive, laptop, desktop computer, tablet, etc. — however you usually access your file.
Occasinally, files get corrupted on your computer and can't be opened, so for big projects, it's also a good idea to have a "Backups" folder on your computer. It might look like this:

Even if you're working on a cloud-based app, like Google Docs, download a copy of your document periodically, just in case you get locked out of your Google account or something happens to the file.
... AND save a copy to the cloud
Every day you work on your project, save a copy online by... 
Emailing it to yourself, or 
Uploading it to your Dropbox, iCloud, or Google Drive account, or a similar service
That way, even if your computer dies or your USB drive gets lost on the C train, you'll be able to download a copy of your document from one of these online locations.
None of these services is endorsed by the Library, but they are provided as examples of services you could use. Always read the Terms of Service and make sure you're comfortable with how a company is using your data before signing up for a new account.
---
Questions you might have
What if I want to back up ALL of my files? It's a good idea! You can set up nightly or weekly computer backups using an app like Time Machine (Mac) or Backup & Restore (Windows). This software will save all the files on your computer to an external hard drive (like a mega-USB stick that lives at home). This could be done manually as well, just by dragging and dropping files into an external hard drive. You should also consider using a cloud-based backup service like BackBlaze or IDrive, in case your computer and external hard drive somehow both die or disappear.
I lost a USB thumb drive — where could it be? It could be in the Library! We have a whole drawer full of lost USBs turned in by your fellow students. Ask in the Reserve Lab and at the Reference Desk, or call us at 212-237-8246. You can also check Public Safety's main Lost & Found.
What's "the cloud"? It just means a computer run by a company in a different place. By saving your document to a computer located somewhere else, you're ensuring that even if you lose your own computer, your document is retrievable from another place.
More questions? Email me and I'll be glad to advise on backup matters.
Robin Davis, Dec. 2017

Posted Thursday, December 7, 2017 - 5:24pm


---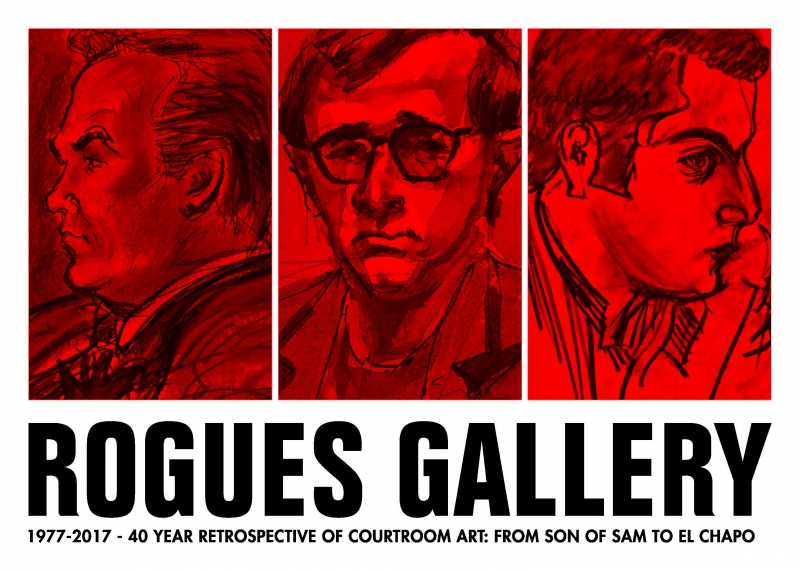 ROGUES GALLERY: Forty Year Retrospective of Courtroom Art from Son of Sam to El Chapo
Curated by Larry E. Sullivan (Chief Librarian), Aggie Whelan Kenny, and Elizabeth Williams
On view November 30, 2017 to February 2, 2018
Location: Shiva Gallery, located just inside the 11th Avenue entrance to John Jay College of Criminal Justice.
Address: 860 11th Avenue (between 58th & 59th St), New York, NY 10019.
The Shiva Gallery is free and open to the public Monday through Friday, 10am – 6pm. 
—
A large portion of the items on view are from the Richard Tomlinson, the Aggie Whelan Kenny, and the Elizabeth Williams Courtroom Drawings Collections, all housed in the Lloyd Sealy Library Special Collections.
—
Press
"Courtroom Confidential," Ralph Blumenthal, New York Times, Nov. 24, 2017
For more information about the exhibition, contact the Shiva Gallery: gallery@jjay.cuny.edu or 212-237-1439.
Drawings in the promotional image are by Elizabeth Williams, Aggie Whelan Kenny, and Richard Tomlinson.

Posted Wednesday, November 22, 2017 - 4:53pm


---
Kathleen Collins
The Graduate Studies office has long been offering workshops for graduate students on topics such as resume writing, statistics, and communication and leadership skills. Generally offered in the early evening to accommodate student schedules, these workshops are always appreciated by those who can fit them into their busy schedules, but too often they are not well attended. In an attempt to try to reach more students with the information they need to support their graduate level learning, Graduate Studies is now offering two of these workshops­—Using Library Databases for Research and How to Write a Literature Review—via Blackboard. Students can register and take the workshops, which are divided into modules, at their convenience. Badges signifying skills and achievements can be earned for use in ePortfolios or to share with outside organizations. 
A full complement of workshops are still offered in person at the start of each semester, and there are plans to add more online workshops in the future. You can register for these online workshops. For more information about how John Jay supports grad students, visit the Graduate Studies page.
---
November 2017

Posted Tuesday, November 21, 2017 - 4:45pm


---
Robin Davis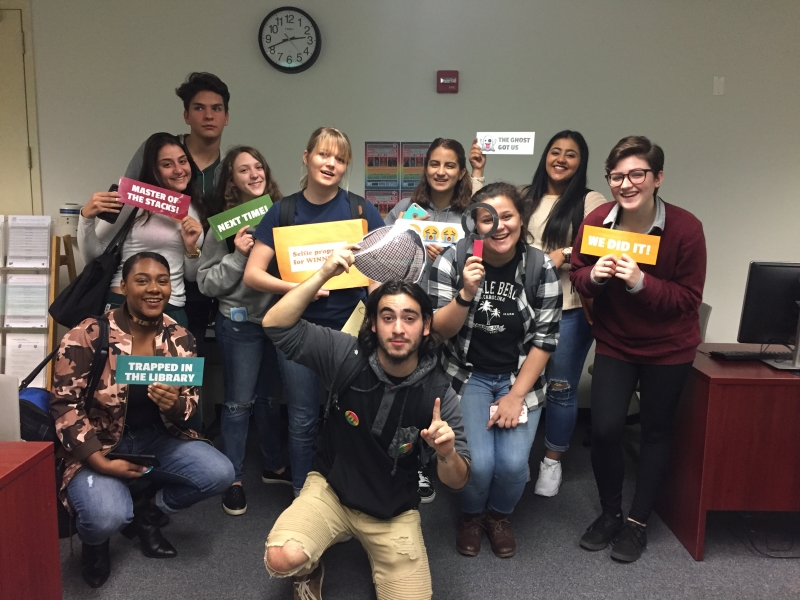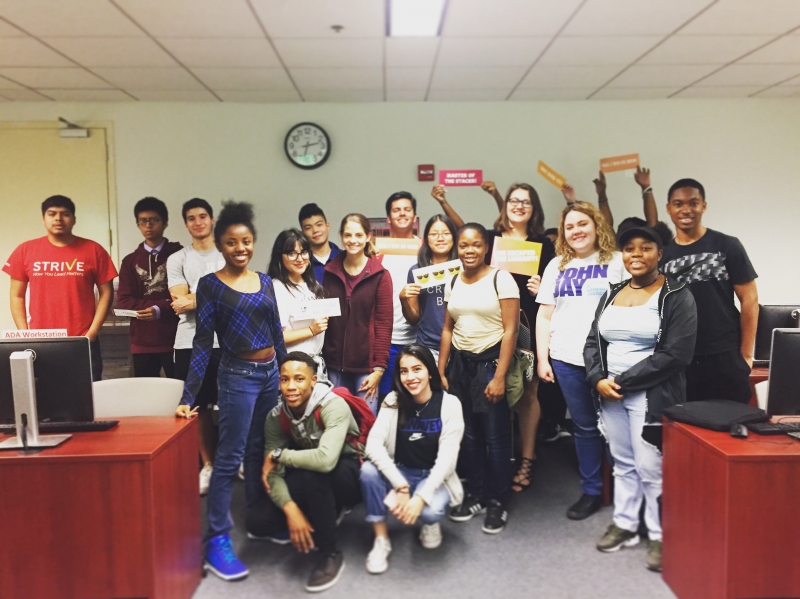 My name is George Corcoran… I was killed May 1, 1921… Please solve my murder… You can't leave the library until you find my killer… 
Over 150 first-year and transfer students accepted the challenge to "Escape the Library" this semester, continuing the library's annual Murder Mystery Challenge activity. Participants follow the paper trail—locating books, citing sources, and exploring the library—to solve Corcoran's murder.
Student feedback has been highly positive. "This was waaaay too much fun," one student noted in a survey. "Definitely don't think I'll ever have this much fun in a library again." (Librarians may beg to differ.) Another student wished that they could "do it at a time the library is closed, if that is even possible. I wanted to yell!" 
The case students must solve actually happened. The trial of William Grubb, convicted killer of George Corcoran, is included in the Criminal Trial Transcripts of New York County Collection (1883–1927), housed in the Special Collections and digitized for the 2007 Crime in New York 1850–1950 Digital Project.
Since 2013, the Library has partnered with Student Academic Success Programs (SASP) to coordinate the activity, targeting students who are enrolled in First-Year Seminars and Transfer Seminars. SASP Peer Success Coaches attend each day of the game to help guide participants toward finding the right clues. Over 650 students have participated in the game since its inception.
---
November 2017

Posted Tuesday, November 21, 2017 - 4:43pm


---

CUNY is teeming with people conducting interesting research and writing. Steve Ovadia, a faculty member in the library at La Guardia Community College, and Kathleen Collins, faculty in the Lloyd Sealy Library at John Jay, are ferreting out some of these creators and featuring them on a new podcast, Indoor Voices.
The format is informal conversation, with Steve or Kathleen talking with guests about their work. So far these have included Richard Ocejo and Barry Spunt from John Jay, Barbara Katz-Rothman from the Graduate Center, and Polly Thistlethwaite and Jessie Daniels of the Graduate Center and Hunter College, respectively. Each of these has centered on the books these authors have recently published, but future chats may include non-book projects and works in progress.
The podcast itself is an evolving work in progress, and thanks to funding from John Jay's Office for the Advancement of Research, it should see improvements and expansion in the coming year. Links to the audio interviews and more about the podcast can be found at indoorvoicespodcast.com.
KC
---
November 2017

Posted Tuesday, November 21, 2017 - 4:41pm


---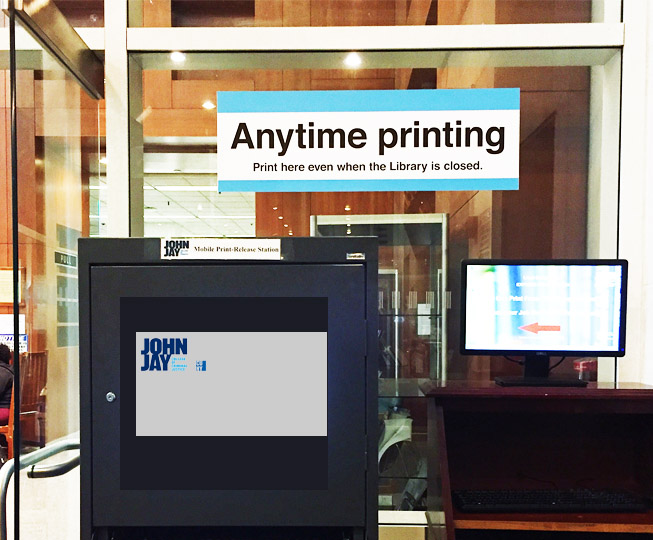 At the end of the Spring semester, our systems staff installed a new print station and computer just outside the Library's doors. This setup now allows students to access and print their papers even when the Library is closed. 
We first advertised this new service on Instagram, where students left comments like "Great idea!" and "

." Since then, the Anytime Printing station has grown in popularity, particularly in the morning before our doors open. 
Our Anytime Printing station is part of the EZ Print Center initiative, launched by CLSS in 2009 to relieve long lines at labs' print stations. Many thanks to CLSS and our systems staff for installing this new station!
RCD
---
November 2017

Posted Tuesday, November 21, 2017 - 4:39pm


---
While staplers remain high in demand, we have been expanding the range of supplies and accessories we offer at the Reference Desk. When the Library added additional group study rooms—equipped with white boards, large monitors with multiple HDMI hookups, and outlets—we started to provide students with dry-erase markers and adapters to connect their individual devices to the room's projector.
After many a desperate request, we have also purchased a few phone chargers that have quickly become popular. All these items can now be checked out at the Reference and Circulation Desks for 3 hours at a time. 
MB
---
November 2017

Posted Tuesday, November 21, 2017 - 4:36pm


---
Ellen Belcher
In preparation for our upcoming exhibit, "Rogues Gallery: Forty Year Retrospective of Courtroom Art from Son of Sam to El Chapo" (Shiva Art Gallery, November 29 through February 2), I have been spending a lot of time with the Richard Tomlinson Collection of Courtroom Drawings. It strikes me that while many of us are familiar with courtroom drawings, we don't know much about the process of courtroom artists.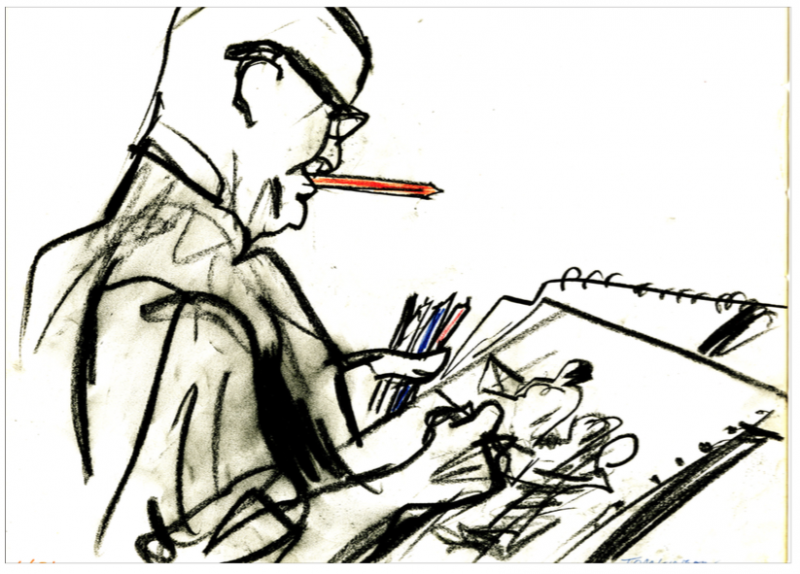 As I reported previously in this newsletter (Spring 2012, p. 15), Richard Tomlinson worked as a courtroom artist for three decades. For quite a while, he worked covering New York City area trials full-time for Channel 5 WNEW news. He and other artists, working for other news outlets, would sit side by side, drawing boards in their laps at the front of the courtroom, surrounded by their art supplies, working quickly to capture all the action of the court proceedings within their allotted space on the courtroom bench.  Richard Tomlinson was well known for drawing in a small, confined area with a few materials in his pocket and a pair of binoculars next to him; others spread out onto every free area on the bench and floor. At the end of the proceedings, courtroom artists ran outside to waiting news photographers and cameramen, who would immediately shoot the drawings in natural light on the sidewalk. Other times, artists lugged their drawings to Midtown newsrooms on the subway (or sometimes by a speeding cab), where editors shuffled through them looking for the best shot to illustrate breaking news stories.  Now courtroom artists scan their drawings in their studios and email them to newsroom editors.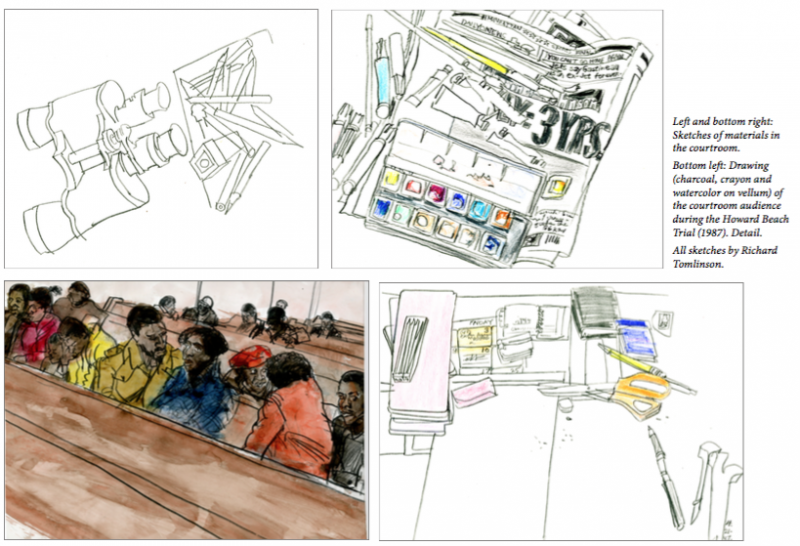 Courtroom artists employ a range of materials to capture all the color, actions, and emotions of court proceedings quickly.  Sometimes the court appearance of defendants and witnesses is so brief that only a quick sketch can be accomplished, which is later colored in with details added from memory.   The paper has to be the right size and texture to capture and hold the action as well as the drawing media, and it must stand up to possible rough handling. Everyone develops their own distinctive style, which could change over time, or with each trial. While pastels and charcoal can be messy and easily smudged, they are by far the most used medium because of their ease of use in rendering quick, colorful, and expressive drawings.  Richard Tomlinson often did a charcoal sketch that he then filled in with colored oil crayon, pencils, or watercolor onto a thin, smooth—but very durable—vellum paper. Other artist materials include markers, pens, and gouache in any combination, all of which must correctly interface with the paper. 
While courtroom artists are dwindling in number due to the widespread introduction of cameras in the courtroom, the Special Collections has a growing collection of courtroom art, launched by the Richard Tomlinson Collection and now supplemented with gifts of the Elizabeth Williams Collection and Aggie Kenny Collection. Portions of all these collections will be on exhibit in the Shiva Art Gallery exhibit, opening on November 29. Examples from these collections will also soon also appear in our Digital Collections. 
A selection of resources on courtroom artists 
Church, M.. (2006). The art of justice: An eyewitness view of thirty infamous trials Philadelphia, Pa.: Quirk. Reserve (3 day loan)  NC953.8 .C47 A4 2006 
Dengrove, I. L. (1990). My days in court: unique views of the famous and infamous by a court artist. New York: Morrow. Stacks  NC 953.8 .D46 A2 1990 
 Hobman, P. (2015). Trial & image: Courtroom artists capture the colors and gestures of justice. ArtNews 115(2), 110-117. 
Library of Congress, Washington D.C. (2017). Drawing justice: The art of courtroom drawing.  Online exhibit.
Frost, Natasha. (August 2017). The dying art of courtroom illustration. Atlas Obscura Blog.
Williams, E.. (2014). The illustrated courtroom: 50 years of court art. Reserve (3 day loan) NC953.5 .U6 W54 2014 
---
November 2017
More from the Fall 2017 newsletter »

Posted Tuesday, November 21, 2017 - 4:32pm


---
Maria Kiriakova
The Library's monograph collection is multifaceted and reflects a variety of subjects that are hot topics in today's mass media outlets. These passionately debated issues include race and ethnicity. Below are just a few examples of the books (in print and electronic format) that deal with the issue of being black in different parts of the world throughout history. See the location provided to find these materials in our library.

Aitken, R. (2015). Black Germany: The making and unmaking of a diaspora community, 1884-1960 (1st pbk ed.). Cambridge: Cambridge University Press. Stacks DD78 .B55 A48 2013
Alexandrov, V. (2013). The Black Russian. New York, NY: Atlantic Monthly Press. Stacks DK34 .B53 A43 2013
Campt, T. (2004). Other Germans: Black Germans and the politics of race, gender, and memory in the Third Reich (UPCC book collections on Project MUSE). Ann Arbor: University of Michigan Press. Stacks DD78 .B55 C36 2004 and also available in as an ebook, unlimited user access.
Chambers, E. (2017). Roots and Culture: Cultural politics in the making of Black Britain. I B Tauris & Co Ltd. Stacks DA125.N4 C39 2017
Dixon, K. & Burdick, J. (2012). Comparative Perspectives on Afro-Latin America. University Press of Florida. Available as an ebook, unlimited user access.
Earle, T. F., & Lowe, K. J. P. (2005). Black Africans in Renaissance Europe. New York: Cambridge University Press. Stacks D233.2 .B44 E26 2005
Hondius, D. (2014). Blackness in Western Europe: Racial patterns of paternalism and exclusion. New Brunswick, New Jersey: Transaction Publishers. Stacks D1056.2 .B55 H66 2014
Marable, M. & Agard-Jones, V. (2008). Transnational Blackness: Navigating the global color line (1st ed., Critical Black studies series). New York, NY: Palgrave Macmillan. Stacks and Reserve HT1581 .T73 2008 
Ramey, L. (2014). Black Legacies: Race and the European Middle Ages. Florida: University Press of Florida. Available as an ebook, unlimited user access.
Smith, C. A. (2016). Afro-Paradise: Blackness, violence, and performance in Brazil. Urbana: University of Illinois Press. Available as an ebook, unlimited user access.
Trigos, L. A, Svobodny, N., Nepomnyashchy, C. (2006). Under the Sky of My Africa: Alexander Pushkin and blackness (Studies of the Harriman Institute). Evanston, Ill.: Northwestern University Press. Stacks PG3358 .R33 U53 2006
Wyatt, Don J. (2011). Blacks of Premodern China. University of Pennsylvania Press. Available as an ebook, unlimited user access.
---
November 2017

Posted Tuesday, November 21, 2017 - 4:25pm


---
Maria Kiriakova
Gaslight Lawyers: Criminal Trials & Exploits in Gilded Age New York by Richard H. Underwood was published this year by Shadelandhouse Modern Press in Lexington, Kentucky. The book was recently acquired by the Library (Stacks KF355.N4 U53 2017). It has an excellent bibliography, and many of the works cited are also available via the Sealy Library.
Professor Underwood did his research in the New York Public Library, the Museum of the City of New York, and the Library of Congress, among others, but he highlights the Lloyd Sealy Library's trial transcripts collection in his acknowledgements—and he opens the book with a special dedication: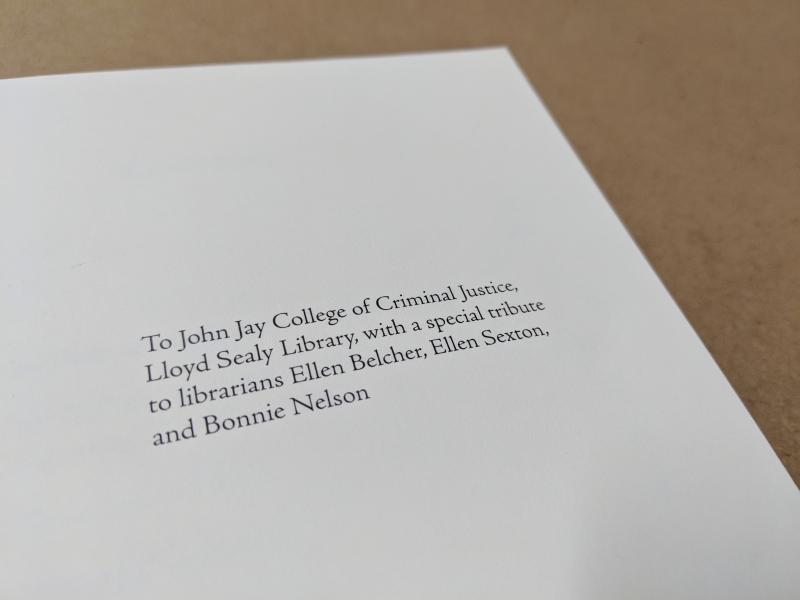 ---
November 2017

Posted Tuesday, November 21, 2017 - 4:20pm


---
Pages