Library News Blog
As of this Fall semester, the Library has switched to a new eReserves platform. After more than a decade using a vendor that was no longer planning to upgrade nor fully support the technology, we have signed on with Springshare, the same company that houses our Subject Guides. Springshare's eReserves is far more streamlined, both behind the scenes and for the user, and has been garnering positive reviews, especially from faculty who manage their own course pages.
The link to eReserves remains in the same place – the Quick Links section of the Library home page – and works the same way with the ability to search by instructor name (best method), course name, or number. Faculty who wish to set up a new eReserves account or learn more about library reserves in general should visit the Using Reserves page.


Kathleen Collins

Posted Thursday, December 3, 2015 - 5:38pm


---
Recent (scholarly and popular) fair use victories
The scanning and digitizing of books has been an ongoing battle between Google (with its Google Books service) and the Authors Guild which claims copyright infringement on behalf of authors (Authors Guild v. Google; LEXIS 17988). On October 16 this year, a federal appeals court judge ruled that Google's practice of making portions of books freely available online is not a violation of copyright law. The first of four factors considered in fair use determinations is the purpose and character of the material's use. The judge in this case determined Google Books to be providing a "transformative" use, thus deeming it a fair one. This is a victory for fair use advocates and for the millions of us who use Google Books as a research tool.

Earlier this year, two copyright cases involving popular culture serve as illustrations about the power of fair use. In March, a New York federal judge ruled in favor of a parody of the late 1970s TV sitcom Three's Company and against the entertainment company that owns the sitcom's rights (David Adjmi v. DLT Entertainment Ltd.; LEXIS 43285). While the writer, David Adjami, borrowed heavily from the original TV show in his off-Broadway play, 3C, the judge considered Adjami's use transformative and therefore a fair use.

Similarly, in September a federal appeals court in San Francisco ruled in favor of a woman who posted a half-minute video on YouTube of her children dancing as the Prince song "Let's Go Crazy" played in the background (Lenz v. Universal Music Corp.; LEXIS 16308). Copyright owner Universal Music did not sue the woman for copyright infringement; rather, they sent a notice under the Digital Millennium Copyright Act (DMCA) in an effort to remove the content from the Internet. The advocacy group Electronic Frontier Foundation sued Universal on behalf of the YouTube poster claiming that Universal abused the DMCA by improperly targeting a lawful fair use. Their victory not only affirms that copyright holders must consider whether a use is fair before issuing a takedown notice, but it also illustrates that fair use is a right, not a defense, a contentious and misunderstood point in the world of copyright law.

These three cases are cause for celebration for all of us, researchers and content creators, and a reminder of the power and importance of fair use.

 
Kathleen Collins

Posted Thursday, December 3, 2015 - 5:35pm


---
For Faculty Development Day in August 2015, we presented library databases and search strategies specifically chosen for the theme of diversity. For many attendees, this was the first time they became aware of these special resources, and they encouraged us to share them more widely so that they might see more use in the classroom and in research.

The list below includes content that focuses on diversity issues. We have divided them into sections based on departments and programs here at John Jay. These resources bring contemporary and historical voices to the forefront — voices and images that may not be readily available in conventional sources. Moreover, we've included resources with a variety of content formats to help reach students with diverse learning styles — for instance, visual learners may find video to be most engaging, auditory learners may enjoy hearing recorded speeches, and kinesthetic learners may enjoy manipulating the "raw" materials of primary sources.
---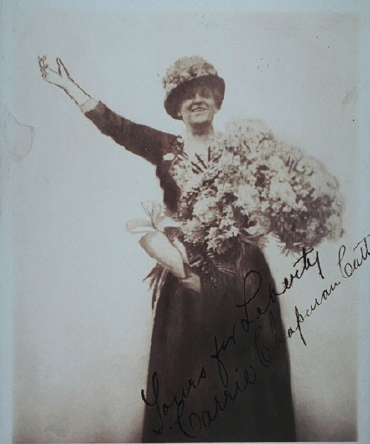 "Carrie Chapman Catt with bouquet after U.S. women got the vote, 1920." Schlesinger Library, Radcliffe Institute, Harvard University. Available through Women & Social Movements in the U.S. 1600-2000.
Gender Studies and LGBTQ Issues
---

Official newspaper of the Black Panther Party, January 24, 1970 (detail). Full newspaper available through Black Thought & Culture.
Africana Studies and Latina/o & Latin American Studies
Black Drama: Full text of plays by playwrights from the U.S., the Caribbean, and English-speaking countries in Africa. Excellent source for Harlem Renaissance writers.
Black Thought & Culture: Contains the nonfiction published works of leading African Americans, and includes interviews, journal articles, speeches, essays, pamphlets, letters, and other ephemeral material. Use the "Browse" tab to explore this database.
Ethnic Newswatch: Provides access to more than 200 newspapers, magazines, and journals from the ethnic, minority, and native press. Includes materials in Spanish.
Oxford Bibliographies Online (African Studies & Latino Studies): Topic overviews and bibliographies on pertinent topics with links to the full text of sources when available.
Race & Justice Clearinghouse: An index to selected NGO reports, books, and journal articles that focus on race and ethnicity and their interaction with the criminal justice and juvenile justice systems. Includes links to the full text of publications by the Sentencing Project.
Slavery & Anti-Slavery: Includes collections on the transatlantic slave trade, the global movement for the abolition of slavery, the legal, personal, and economic aspects of the slavery system, and the dynamics of emancipation in the U.S. as well as in Latin America, the Caribbean, and other regions.
World Scholar: Latin America & the Caribbean: Brings together primary source documents relating to Latin America and the Caribbean; academic journals and news feeds; reference materials; maps; statistics; audio and video. Covers politics, economics, culture, international affairs. *Are you a fan of this database? Let us know before Dec. 31, 2015—our access may be cancelled without enough usage.
---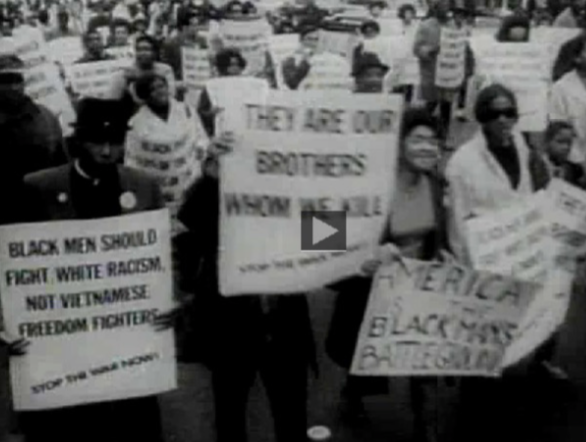 Anti-war demonstrations. From Universal Newsreels, Release 32, April 18, 1967. Available from American History in Video.
Video databases
---
Search tip: Browse subjects in the catalog
When searching for a book on a topic in OneSearch (or the classic catalog, CUNY+), browsing by subjects gives you access to items you may not otherwise find by keyword search, such as older books whose titles use outdated language. Each book in our catalog is indexed with these subjects. In OneSearch, click "Browse CUNY Catalog" beneath the grey advanced search box. Then select "Subject begins with..." to explore subject headings. These terms may not be intuitive or in current use. Note that "diversity" is not a subject heading — use "multiculturalism" instead. Here are some we have encountered that may be useful:
Civil Rights Movements
Cultural Pluralism
Ethnicity
Gay Liberation Movement
Gays
Gender Discrimination
Group Identity
Hispanic Americans
Indians
Multiculturalism    
Race Awareness
Racially Mixed People
Sex Discrimination
Transgenderism
Transgender People


Each subject heading contains subheadings as well, for example:
African Americans     
African Americans -- Aesthetics     
African Americans -- Alabama     
African Americans -- Biography
African Americans -- Biography – Dictionaries
…     


Click on the subject heading or subheading to see related books and media. Try searching for a combination of these subject headings with other keywords of your choosing.
---


Questions about these resources? Email Robin Davis or Maureen Richards
Robin Davis & Maureen Richards
More from the Fall 2015 Library Newsletter »

Posted Thursday, December 3, 2015 - 2:12pm


---
Graphic from PHD Comics
Confused about open access? The image above is from an animated video explaining and advocating for open access publishing made by the (self-identified) guys at PHD Comics. It's received over a quarter million downloads on YouTube, not bad for a video aimed at academics. You can see this video and more on the Library's guide to open access publishing.

John Jay College's use of CUNY Academic Works – our open access institutional repository – continues to grow. We have 23 authors. 46 items. Two languages. 1,213 hits. That's 1,213 people that have been reached by John Jay authors, readers who might not otherwise have discovered the work or passed through paywalls to get to it. There's enormous potential here to showcase the impressive work of John Jay faculty and increase the real-life impact of scholarly work (see "CUNY Academic Works: Get Your Work Out There!" from this issue). We have many alumni working at nonprofits and government agencies that simply do not have the money to subscribe to expensive journals – people in a position to apply the research you have so carefully gathered, analyzed and reported. Why exclude them? Please do consider posting your work on CUNY Academic Works.

Depositing your work, post-publication, in a repository (known as "green" open access) is not the only way to provide readers with free access. You can choose to publish your work in an open access journal – that's the gold access model. Happily, there are many reputable open access journals and hybrid journals with open access option for authors. You have no doubt heard of Beall's List of predatory journals (jjay.cc/beallslist), a good place to check the reputation of a journal. The Think Check Submit campaign endorsed by about a dozen publishing groups (including SPARC, DOAJ and Springer Nature) is putting a more positive spin on distinguishing trustworthy journals by encouraging authors to consider a checklist of factors before committing to publish.


THINK: Are you submitting your research to a trusted journal? Is it the right journal for your work?

CHECK: Use our check list to assess the journal

SUBMIT: Only if you can answer 'yes' to the questions on our check list


International Open Access week fell in October this year, and was marked by events all over the world. In NYC, some of the highlights included "Who Owns Your Journal Article: You or the Publisher?", a discussion on author rights, copyright, and negotiating with publishers, led by Graduate Center librarian Jill Cirasella. Columbia University Libraries held a discussion on "Researcher Success: Institutions and Public Access Requirements." NYPL hosted law professors from the Authors Alliance, who discussed how authors and researchers can manage their legal rights and choose publication outlets "with an eye on securing long-term impact and availability." Discussions on open access are regularly held around CUNY; upcoming events are usually listed on at Open Access @ CUNY.
Ellen Sexton

Posted Thursday, December 3, 2015 - 1:48pm


---
In 2014 I published "Bombing for Justice: Urban Terrorism in New York City from the 1960s through the 1980s" in Criminal Justice and Law Enforcement Annual: Global Perspectives, a volume edited by Chief Librarian Larry Sullivan. How can you find this article? The answer is: you cannot. It exists only as a chapter in that book and is not indexed in any databases. Only a half dozen libraries have it on their shelves. Unless it is there you won't know to search for it. How frustrating! All that research, inaccessible.

Enter CUNY Academic Works (see "Open Access and the new institutional repository," Spring 2015, and "Open Access and CUNY Academic Works," this issue). I created an account and uploaded the piece. Now, entering the search terms terrorism, New York, and FALN in Google brings up the article. What had been locked away is now findable and citable, and the work can now join the scholarly discussion already in progress. Furthermore, everything entered into Academic Works can be accessed through OneSearch, the Library's new search tool.

We assume that all our publications are captured by digital searches, but that is not the case. For American history, the primary database is America History and Life. If an article is not indexed there, it may as well not exist. My 2011 article in the Long Island History Journal, "Brooklyn's Thirst, Long Island's Water: Consolidation, Local Control, and the Aquifer," is not in that database. Uploading it to Academic Works will greatly enhance the likelihood that researchers will find it. In addition, I uploaded a PowerPoint presentation to Academic Works on the same topic.

To reach a wider audience, faculty should submit their book chapters, research in progress, and presentations to this institutional repository. After all, publishing is pointless unless it finds readers.
Jeffrey Kroessler

Posted Thursday, December 3, 2015 - 1:44pm


---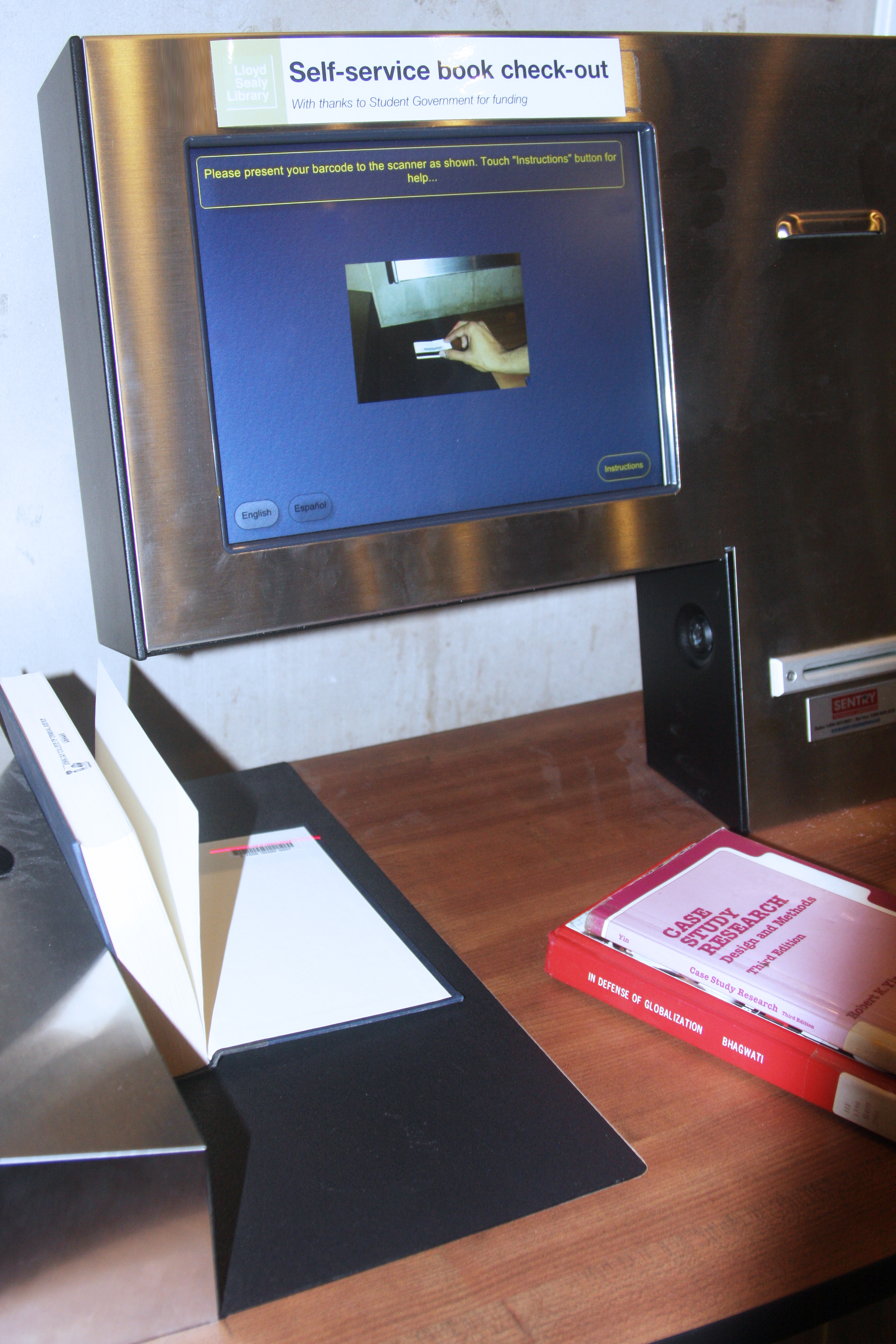 Public library users in the city have long been able to check books out of their libraries unfacilitated by staff. We're catching up, with our new-to-us self-service checkout machine. In a spirit of re-use and frugality, we adopted a year-old machine discarded by the CUNY Graduate School of Journalism. A generous donation from Student Council financed the retrofit needed to get it to work with our library systems. After some teething trouble we got everything working.  New, this machine sells for $18,000, too large a sum for our current budget, but thanks to the ingenuity of the college carpenter, Laurence Benson, our electrician, and network staff, we have been able to provide our community with self-service book checkout at a very low dollar expenditure.  Use it to check out all those books you've gathered up from the stacks!


Ellen Sexton

Posted Thursday, December 3, 2015 - 1:39pm


---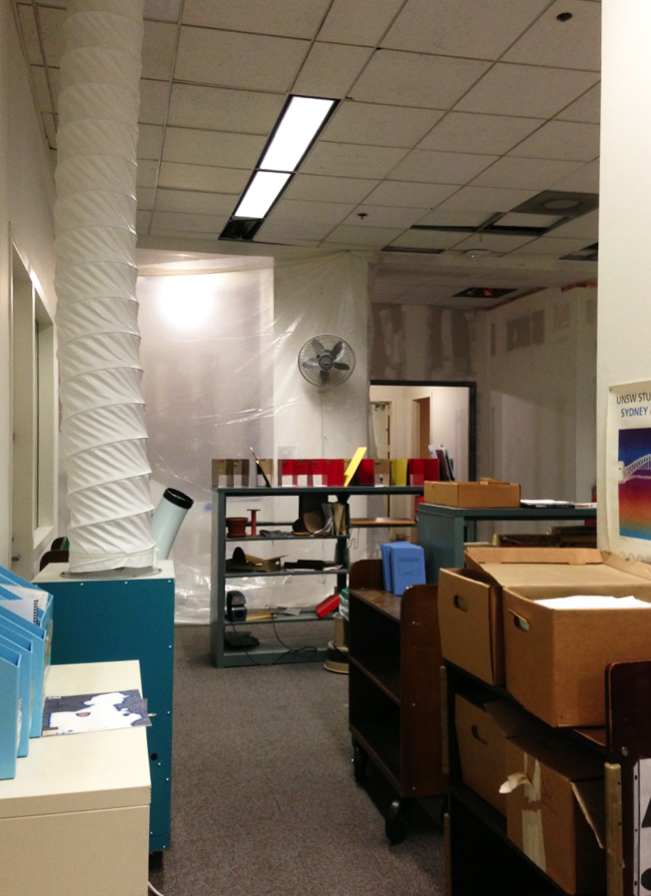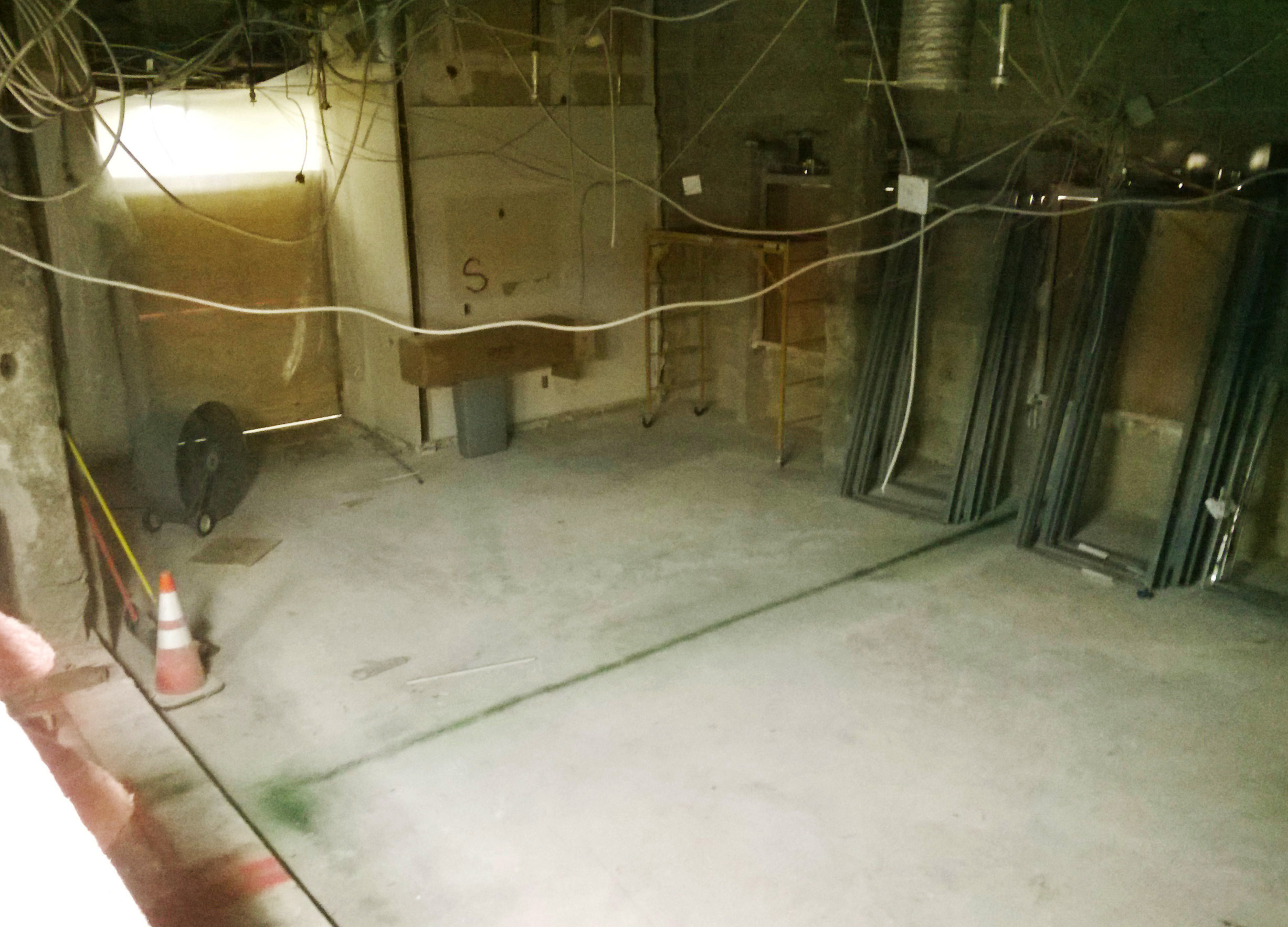 The banging and shouting emanating from the lower floor of the Sealy Library this semester are sounds not normally associated with the quietude of a library, yet these are indeed the noises that faculty, students, and Library staff have been living with in the Sealy Library for many weeks this semester.  As part of the Haaren Hall upgrade, the Lloyd Sealy Library is also seeing a renovation of its HVAC (Heating Ventilation and Air Conditioning) system that will hopefully result in better airflow within a more comfortable range of temperatures.

In addition, as part of a plan dating back more than ten years, a new Special Collections Room is being constructed adjacent to the lower level of the Library, and will have its entrance from the Haaren Hall Atrium. Over the past twelve years the Library's collections of rare books, manuscript collections, and archival materials have more than tripled in size, resulting in hundreds of linear feet of archival material and rare books being shelved in various locked cages and staff offices. When completed, the new Special Collections and Rare Book Room will not be large enough to accommodate all of our present and future special collections. However, we look forward to a better environment for our most valuable and delicate rare books, manuscripts and archives, and a beautiful state of the art exhibition space and reading room for researchers, as well as a workroom for archivists processing collections.

Unfortunately, neither of these projects can be accomplished without breaking down walls, demolishing old ducts, and cutting new holes. Although all of the noisy work was originally supposed to be completed during hours when the Library is closed, in the end this was not possible and construction has gone on into the early afternoon. Also, the demolishing of the old HVAC unit on the Library's lower level was not immediately followed by the delivery and construction of a new HVAC unit, and the Library faculty and staff who work in the Library, as well as students studying in the Library, have endured weeks of high temperatures and noisy fans.

There is no firm end date for the work, but we trust that the noise-producing work will be completed by the end of the year, and that the final result will be a more comfortable library and a beautiful Special Collections Room. Then we can all turn our attention to the expansion of the Library Computer Lab area, tentatively scheduled for next summer…



Bonnie Nelson & Ellen Belcher

Posted Thursday, December 3, 2015 - 1:37pm


---
For as long as any of us can remember, we have maintained a two-tiered system for reserve books in the Library. Faculty could bring library-owned books to the Reserve Desk and request that they be placed on reserve for the semester. They could also bring in personal copies for placement on reserve for students in their class. The former were discoverable via the CUNY+ catalog or OneSearch, labeled as John Jay Reserve in the availability column of the results page and would be requested via Library of Congress call number at the Reserve Desk. The personal copies proved to be more complicated. To find the call number – which in these cases was usually the faculty last name – students and librarians would need to search in the Reserves section of the CUNY+ catalog or OneSearch. This practice, while familiar and somewhat manageable, can be confusing for all involved. Many students do not know whether a book on reserve is a Library or faculty copy, which often involves frustration and delay in accessing the books they need.  Often, the same title would wind up in multiple places in the catalog, further confusing both students and staff.  Not only that, but in the majority of cases, faculty members did not retrieve their books at the end of semesters, leaving the Reserve Room to become storage for unclaimed books.

To ameliorate this, beginning in the Spring 2016 semester, we will continue to accept personal copies from faculty for reserve, but they will by default be considered library donations. This allows the Library staff to catalog them with Library of Congress call numbers and, more importantly, will make the searching on the part of librarians and students far simpler. In certain circumstances, at the request of a faculty member, we can continue to place books using the last-name-as-call-number system, but this would be for cases such as a customized three-ring binder or other non-book items that require special consideration. If faculty do wish to retrieve their books at the end of the semester, they may still do so, and we will deaccession them. This way, faculty will be helping to grow the Library's collections with their generous donations while making the lives of their students much easier. For any questions about this new protocol, please contact Kathleen Collins.

 
Kathleen Collins

Posted Thursday, December 3, 2015 - 1:35pm


---
In the last edition of the Library newsletter, we reported on how many students were taking advantage of the 24/7 Library lab hours during the final examination period (see "Library as space: Just being OPEN is still one of the best things the library has to offer," Spring 2015).  Despite the exponential increase in the amount of library content that is accessible electronically from anywhere one can access the Internet, a significant number of John Jay students continue to use the physical library both during regular hours, and as we learned, during extended hours.

Although the numbers alone were significant, we wanted to know more about these dedicated students. Were they writing research papers or studying for final exams? What resources were they accessing? Could a correlation between these after-hour library users and academic success, retention rates and other strategic goals be made? In the Spring of 2015 we tried to find the answers to some of these questions by surveying the students using the library during these extended hours.


Total student hours. Before getting into some of the specifics, the first thing to note is that more students took advantage of these extended hours each successive semester they were made available. As shown in the chart below, in the inaugural semester, Spring 2014, a total of at least 3,342 student hours (the total number of students in the Library lab during each hour of the extended hours) were logged, then in Fall 2014 that number increased to 4,655 (39% increase), and in the Spring 2015 the number increased again to 5,639 hours (21% increase).

Peak day of usage. Extended Library lab hours were offered the week before and the week of final exams. In Spring 2014 the peak day of use was the Sunday night before exam week began and, except for a slight increase on Tuesday and Wednesday of exam week, the numbers continued to decline from this Sunday peak. In the Fall 2014 period, the peak day of use was again the Sunday evening before exam week but usage peaked almost as high on Thursday of exam week, with higher comparative use throughout the intervening period. This same pattern continued in Spring 2015 but with higher overall usage and with the second highest day of usage occurring on the Tuesday evening of exam week. Not only were more students taking advantage of these extended hours but they were doing so more regularly.

Peak hour of usage. In all semesters the largest number of students could be found in the Library between 10 p.m. and 11 p.m. These numbers declined throughout the evening and began to rise again between 7 a.m. and 8 a.m. as students returned to the Library. It appears that students arrived (or remained in the Library lab once the extended library hours began, typically at 10 p.m.) and then left at different hours during the night as they completed their work. This is supported by the survey data, summarized in the chart on the previous page, showing how long respondents had planned to spend in the Library on a given night. Only about 4% of the surveyed respondents planned to spend one or two hours in the Library lab on a particular evening while about 45% were planning to be there for three to six hours and the largest percentage, about 50%, planned on staying seven or more hours, essentially making a night of it.


Who were these students? A typical user of the extended Library lab hours was a full-time undergraduate in her first or second year of college and of traditional college age. Perhaps she was  looking for a college experience (an all-nighter of studying with or without friends) or in need of a place with a computer and Internet access to complete her work for the semester, or some combination of the above.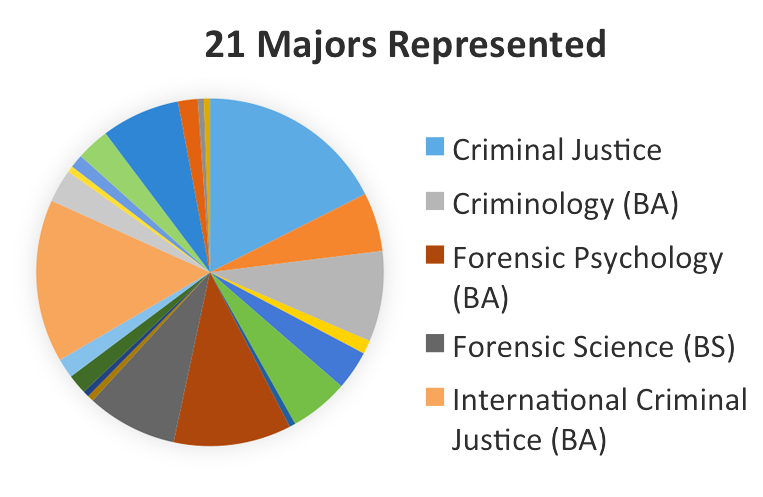 Our data showed that the overwhelming majority (80%) of surveyed respondents were full-time undergraduate students and lived with their parents (64%). The next largest group were part-time undergraduates (9%), with both full and part-time graduate students participating at the lowest rate (4% and 3%, respectively). The majority of respondents (82%) had been at John Jay for four years or less. Most were in their second year (28%) followed by first year students (20%).

Consistent with the above data, most students were 22 years of age or younger with the percentages spread fairly evenly across the age of 22 (12%), 21 (13%), 20 (11%) and 19 (10%). About 11% of the visitors were between 30 and 62 years of age, suggesting that having 24/7 access to the Library also serves the needs of non-traditional students.

Looking at these users from a major or area of concentration perspective, a healthy mix of 22 different majors were represented. The top five were Criminal Justice majors (15%), followed by International Criminal Justice (13%), Forensic Psychology (10%), Forensic Science (7%) and Criminology (7%).


Why were they there? Students reported they were using the Library during these extended hours for a variety of reasons but the top reason was to write a research paper, followed by individual study or research using the computers. Because the entire Library was not open, only the Library lab which provides about 50 computers and a cordoned off section of the Niederhoffer Lounge, it is not a surprise that many students were using the Library computers to write research papers. Given the number of students who reported they were at the Library to study, this suggests that if more study space were made available (in addition to the Niederhoffer Lounge), even more students would take advantage of these extended library hours.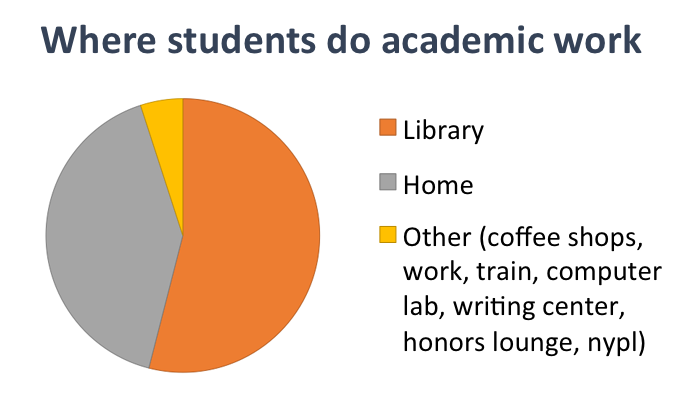 Were they looking for computers, Internet access, and/or space? To better measure the importance of the Library in providing access to study space and computers for writing and research, we asked respondents where they typically do their research and writing. Most respondents reported some combination of the Library and home, with the Library identified as the place used most often. A small percentage reported that they did their research and writing at other places including WiFi hotspots in coffee shops or their workplace.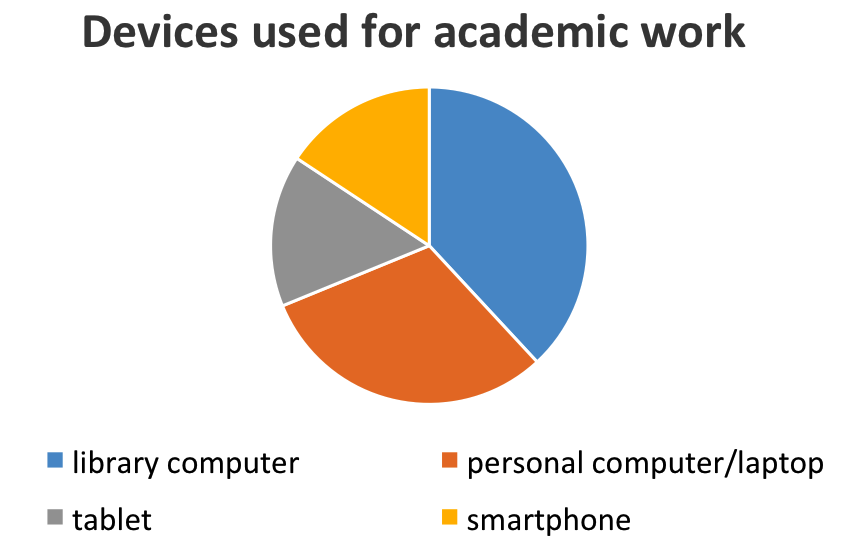 To understand the importance of providing students with the hardware they need to do their work, respondents were asked where and on what device they typically access the Internet for academic work. A similar pattern emerged. As shown in the chart on the previous page, most accessed the Internet from Library computers, followed by personal computers/laptops in their homes and then various WiFi hotspots. Library computers and then personal computers/laptops were the devices most often used for academic work. Tablets and smartphones tied for the third most used device but when added together were as much used for academic work as were Library or personal computers.

Who benefited? Happily, the students who reaped the benefits of these extended Library hours were not just the usual suspects. The largest number reported having a 3.0 GPA, but these extended lab hours served the full spectrum of academic performers demonstrating how the Library supports the success of all our students.

We asked the students how we could improve this program if extended Library lab hours were offered in the future. In addition to multiple requests to allow food and coffee in the Library and to open more of the Library space – and perhaps a comfortable place to rest – the most frequent sentiment was captured by one student who said, "It is an amazing opportunity; just keep it going as it is."
Maureen Richards

Posted Thursday, December 3, 2015 - 1:31pm


---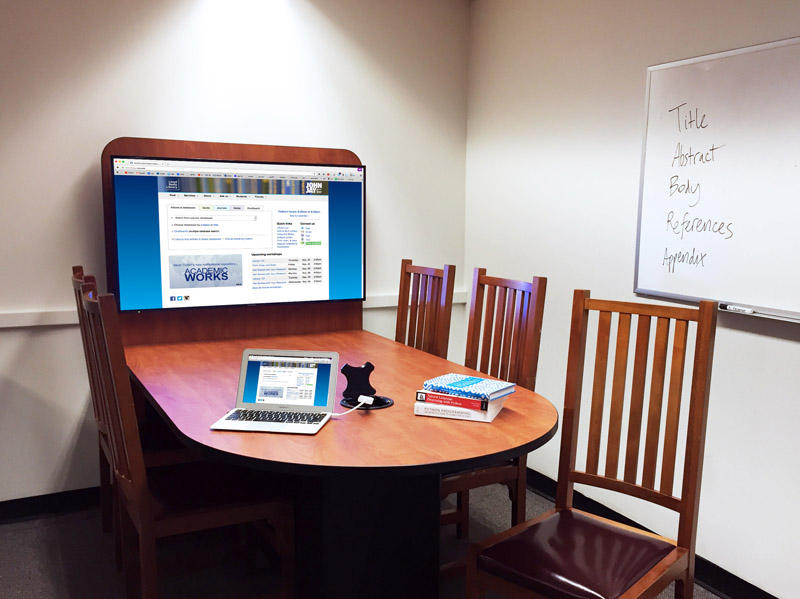 Over the past summer, using funds approved by the Student Technology Fee Committee, the Library converted the two group study rooms on the upper level of the Library, at the rear of the reference area, into collaborative study spaces.

These glass-enclosed rooms now each house a cherry-veneered table with electrical outlets and built-in connections to a 50-inch Panasonic display panel. Students working in groups can connect their laptops, tablets, or smartphones to the color-coded HDMI cables. The push of a color-coded button will switch the display to the appropriate device. Students without an HDMI port can borrow the appropriate dongles at the Reference Desk to connect their devices. Our students, whom surveys have shown to be among the most tech-savvy in the University, have had no problems learning to use this plug-and-play system.

Demand for the rooms has increased as the semester has progressed and students have been observed working on PowerPoint presentations, streaming videos, conducting online research, and generally—well—collaborating. The rooms are limited for use by two or more students and must be unlocked by a reference librarian upon presentation of a John Jay ID card.
Bonnie Nelson

Posted Thursday, December 3, 2015 - 1:24pm


---
Pages