Library News Blog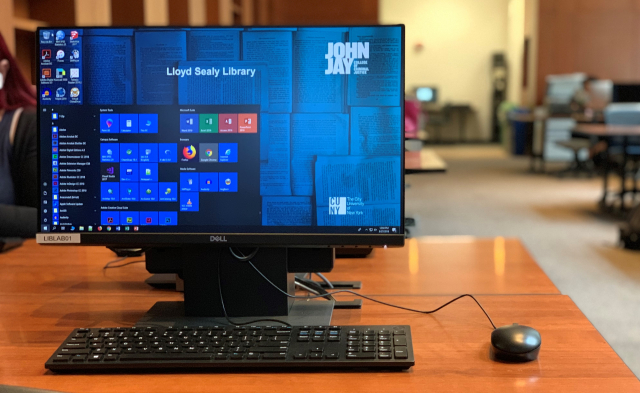 We want to highlight some of the things you can do online, away from campus, via the Library.
You can:
Search for ebooks using OneSearch;
Access our over 150+ databases to find sources for your assignments;
Learn how to find and evaluate sources using:
Faculty:  We have an Online Teaching Toolbox for you!  
Below are more detailed updates related to specific Library departments and functions:
Circulation services
Fines and fees are being suspended for the duration of this health emergency. All items coming due will be renewed automatically (patrons should check their account to make certain). Physical items, including books, are not circulating; requests and holds are suspended.
Electronic resources
Most of the library's resources are available online.  To find online ebooks, articles, videos and more use OneSearch and limit your results to Full Text Online .  Alternatively, you can limit your search to  one of our over 150+ databases here or learn more about our streaming documentary or feature film collections by using this link.
Interlibrary loan (ILL)
Interlibrary loan services will be limited to requests for items that can be delivered to you electronically, such as articles and book chapters (if electronic resource licensing permits ILL). Please note that at this time, several libraries are not scanning physical items such as print books, print journals and microform. We will process these requests for our patrons, but they likely cannot be filled. There may be a delay in filling requests due to staff shortages and library closures. 
If you are a John Jay patron with an ILL book checked out, please do not return books at this time. We are requesting renewals for patrons; you may receive an email about your loan period being extended.
For libraries that currently have our materials, we will be providing automatic renewals.
Please email libill [at] jjay.cuny.edu if you have any questions.
Reserves
Physical reserve items are unavailable while the library remains closed.
Faculty: If you are currently a user of eReserves and have been requesting that material be posted by the reserves librarian, please continue to do so by completing the online form on this page. Email questions to libreserve@jjay.cuny.edu. Please note that due to a potentially large influx of requests and shortage of staff, we will initially limit the number of posted items allowed per class. If you already use Blackboard for other teaching activities, you can upload readings there without the help of a librarian. Please consider using Blackboard instead of becoming a new user of eReserves, so that you can maintain control over when, how quickly and how many readings you can post. If you are a current user of eReserves and have your own username and password, you may email libreserve@jjay.cuny.edu with any questions.
How to link to library licensed resources

The library's licensed electronic content is available from outside the college by way of our proxy server prefix address which  is:    http://ez.lib.jjay.cuny.edu/login?url=  
If you have trouble accessing library content from off campus put this prefix BEFORE the permanent URL of any library licensed content.  For example, for access to the JSTOR database, use:
http://ez.lib.jjay.cuny.edu/login?url=http://www.jstor.org
When someone clicks on your hyperlink, the prefix will activate the log-in script, and the user will be asked to enter their JJ email user id and password.  After that information is entered successfully, the licensed content item should appear on screen.      The URL can be pasted into an email, onto your website, into facebook, twitter, etc.  Test your link off-campus before sharing it!
Special Collections
The Special Collections has suspended all in person researcher visits while the library is closed. We are available to respond to all inquiries at libspcoll@jjay.cuny.edu, and will promptly answer all questions. When it is safe for us to return to campus, we will offer expanded services to researchers, including students according to the emerging best practices for providing remote access to special collections and archival materials. These services will include on demand research, collection searching and digitization to support remote research as best we can. Please visit our Digital Collections and the Library's Primary Source databases and Research Guide to find archival and historic materials already digitally available. We are also constantly updating the John Jay College Archives COVID-19 Pandemic Response Timeline
Please continue to check the John Jay College website for further updates.

Posted Friday, March 13, 2020 - 4:05pm


---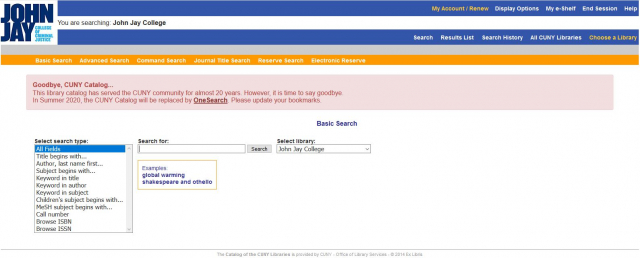 The CUNY+ Catalog has provided access to finding, locating, and accessing library materials and information for close to twenty years. As with all forms of technology, the library's Integrated Library System (ILS), will be upgrading to a new platform. Unfortunately, the CUNY+ Catalog will no longer be supported by the new update. The good news is that the new ILS will be using a familiar friend, OneSearch, to find, locate, and access library materials and information.
OneSearch was introduced to the CUNY community in 2014. OneSearch differs and exceeds the CUNY+ Catalog through its capability to search multiple platforms at the same time.  By entering search terms in OneSearch, you can find many articles, books, e-books, streaming videos, digital content, and more.  However, it does have its limitations, OneSearch doesn't have access to every database John Jay subscribes to. If you are researching a specialized topic, please refer to the specialized database list, and subject research guides.
Feeling concerned, or nervous about the change? No need to worry. Here's your brief guide to using OneSearch and links to video tutorials provided for you by the staff at the Lloyd Sealy Library.
You can begin using OneSearch from the Library Homepage by typing into the search box.
After typing in your search terms and pressing Search, or hitting Enter, you will be brought to the results page with filters and advanced search options to widen or narrow down your search.
On the right hand side of the results page, you will find a list of Filters which will assist in locating the types of information/materials you are searching for. You can filter by Resource Type (books, journal articles, newspaper articles, maps, etc.), Topics (controlled subject headings), a custom date range of publication, Language, Author, etc.
Additionally, you can use the search box located at the top of the page to try a Boolean Search.
As you can see in the picture below, Prison is now a "subject" and New York has been added for any field, and this has brought the results down from over 2 million to about 7 thousand results.  Using the filters on this search will narrow down the results as well to locate a digestible amount of information/materials.
Another great function in OneSearch is the Browse option, located at the top of the page. Using this feature, you can browse by Title, Author, Subject, or Call Number. This feature is similar to the functionality of the CUNY+ Catalog, it will provide results from the physical collection.
Browsing by Call Number will provide a list of materials that are classified together.
Browsing by Author will provide a list of physical items at the John Jay Library (4), while searching the author in the main Onesearch will provide much more (348).